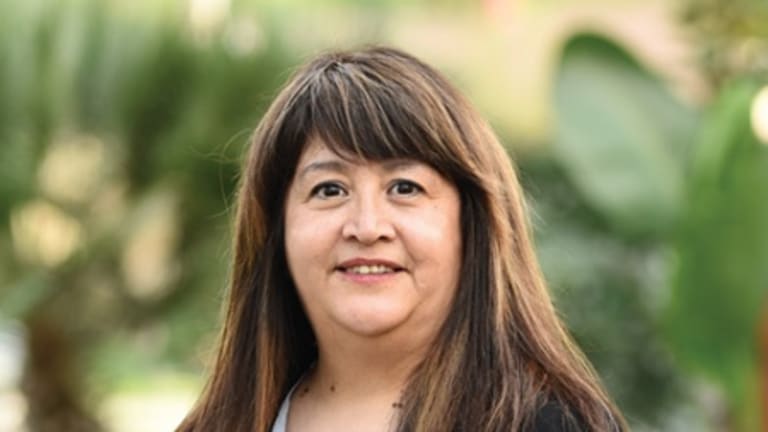 From Custodian to City Council: An Interview with DSA-Backed Labor Activist Bertha Perez
C.R. Mills: This November, she faced off against a self-described multi-million dollar real estate agent to represent Merced's Downtown, an area experiencing enormous development pressure as U.C. Merced expands.
Bertha Perez spent years as a University of California Merced custodian fighting for better conditions for her co-workers as a member of her union. Her reward? Earlier this year, U.C. Merced fired her.
Yet rather than stop fighting, Perez decided to run for City Council instead. This November, she faced off against a self-described multi-million dollar real estate agent to represent Merced's Downtown, an area experiencing enormous development pressure as U.C. Merced expands.
A first-time Latina candidate in California's conservative Central Valley, she faced stiff odds. But through hard work, the backing of local labor unions and the Democratic Socialists of America, and a platform that centered on delivering for the working class, she won.
Perez ties her success directly to her roots in the labor movement. "It just shows that exploitation can lead to an awakening if they push the wrong person that has value, and knows that they have value," she said.
I spoke with Perez about how she became a part of the labor movement, how she wants to apply the lessons she learned from being a part of a union to her new political career, and her vision for Merced.
Tell me about your background. How did you come to live in Merced, and how did you get involved in the labor movement here?
I came to Merced about 20 years ago. My husband used to come out when he was little. His family would follow harvesting season. When we got married, there was no opportunity where we lived, so we came to Merced because he had already been out here and thought there was a lot of work.
My kids grew up and all moved away and I was bored, so I started volunteering at a place where they used to take care of senior citizens. A lady who worked in HR at U.C. Merced saw me working and said, "Would you like to work at the UC?" I asked how much it paid, and as soon as she said "we provide health care," I said, "hell yeah!" The benefits were great at the U.C., and we never had benefits. My husband always worked in construction and on the farms, but he never had health care, so that was something golden to me. So I said yes.
This November, she faced off against a self-described multi-million dollar real estate agent to represent Merced's Downtown, an area experiencing enormous development pressure as U.C. Merced expands.
I worked graveyard. I knew I had this great job that had these good benefits and good pay, but I didn't know it was a union job. Then about a year into the job, my body just started getting broken down, because we were being overworked.
I had a supervisor hand me a contract. It looked like a little book, but it was the contract, and I remember telling him, "I'm gonna read this," and he said, "you should, you have a union job!" And that's when I thought, I need to call my union rep, because this job's good and I want to keep it, but I can't keep up with it.
I started reading the contract, and I realized we were getting exploited. I said, "Oh no, this is a legal binding document! I don't know why people are doing this to custodians." So I started changing the working environment. I started improving it.
But in trying to do that, I was taking a big bet. Privileged people felt that I shouldn't have the ability to do what I was doing, and I started being labeled as argumentative and aggressive, when in reality all I was doing was enforcing the contract. I had already been elected to serve on the Executive Board, and I also was elected to serve on the bargaining team. With all that, you just become a sore thumb in the eyes of the U.C.
I heard testimonies from coworkers across the state with the same recipe - we all had the same injuries, we all had the same stories. And I tought, this is not by coincidence. This is a group of very intelligent people that are calculating these efforts to squeeze as much labor as they can out of the workforce. That's not cool. 
The pandemic came around, and I wouldn't stop advocating for my coworkers. U.C. Merced wasn't following social distancing guidelines and thought we didn't need masks. They thought we were superhuman and wouldn't contract COVID. I don't believe any workers did, but I do believe it was because of the efforts we made to make sure we were all taken care of and worked safely.
The U.C. finally thought I was worthy of getting fired, so I ended up getting fired. I thought, what am I going to do now? So I threw my hat into the City Council race, and I won! I won!
It's really amazing to think as a woman, as a Latina in the Central Valley a very conservative district[1] , that I won on the first try. It was hard work and more hard work, but it was worth it because of my desire to really want to level the playing field for those that it's been set against.
Who was your opponent in this race?
Well, that was another thing that really made me want to run! I saw who was already running, and he said he was a multimillion dollar real estate agent. And I said, dang, right smack down in Downtown Merced, with the U.C. and the U.C. Regents wanting to invest dollars here but then just keep the wealth for themselves? I'm all nah, I don't think that's a good idea.
Then Nathan from D.S.A. and other labor folks approached me[2] with the idea to run. It made me feel like I'm not alone in what I'm thinking. So I said screw it, I'll try.
My opponent was going to try to represent real estate on the City Council, and I just think their plan backfired. Well, it hasn't backfired yet - I have to make sure that happens!
How do you want to take what you learned in the labor struggle and apply it to politics?
It's very important that people have jobs - good paying jobs. Jobs that make it so you can go to the doctor, jobs that make it so you can take the weekend off. 
Merced is building and growing so much because of the U.C. , and I think we need to hold the developers here accountable. We need to be involved in how they develop and who gets these jobs coming here.
My goal is to really try and make sure that the citizens of Merced also get to prosper from the development that goes on here in terms of getting good paying jobs. We need to make sure that a percentage of workers are Merced County residents. That would be what I really want.
I also want those jobs to be protected, and collective bargaining really does protect the workforce. It's time that we as Americans realize the value in labor.
There is no real movement without labor. This pandemic sure showed us that. Essential workers are all of a sudden valued. They're heroes now. Before they were just custodians and service workers and gardeners. We are really the backbone of America. And until we all realize that, there is power in unity.
Service workers and labor shouldn't be looked down upon. Not everybody goes to school, and I don't think we should say that they don't deserve a livable wage because they're not educated. Having a livable wage has a great effect on society. You know, social services, we'll need less of them if we're working with a livable wage. It's kind of a no-brainer to me.
As part of your campaign, you proposed a "People's Budget." Can you tell me more about that?
A People's Budget to me means that we need to look at the needs of the community through different eyes. We need to look at those need through the eyes of somebody that maybe has never been on the City Council in Merced, has never had to face the issues of, "How am I going to pay the light bill? How am I going to pay the rent?"
I'm normal, I've had all those issues in my home. The District I'm in, I'm sure there are a lot of homes like that. There's a lot of rentals. That's what I mean by the People's Budget.
I think we need to focus on youth programs as well. People get scared when they say that they're going to defund the police, but people never get scared when they defund school program.
This was tough race. How did you win?
I did a lot of phone banking because of COVID. I couldn't be out at the U.C. saying, "Hey, you've got to protect everyone, COVID is serious!" and then also be saying, "Hey, I have to win!" and then be out there knocking on everyone's doors. No, I took the time to call, call, call. I'd ask folks if I could put up lawn signs.
I've been working in the community for years. I helped bargain a million dollar contract. That's over 300 jobs in merced, good union jobs. And those are families in Merced County. Real help goes a long way.
I saved people's jobs by representing them down at the U.C. I've brought them back from being fired. People remember that and talk to their family about it, and then your name gets out there. I have people calling me sometimes for help with how they're going to pay their light bill, and I direct them to the right place.
I think a lot of that helped - being active in the community, helping people and not bragging about it to media. Just me doing a lot of work before getting to where I'm at helped.
Also, all these connections that I've made in the labor movement, all these small donations helped me be able to finance my campaigns. It was so many unions throughout the state and a lot of neighbors, cousins, and coworkers making a lot of small donations.
D.S.A., too. D.S.A. member Nathan M. was my campaign manager. He did everything - he kept it together for me. It dawned on me when I did the orientation to be on City Council that this is for real. I took a step back when I looked at the organizational chart and my name was up there and I'm all, "I can't even go and hug Nathan because of stupid COVID!"
What would you say to other folks considering running for office?
I remember being on the Executive Board and our President saying, "Hey Bertha - you are now part of the Northern Valley Labor Federation. I'ts just something that we would like you to do." Being part of that, I was asked to come to the table for political endorsements.
Even Governor Newsom came and asked us for money. We cut a check, and then we stopped payment on it. We did! Because he backstabbed us, but he did it before the check cleared, so the joke was on him.
I just learned, like - what the hell? We're giving money to all these people and empowering them, and then they don't even do what they say they're going to do! And I thought, I need to get on the other side of the table.
To get on the other side of the table, you don't need to wear a three-piece suit. You don't need to have this elaborate career. You don't have to have this Ivy League education to run for office.
Actually, you don't need any qualifications. You just got to want to put yourself out there and do the work and not be scared.
C.R. Mills