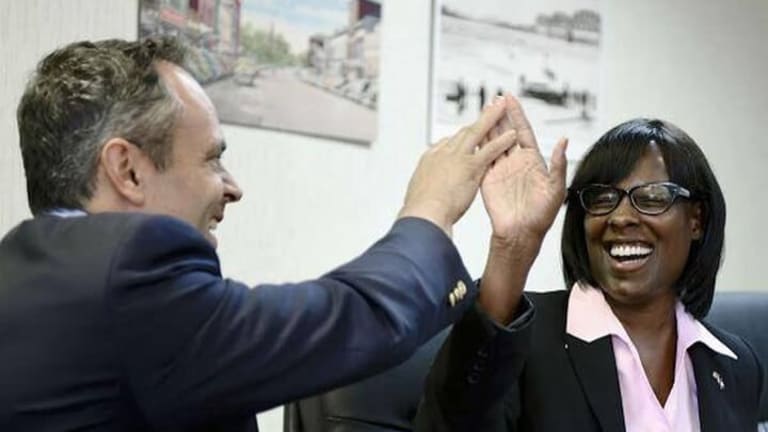 Pundits Liken Bevin to Trump; Grio Columnist Compares Hampton to Carson
Berry Craig: Love doesn't pull punches. "Imagine Ben Carson, but as a woman living in Kentucky, with all the atrocious political positions and appeals to white racists.
Some pundits compare Matt Bevin, Kentucky's Republican governor-elect, to Donald Trump. They call the two millionaire conservative political "outsiders."
David A. Love, one of my favorite columnists, likens Jenean Hampton, the Bluegrass State's lieutenant governor-elect, to Dr. Ben Carson. Like Trump, Carson is a current frontrunner for the 2016 GOP presidential nomination.
Love doesn't pull punches. "Imagine Ben Carson, but as a woman living in Kentucky, with all the atrocious political positions and appeals to white racists," he wrote.
Imagine Ben Carson, but as a woman living in Kentucky, with all the atrocious political positions and appeals to white racists.
Love added, "And at a time when sisters are doing things such as building a new #BlackLivesMatter movement to fight racism and police violence against black people, Hampton is one of the few black women in the country who is down with the Tea Party."
Love said Bevin "apparently is down with white supremacists. But we'll get to that later."
Hampton has been a Tea Party activist. Bevin is a Tea Party hero.
Hampton shares Bevin's far-right- wing agenda, which includes bare-knuckles union-busting. Both of them are rabidly anti-union.
Bevin and Hampton support a "right to work" law and oppose the prevailing wage. They don't just reject a minimum wage boost. They hate the very idea of a government-mandated floor wage.
Anyway, Love doesn't buy claims by Republican bigwigs that Hampton—the first African American ever elected to statewide office in Kentucky--is more "proof" that the GOP, though overwhelmingly white, isn't racist.
Party officials also cite as "proof" a handful of other African Americans who got elected as Republicans -- Sen. Tim Scott of South Carolina and former Congressman Allen West of Florida, for example. Like Bevin and Hampton, Scott and West are Tea Party-tilting ultra-conservatives who despise unions.
"Conservatives will likely say Jenean Hampton and those of her ilk help to humanize a GOP that African-Americans perceive as hostile," Love wrote. "In Kentucky and elsewhere, running against Obamacare and Obama — and by extension black people in general — was a winning strategy for the Republicans."
In the Bluegrass State and elsewhere, Republicans blow gaskets when anybody accuses them of pandering to racial prejudice. "We are still a racist state, I hate to admit it," Politico's Jason Zingerle quoted a Kentucky GOP strategist in a 2014 article about Kentucky Sen. Mitch McConnell. "Anything you can connect to Barack Obama is a winning thing for us."
Bevin, Love pointed out, voted for a white supremacist for president in 2004. In addition, Bevin received $500 from another white supremacist when he challenged McConnell in last year's GOP senate primary. (He and Hampton each contributed $500 to an NAACP minority scholarship fund after the media broke the story about the money Bevin got from the bigot.)
"The Republican base hates them some black people, but they love some black people who hate them some black people even more," Love wrote. "This makes Hampton a useful tool in the Civil War white conservative Southerners have been fighting since 1861."
He concluded, "Jenean Hampton and Ben Carson appeal to those who want to bring out the worst in white folks, with an out-of-poverty, up-from-bootstraps narrative that seeks to cut down those who want to get up the ladder. Please believe, this new breed of black conservatives has all the makings of a hot mess."
Carson, and presumably Hampton, are two black conservatives who appeal to some Rebel flag wavers. The other day, I spotted a white guy driving an SUV with a Carson-for-president sticker on the back window next to a sticker depicting the original red, white and blue, seven-star Confederate "Stars and Bars."
The banner was adopted in 1861 after six other Deep South slave states, fearing President Abraham Lincoln and the "Black Republicans" would abolish slavery, followed South Carolina out of the Union, thus accepting the Palmetto State's invitation "to join us in forming a confederacy of Slaveholding States."
Below on the back hatch was one of those small, metal Christian fish stickers, which are especially popular with Christian conservatives.
My friend Dr. Bill Schell, a history professor at Murray State University—not a guy who pulls punches either—suggested the Carson-for-president-Rebel flag-fish sticker combination provides "insight into the sort of people who support Ben Carson – a conservative Christian proud of his/her Confederate heritage which he/she insists is not racist, in search of an anti-Obama candidate."
Berry Craig