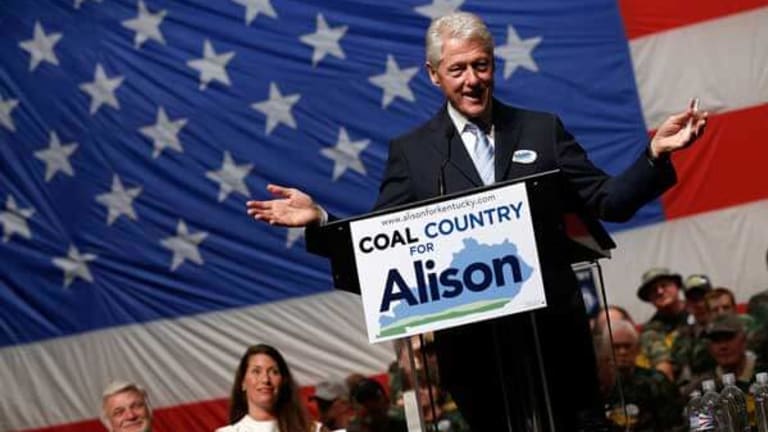 Can Bubba Save Dems?
Brent Budowsky: In contrast with unpopular politicians and a dysfunctional Congress, Clinton offers the living legacy of a presidency that was highly successful and is fondly remembered.
On October 6 and 7, Bill Clinton will spend two days barnstorming across Arkansas to support Sen. Mark Pryor (D-Ark.) and other Democrats. This all-out campaign tour will give a strong boost to Pryor's chances for reelection. As the former president continues his yearlong campaigning for key Democrats in the closing weeks of the midterm season, he powerfully lifts Democratic prospects of maintaining control of the Senate.
Clinton is a unique and extraordinary figure in national politics today. According to the Real Clear Politics summary of polls, disapproval of Congress has reached a ghoulish 80 percent; almost two-thirds of Americans believe the nation is on the wrong track, and approval of President Obama remains barely above 40 percent. By dramatic contrast, Clinton is America's most popular living former president and enjoys popularity that towers above all national GOP political figures and Republicans in Washington.
Analyzing his voter clout by using a sports metaphor, while Clinton is a star player on the Democratic team, he is also uniquely able to play the role of campaign referee. With Americans deeply concerned about the direction of the nation, he can explain to voters the great stakes of the midterm elections — with credibility unparalleled in national politics — on terms favorable to Democrats. Because Clinton can act as both a star player for Democrats and a believable referee for voters, alone among national figures, he provides a major advantage to Democrats.
My advice to the Democratic Party for the close of the midterm elections would be for Clinton to tape a series of 3- to 5-minute videos supporting top Democratic Senate candidates, in addition to personally campaigning for them. These videos would offer a thoughtful and conversational explanation of why those Democratic candidates should be elected, and why all-Republican control of Congress would bring total gridlock in Washington and worsen the poisoned politics that is held in widespread contempt throughout America.
These videos would resemble a modern version of FDR's fireside chats, when serious and concerned Americans would gather around their radios to hear Roosevelt talk intelligently and respectfully about how to end the Depression and win the Second World War. They would frame the election choices, achieve saturation coverage in states Clinton addresses and reverberate throughout modern communications of TV, print and social media.
In the sour political climate today, Americans hunger to be treated respectfully by political leaders who explain how tomorrow can be better than today, and why everything will be OK if we do the right things. Clinton can explain with unmatched credibility why liberals must vote and why swing voters should support Democrats.
In contrast with unpopular politicians and a dysfunctional Congress, Clinton offers the living legacy of a presidency that was highly successful and is fondly remembered. He embodies an economy that was prosperous, a government that was functional and achievements that were lasting.
Because the great appeal of Bill Clinton contrasts so vividly against the unsavory GOP brand, almost totally negative GOP politics and the unpopularity of Washington politicians, it resonates persuasively with voters.
When Clinton barnstorms across Arkansas, there will be a surge of media attention and enthusiasm for Pryor and for former Congressman and Democratic candidate for governor Mike Ross. This will be true in other races where the Clinton appeal magnifies and the Clinton message reinforces support for Democrats battling in close races with razor-thin margins to save the Democratic Senate.
Throughout 2014, Clinton has cross-crossed the country supporting Democrats running for the Senate and other offices. In the final weeks of the campaign, the party should bring the appealing and optimistic Clinton message to the widest circle of voters in the largest number of states. It could be a decisive advantage for Democrats that the most believable political referee in the nation supports the plays of the home team in the closing minutes of a tie game.
Brent Budowsky
The Hill