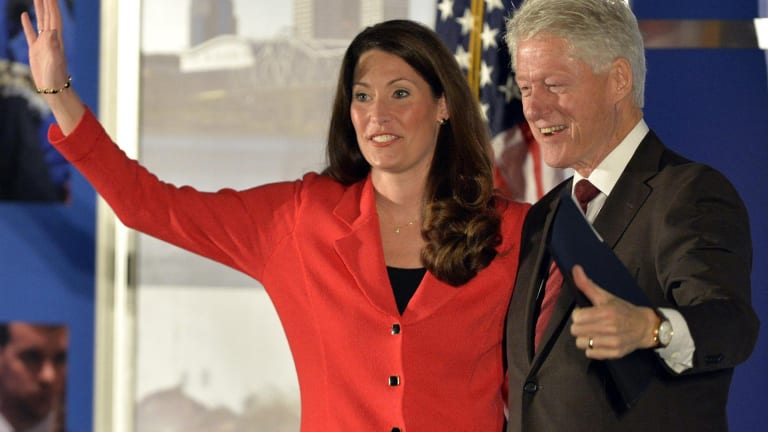 Bill Clinton's Rescue Ride
Bill Clinton Campaigns: Bill Clinton has begun his ride to rescue Democrats in the 2014 midterm elections.
Springtime is coming, baseball teams have reassembled for training, Robert Redford is back on cable playing Roy Hobbs in "The Natural" and Bill Clinton has begun his ride to rescue Democrats in the 2014 midterm elections.
In politics, the trick is to know the difference between the noise and the music. What passes for discourse in Washington is noise, which most Americans deplore, while the Democratic call to arms of Clinton, who reminds Americans of a time when jobs were plentiful and politics was not a dirty word, is pure music.
The 2014 midterm elections will be decided by votes in about 40 races for the House and Senate, which could well be won by either party with razor-thin margins. What distinguishes 2014 from midterm elections in 2006 and 2010 is that power in Washington today is divided between the two parties, and voters are unhappy with both of them.
Enter the former president, who began his rescue ride for Democrats this week in Kentucky, a state he carried in 1992 and 1996, which is now led by a widely respected Democratic governor, Steve Beshear.
Clinton was campaigning for Alison Lundergan Grimes, who is waging a formidable challenge to Senate Republican leader Mitch McConnell. As popular as Beshear is in the state, McConnell is as unpopular. Early polls show Lundergan Grimes, who is running against McConnell as the symbol of Washington gridlock, with an even-money chance of winning in November.
Watching Lundergan Grimes enthusiastically campaign alongside Clinton, one can understand why Democrats are so excited by his rescue ride.
Clinton is the natural. He is unique on the American political stage. He loves the game of politics, the art of governing, the thrill of the contest and the joy of campaigning. The man from a place called hope offers the living legacy of a Democratic presidency that voters fondly remember and a Democratic politics that stands for optimism and action.
Many Americans warmly smiled when former first lady Barbara Bush said "I love Bill Clinton." The respect and affection between former presidents Clinton and George H.W. Bush is genuine and very American. It hearkens back to an Americanism dating back to the early republic of Jefferson and Adams, which voters would greatly value today, when political opponents collaborated with mutual respect to advance national interests.
The mudslinging attack by Sen. Rand Paul (R-Ky.) against Clinton is a textbook case of why Kamikaze Republicans lost national elections in 2006, 2008 and 2012. Voters are disgusted by this lowball brand of GOP politics, practiced by politicians who look mean, shallow and small against a former president who is widely liked, admired and respected.
Ditto for Republicans addicted to what I recently called their "Benghazi disease," which has left former Secretary of State Hillary Clinton towering above potential Republican opponents in polling for the 2016 presidential race.
Bill Clinton will vigorously campaign for Democratic candidates for the House and Senate as his rescue ride gathers steam. With the relatively small number of races that could determine House and Senate control, his impact will be considerable.
Watch the Senate race in Georgia. Michelle Nunn, the highly respected daughter of former Sen. Sam Nunn (D-Ga.), has an excellent chance of winning. Watch the upcoming House race in Florida to fill the seat of the late Republican Rep. Bill Young. If Democrat and former state Chief Financial Officer Alex Sink wins, pundits will upgrade the chances of Democrats regaining control of the House. Watch whether President Obama and the Clintons urge mega-donors to go all out supporting Democratic Senate and House campaign committees and super-PACs totally focused on 2014, not — yet — 2016.
The Bill Clinton rescue ride has begun. Democrats are excited. The natural is back at center stage. To voters tired of a politics that is nasty and sour, the natural's song is appealing and sweet.
Brent Budowsky
The Hill