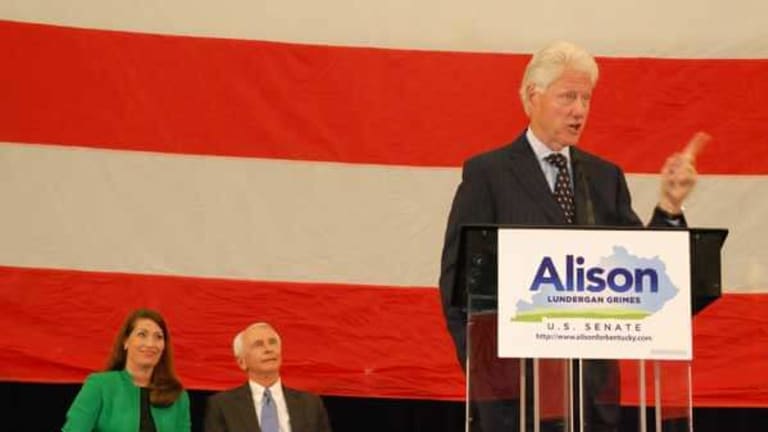 The Big Dog Plays the Role of Senator No
Berry Craig: Bill Clinton said McConnell "wants to make this about who voted for whom in 2012 even though he knows if you vote on how they're going to vote for the next six years you will elect her and by a very healthy margin."
Bill Clinton Supports Grimes
Former president Bill Clinton, stumping for Democrat Alison Lundergan Grimes in Paducah, revealed his version of how Sen. Mitch McConnell is trying to con voters by tying her to President Barack Obama.
"Now here's what the real message is," Clinton told about 1,800 Grimes partisans who jammed the McCracken County High School gym.
Grinning broadly and standing before a huge American flag reminiscent of the opening scene from the movie Patton, he pretended to be the senate majority leader wannabe: "I know you don't like the president.
"This is your last chance to vote against him because he's gonna be gone in two years and you know you want to pop him one more time.
"You know you do."
The Big Dog paused to let the laughter and applause subside.
Then he started act two as Sen. No: "Now you know the price for this is giving me a six-year job and I vote against you for six whole years. It's a very high price…for your two-year protest, but you've got to do it.
"I know I can get you where you can't think any more. I know I can get you where the foam comes out of our mouth and the steam comes out of your ears."
More mirth rattled the rafters. "We're all laughing but its true isn't it?"
Clinton had set up the crowd by musing, "It's been my experience that if somebody tries to get you to stop thinking, they do not have your best interests at heart."
Clinton said McConnell "wants to make this about who voted for whom in 2012 even though he knows if you vote on how they're going to vote for the next six years you will elect her and by a very healthy margin."
Night had fallen. Clinton had spent a crisp, clear autumn day barnstorming with Grimes across western Kentucky.
Many in the Paducah crowd pack union cards. Kentucky's secretary of state, Grimes won the Kentucky State AFL-CIO's endorsement last year.
Clinton, who carried Kentucky in 1992 and 1996 -- and made campaign stops in Paducah both times -- had appeared with his candidate at an afternoon rally in Owensboro that drew an estimated 3,000 people.
Many in the Paducah crowd had voted for Clinton and for Obama. Based on campaign buttons stuck on shirts, jackets and blouses many plan to vote for Hillary Clinton should she decided to run for president in two years.
"What's Mitch McConnell done for us the last 30 years? Zero," said Pete Howell, a retired member of United Steelworkers Local 665.
"Mitch is always talking about what he's done," said Glenn Dowdy, a former president of the Paducah-based Western Kentucky AFL-CIO Area Council.
"But what he hasn't done is more important – he hasn't helped working families. He hasn't helped anyone but himself."
Throughout her remarks, Grimes repeatedly urged the crowd to "stand up, fight back!" The refrain sounded familiar to Larry Sanderson, a retired UA international representative.
Ten days before, he organized a "Stand up and fight back against the Republican War on Labor 2014" union rally in Paducah.
Sanderson wanted to boost support for a quintet of local labor-endorsed Democratic candidates for the Kentucky legislature. Grimes came to that rally, too, and spoke to an assemblage of about 3,500 union members, their families and labor backers.
Sanderson beamed at the chorusing. "We need to elect Alison," he said. "But we also need to elect our candidates for the legislature."
Republicans, who have a right to work majority in the Senate, promise to pass a right to work law if they gain control of the Democratic-majority House on Nov. 4, election day.
The gym was Team Switch's house. Grimes signs and union banners hung from walls and railings. Many in the crowd waved a variety of Grimes-for-senate signs.
Clinton referred to the union banners. Grimes acknowledged her union support.
She said the election is "about whether Kentucky will stand up and fight back against a senator who has literally become rich Mitch on the backs of Kentuckians -- increasing his pay each and every year while voting to keep Kentucky poor.
"Seventeen times he has voted no to increasing the minimum wage. Will you stand up and fight back? Say yes!"
The crowd replied loudly in the affirmative.
"Will you stand up and fight back against a senator who says the women of this nation don't deserve equal pay for equal work...are we ready for a senator that says 76 cents on every dollar is not acceptable? Let me hear you say yes!"
The throng again chorused on cue.
"Stand up and fight back against a senator who has made it his mission to enact, not just in Kentucky but nationwide, right to work for less legislation," Grimes urged.
"You and I both know it doesn't increase wages. It doesn't grow the middle class. Will we stand up and fight back for a senator that knows labor has lifted millions out of poverty?"
"Yes!" came the reply.
Grimes said McConnell "has tried to buy us out. He's tried to bully us and he's trying to bruise us. But we won't back up.
"We will stand up and fight back and together, Kentucky. We won't just live history. We will make it on November fourth."
Diana Yancey wants to help Grimes be a history maker. Grimes would be the Bluegrass State's first woman senator.
"But Alison stands up for men and women," said Yancey, a former staff representative for the American Federation of State, County and Municipal Employees.
Paducah grade school teacher and Kentucky Education Association member Natalie Krupansky agreed. "She will change things for the better."
"I'm for Grimes because I don't want right to work here in Kentucky," said McCracken countian John Morris, a member of USW Local 7-669 in nearby Metropolis, Ill., where his union has been locked out for months at the Honeywell Corp. nuclear processing plant.
Former Kentucky labor secretary J.R. Gray said McConnell is a do-nothing senator. "Alison Lundergan Grimes represents fresh new ideas, especially for working people.
"She wants to put people back to work. She supports a living wage, not just a minimum wage."
Hardy Williams, who is retired from Machinists Local Lodge 1294, didn't mince words about why he's for Grimes. "He's a Republican and she's a Democrat. It's that simple."
Five big-name Democrats spoke on Grimes's behalf: Gov. Steve Beshear, a pair of former governors – Julian Carroll and Martha Layne Collins -- Kentucky Attorney Gen. Jack Conway and state Auditor Adam Edelen, who doubled as emcee.
A surprise supporter showed up from California -- Jon "Bowzer" Bauman, the movie and TV star, musician and game show host.
Berry Craig
Photos by Berry Craig