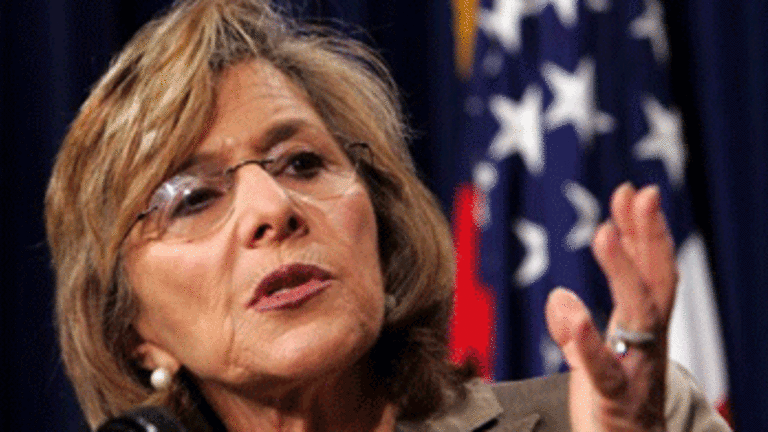 Republican War on Birth Control Will Boost Democrats in November
Randy Shaw: Considering that polls show that 99% of all women and 98% of Catholic women who have had sex have used contraceptives, Democrats should follow Senator Barbara Boxer's lead and aggressively frame the November elections around this issue.
Of all of the issues to mobilize around in 2012, Republicans have drawn a line in the sand around contraception. Rising presidential candidate Rick Santorum has made ending birth control central to his presidential campaign, saying it harms women and our society. Mitt Romney has yet to publicly oppose contraception, but given his adoption of virtually every other far right policy, it is only a matter of time.
Considering that polls show that 99% of all women and 98% of Catholic women who have had sex have used contraceptives, Democrats should follow Senator Barbara Boxer's lead and aggressively frame the November elections around this issue. When you add Republican attacks on Latinos and Chrysler's "Halftime in America" Super Bowl commercial, it will be Democrats attracting key constituencies through social issues in November, reversing past trends.
As Barack Obama heads to a November electorate with a still weak economy, Republicans have decided to bring back their historic focus on social issues. But in each of the recent high-profile conflicts – the Susan Komen Foundation's original denial of funding to Planned Parenthood, the distribution of contraceptives under the new health care plan, or the use of birth control altogether – voters clearly back Obama's view.
For swing voters, Republican plans to return to the days before birth control could be a pivotal tipping point. It is clearly a stance that will keep Republicans on the defensive through Election Day.
The birth control fight shows that the religious fundamentalists who dominate the Republican base are not simply anti-abortion; they are anti-sex. And given the grassroots support for adulterer Newt Gingrich, they are pro-hypocrisy.
It's Social Issues, Stupid
One year ago, Democrats feared that President Obama would be on the receiving end of a November 2012 campaign highlighting the old Bill Clinton 1992 theme, "It's the economy, stupid." But even before the economy began to slightly improve, the GOP was placing its faith on the social issues that once helped it win national elections.
But times have changed. In 2012, Democrats will win big if non-economic issues drive the elections. That's because most of these issues involve Republican attacks on women and Latinos, two constituencies likely to vote bigger than ever for President Obama this fall.
The Republican base has long been obsessed with controlling women's bodies. That's why GOP-controlled state legislatures are competing over which can pass the most extreme bill restricting abortion rights, and why backers of these measures now argue that birth control equals murder.
Trying to end birth control is an absolute political loser, particularly among young people. Yet Republican leaders are so desperate to win the support of Catholic Bishops that they have even embraced this extreme cause.
California Senator Barbara Boxer announced last week that she welcomed a fight with Republicans over contraception (Boxer is one Democrat who has never been hesitant to fight for principles). She also co-authored a Wall Street Journal piece in which she noted that the real forces behind the new attack on contraception "are the same ones that sought to shut down the federal government last year over funding for women's health care. They are the same forces that just tried to pressure the Susan G. Komen Foundation into cutting off funding to Planned Parenthood for breast-cancer screenings. Once again, they are trying to force their politics on women's personal health-care decisions."
Boxer's been so good for so long that many of us take her for granted.
Immigrant Bashing
Republicans also want the 2012 election to be about Latino immigrants. Mitt Romney backs "self-deportation," and has staked out an anti-immigration stance even more extreme than his GOP competitors.
It seems like decades ago that Karl Rove and George W. Bush sought out Latino votes for the 2000 and 2004 campaigns. The GOP then adopted a harsh anti-Latino immigrant stance, and Latinos responded by voting in droves for Obama and Democrats in 2008. Expect Latinos to vote Democratic in even greater numbers and higher percentages in 2012, and to again play a central role in an Obama victory.
Failing on Patriotism
Republicans used to be the party that claimed it was the most patriotic. But the Party's response to Chrysler's "It's Halftime in America" Super Bowl ad shows how the GOP has even lost its hold on this social issue.
Narrated by longtime Republican Clint Eastwood, the ad used Chrysler's recovery as a backdrop as Eastwood said, "This country can't be knocked down with one punch. We get right back up again and when we do, the world's going to hear the roar of our engines. Yeah. It's halftime, America. And our second half is about to begin."
Karl Rove said he was "frankly offended" by the ad, which he and other Republicans saw as a promotion of President Obama. But many among the 111 million viewers of the ad saw it as a throwback to Ronald Reagan's classic "Morning in America" used for his 1984 campaign.
Rove and the GOP now find themselves in the same position that Democrats did in questioning Reagan's ad: as being seen as unpatriotic and rooting for America to fail.
Clearly, economic factors remain central to the presidential election and other races in November. But this is one year where Republicans will be more likely to lose swing voters over social and cultural issues, with Democrats winning the values vote.
Randy Shaw
Beyond Chron