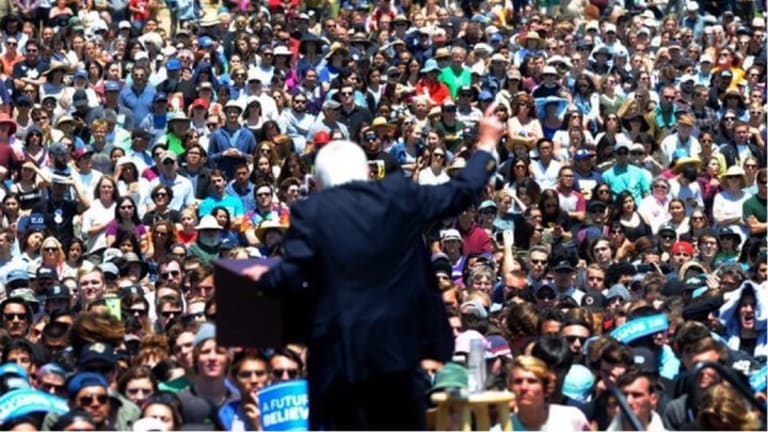 Californians Really Feel the Bern
Laurie Agard: At a Bernie rally, something different is going on. People of all ages and nationalities are taking time off of work and talking about and focusing on some of their dearest pursuits, and what they want for others.
When Senator Bernie Sanders smiled at me with sparkling eyes, shook my hand, and said, "Thank you" yesterday it felt nothing short of synchronicity and serendipity. His rally had just ended and literally moments before I had concluded from the experiences I had had that day, the theme of my next article would be something about gratitude, happiness, and virtue.
Like most of Sanders' fans my family has watched his rallies online, feeling cheated and furious that his message was not being televised. My husband, Dr. Francisco Durazo, is UCLA's Chief of Hepatology, Medical Director of the Dumont-UCLA Liver Transplant Center, physician in Hepatology and Transplant Hepatology, Professor of Medicine, Surgery, and was the President of Southern California Society of Gastroenterology. He's received the Best Doctors award several years in a row.
But I see a different side to him than most. Though he works at one of the best hospitals in the world, there is a long waiting list for patients to see him. He comes home frustrated with insurance companies and saddened about the cost of health care and the cost that has on people's lives. He spent fourteen years in medical school and training because he loves helping people, but many patients struggle to keep up with their medical care due to high copays and even parking fees.
Rather than dwelling on the disgust he felt when he discovered Hillary Clinton had charged UCLA, a public university, $300,000 for a speech two years ago, he came to me and said, "I'm just so thankful we have a man like Sanders. I just want to focus on that and do something in return." That was the day my family signed up to volunteer phone-bank in Spanish for Bernie.
His new Saturday activity has reaped benefits on many levels. "I've become engaged in American politics for the first time since becoming an American citizen three decades ago. I'm making phone calls to Spanish-speaking Californians, not as a doctor, but simply as a volunteer citizen and that makes me feel more tethered to the Latino community. And I've been able to use the experience to teach my step-son, who doesn't have Spanish in school and who feels that talking about politics is somewhat frowned upon in class."
My 73-year-old mother has also become deeply involved in the revolution, teaching me as she always has, how important it is to imbue your life with meaning and purpose. She's spent the year spreading the bern through twitter. Though she's had several hip and knee replacements in recent years, she'd become nothing short of desperate to see her 74-year-old hero in person. "This will be my only chance," she kept tweeting me as he began holding rallies across Southern California that she was unable to attend alone.
When Sanders announced this week he would be stopping in rural Ventura County, which seemed like it might have the most stress-free access for someone fresh out of surgery, I transferred my mother's handicap placard from her car to mine and drove her down the coast from Sherman Oaks—only to find a field of 10,000 people, filled with multigenerational families telling story after story not so different from mine.
Mary (69) said, "I appreciate Bernie's values. His virtues. He's a peacemaker. Honest. I talk to my children and my grandchildren about it all the time." She's been involved with politics her entire adult life, but her daughter-in-law, Danielle (26), grew up in a family that never really talked about politics, other than watching Fox news.
"I wasn't political," Danielle, who is expecting another child this year, said. "My mom always voted Republican but we never really talked about it. But Mary is very political. Through our relationship, I've become more interested and over time have gained my own opinion. Trump says he wants to make America great, but I believe Bernie is the only one who's doing what it is that can do that. Now I talk about these things with my six-year-old. And my mom, too. I'm grateful for that."
Similar expressions of gratitude were echoed throughout the Ventura College field, as thousands of families made their first-ever excursion to a free political rally that engaged several generations and brought about an opportunity to teach and learn about history and heritage.
In much of American society people spend their days focusing on what they can do, instead of what they can be. This often leads to isolation. At a Bernie rally, however, something different is going on. People of all ages and nationalities are taking time off of work and talking about and focusing on some of their dearest pursuits, and what they want for others.
In addition to gratitude, almost every stranger I spoke to expressed a mindfulness of their motives and their legacy, and spoke about themselves as part of a bigger picture that extended beyond their own life. Waiting for hours on what was once Chumash land, people were able to experience what isn't often seen on television. Humans tapping into their strengths and becoming mentors and role models—whether as volunteers, community leaders, care givers, or becoming involved with family with life-affirming, gut-satisfying thoughts and deeds.
One of the things that Sanders through his own actions and tour reminds us of, is these activities require considerable investment in time, energy and emotion. But they offer a way to forge life-sustaining connections and inspiration in an era when there are no longer many multigenerational households, where most of our elders are increasingly segregated into their own communities, and where middle-aged women are rarely seen in film and television.
Most psychology research shows that volunteers are much more content, and much happier, than the passive voyeurs who watch television, thrilled with the spectacle and all the photos, but sadly missing the bigger picture. And this was evident in Ventura. As thousands of people began arriving at 8 a.m. for a 1 p.m. speech, loud speakers blared Prince, Tracy Chapman, Calle 13, Willie Nelson, David Bowie, and Simon and Garfunkel, for people to dance and relax to under the friendly coastal California sun. Most had already heard his speech before online, but they wanted to come in person to show support, spend more time with family and friends, and feel more connected to the character strength of hope that the revolution has tapped into.
Kelsey Sherman, 19, will be voting for the first time this year. Her sister, Michelle, is 17 and will just miss the cut-off date but the entire family felt it was important to come and hear Sanders talk in person. "I really like Bernie because I think he understands younger people. I'm grateful for that. I like that he sticks to his beliefs. That's important."
Eighteen-year-old Saul Gordillo from Ojai echoed her sentiments. He said he's grateful that the first time he votes it will be for a candidate that is "really standing up for the people."
Catherine (54) drove down from Santa Barbara to see Sanders in person. "Bernie's willing to challenge an economic system that doesn't serve ninety-nine percent of Americans. I'm very thankful that he has the courage and generosity to do this for us. He's also challenging the big bank structure and historically that has been a very dangerous thing to do in this country. I'm just very thankful for that."
Kirvy (62) agreed. "He's bringing to light the structural issues that create inequality and injustice, things that have created too much poverty and struggle and have really gutted our democracy. I appreciate him being willing to speak the truth and take back what we stand for as a nation. I really admire the courage he has. The courage it takes to buck the system is profound. And he is motivated by compassion, too. I'm grateful for that."
Christine (66) came to the United States from Zimbabwe thirty years ago before becoming an American citizen. She said she was grateful that Sanders has the courage to stand up to powerful people so that everyone has the chance of having a voice, "I lived through one person taking power and destroying the country. If people don't have a voice, somebody is in charge and that's ruined many third-world countries. That's a dictatorship. People have to be able to have a voice and to speak without fear. I have a twenty-two year-old that I want there to be a future for. I'm thankful for what he's doing for all of us."
Sierra (40) is an M.A. Clinical Psychology student at Antioch, Santa Barbara. "Mental health services are too hard to access, especially by the homeless who are predominantly veterans. The true cost of war has to include the care of our veterans when they come back from war. It shouldn't be hard for them to get it. I'm grateful that Sanders is pushing for health care reform. That's the main reason I'm here. But there are so many others. I have five children and I want them to have a planet to inhabit. Wild land for them to roam in. And education that doesn't put them in poverty. I want to see our government making reparations with the Native American community and supporting them in rebuilding their culture which has been systematically destroyed, genocide. I'm just so deeply appreciative that we have a candidate that is speaking the truth and who does so so unapologetically. He carries himself with dignity and integrity. I'm so thankful we have a leader modeling virtues that should be modeled."
Those were my mother's sentiments, too. And how thrilled I felt getting to watch her wave and yell, "Thank you!" to her hero fifteen feet away. As we waited for the crowd to clear and walked slowly back to the car, pausing often to rest her newly replaced hip, I found myself remembering an old parable psychologist Sonja Lyubomirsky wrote in her book The Myths of Happiness: An old farmer had a valuable workhorse. One day, the horse ran off. The farmer's neighbors expressed their sympathies. "Such bad luck," they all said. "May be," the old farmer said. The next day the horse returned with six wild horses. "How wonderful," the neighbors said. "May be," said the old farmer. His son tried to ride one of the wild horses, fell out of the saddle and broke his leg. The neighbors said it was clear the son had bad luck. "May be," the old farmer said. The next day, government officials came to draft young men from the village into the army. They didn't take the farmer's son because of his broken leg. The neighbors congratulated the old farmer on how well things turned out for his son. The old farmer answered, "May be."
A few words from English poet William Blake explain the moral of this story: "Joy and woe are woven fine." What might have been lost had Bernie Sanders' candidacy actually been televised this past year? Would an entire generation of people been exposed to volunteerism and to deeply satisfying social and civic responsibilities?
What appears to be tragedy often turns out to be something else altogether, at least in the long term. Even the worst pitfalls in someone's life can prove, years later, to have some positive aspects. No one knows how life events will play out. But at least for now, I'm savoring my fleeting hand-shake with Bernie Sanders, and the look on my mother's face when she saw it happen.
Laurie Agard