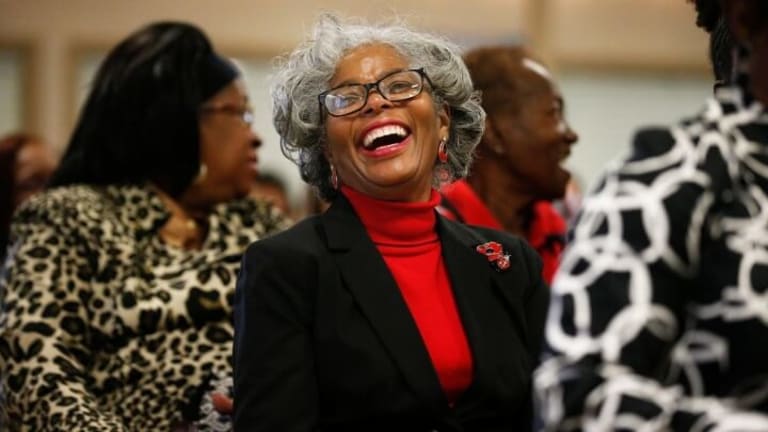 Can Black Women Save Democracy Once Again?
Charles Jaco: For Espy to have any chance of winning, there has to be a surge in black votes like U.S. Senator Doug Jones saw in Alabama, when he upset Republican and accused pedophile Roy Moore.
If you wake up Wednesday morning to find that the newest member of the United States Senate is a racist white woman who looks like the "after" picture in an anti-meth ad, you can blame it on the fact that there aren't enough black women in Mississippi.
On Tuesday, Mississippi voters will decide who fills the Senate seat vacated by U.S. Sen. Thad Cochran's retirement. Democrats, who haven't won a U.S. Senate election in Mississippi since 1982, have fielded former Secretary of Agriculture and Congressman Mike Espy, a black man.
Republicans countered with a white woman, state Senator Cindy Hyde-Smith, who has said she'd gladly attend a pubic hanging and that voter suppression is a good thing. She both attended and sent her son to a private school, the kind with a reputation as a segregation academy, so as to avoid sharing classrooms with black students. She has defended Mississippi's heritage of treason and slavery by posing wearing a Confederate uniform cap in Jefferson Davis' seaside home. Like Nina Simone said, Mississippi God damn.
She being a Republican, Hyde-Smith is both pro-Trump and a bigot. This being Mississippi, her bigotry is less a dog whistle than a tornado siren. Polls show she's ahead of Espy by three to four points in a state where a "normal" Republican would win by eight or ten points, which is why Trump made two appearances for her Monday.
For Espy to have any chance of winning, there has to be a surge in black votes like U.S. Senator Doug Jones saw in Alabama, when he upset Republican and accused pedophile Roy Moore.
For Espy to have any chance of winning, there has to be a surge in black votes like U.S. Senator Doug Jones saw in Alabama, when he upset Republican and accused pedophile Roy Moore. But even with that, Espy still needs to get 25 to 30 percent of the white vote to win, which is why he's been running a cautious, Claire McCaskill-type campaign, trying to appeal to white rural voters by not attacking Hyde-Smith as the racist extremist she is.
Instead, Espy has called her an "embarrassment," a "throwback" to the dark days of Mississippi's past. If McCaskill's Senate loss in Missouri is any guide, that lukewarm approach may not work. But then again, for anyone thinking "but it's Mississippi, after all," remember: based on the 2016 vote totals, Mississippi is arguably less conservative than Missouri. Trump won Missouri by 19 points, while winning Mississippi by 18 points. So maybe there's a chance that a quarter or more of Mississippi whites will vote for Espy.
But the black vote is the key, despite Mississippi's rich history of voter suppression and terror. With a 38 percent African-American population, Mississippi is the blackest state in the country. In only nine states is the white share of the population smaller than Mississippi's, where whites make up 58 percent. The issue is turnout.
That black turnout, especially among black women, put Doug Jones in the Senate by a 23,000-vote margin in Alabama. There was a similar surge in the Georgia's governor's race, but with a different result, as Republican Brian Kemp, the secretary of state who purged hundreds of thousands of voters from the rolls, beat an African-American Democrat, Stacey Abrams.
But hidden in the Georgia results was a surprise that helped give the race to Kemp: according to a CNN vote analysis, 11 percent of black men voted for the Republican. Stacey Abrams came within 54,700 votes of Kemp, so the black male vote didn't make the difference in the loss. But if she had gotten 26,000 more votes, she could have forced Kemp into a runoff, and the black male vote would have been a substantial portion of that.
Ted Johnson, who studies voting patterns at the Brennan Center for Justice, told the Washington Postthat sexism against Abrams wasn't the cause. Rather, Johnson says the black men who voted for Kemp were responding to a message of pull yourself-up-by-your-bootstraps, telling the Post, "It's a mantra they can support rather than having the government say we're gonna help you be a man."
There's no way that squares with the GOP's white nationalism and white identity politics, but that didn't matter to a little more than one out of ten black male voters in Georgia. Black women, unburdened by male insecurities, didn't suffer that sort of cognitive dissonance.
It was the African-American female vote that defeated Roy Moore in Alabama and kept Abrams within spitting distance of Kemp in Georgia. It could make Espy the first Democrat elected to the U.S. Senate from Mississippi in 38 years and the first black person since Blanche Bruce (a male, despite the name) served as a Reconstruction-era Senator from Mississippi from 1875 until 1881.
Central to that effort will be people like LaTosha Brown of Greenville, Mississippi, co-founder of the Black Voters Matter Fund. The fund, at BlackVotersMatter.org, is working from the bottom up, trying to recruit candidates for offices from school board to state representative among black people, especially black women, throughout the South.
The fund is also organizing drives to convince non-voters to vote and infrequent voters to become regular voters, realizing that victories for pro-Trump white nationalists like Kemp in Georgia and (possibly) Hyde-Smith in Mississippi result from racism and voter suppression, but they mainly are the fruits of simple arithmetic. Take Abrams' ill-fated run for governor in Georgia. Some 55 percent of eligible Georgia voters cast ballots, a huge increase from voting in past midterms. It also means 45 percent of eligible voters just didn't bother.
Republican voters are older and whiter, and those groups vote at much higher rates than younger, non-white voters. If that pattern holds in Mississippi, Espy loses. It's simple math.
But if, once again, black women charge to the rescue of democracy, then Espy goes to Washington. If not, another racist Republican joins the gaggle already supporting Trump's white nationalist agenda in D.C.
Charles Jaco
St. Louis American