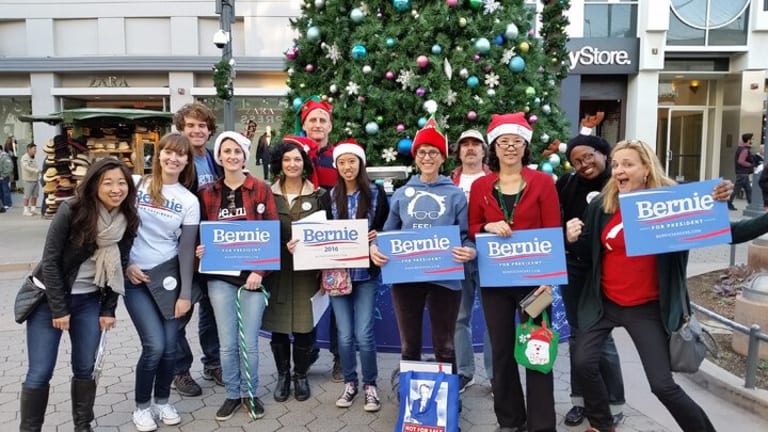 Have Yourself a Bernie Little Christmas
Lauren Steiner: "On the first day of Christmas, Bernie gave to me, an end to inequality. On the second day of Christmas, Bernie gave to me, 15 bucks an hour and an end to inequality."
[dc]"O[/dc]n the first day of Christmas, Bernie gave to me, an end to inequality. On the second day of Christmas, Bernie gave to me, 15 bucks an hour and an end to inequality." And so begins the adpated version of "The Twelve Days of Christmas" Bernie style. The rest of the song includes ten other aspects of Bernie Sanders' platform.
Inspired by the Occupella singers in San Diego active during the Occupy movement, I sat down before Thanksgiving and adapted a couple of tunes. "Rudolph the Red Nosed Reindeer" became "Bernie the Greatest Candidate." Then there was "Deck the Halls with Votes for Bernie." And "Jingle Bells Bernie Tells, the Truth about Our Land." And so on.
I enlisted the creative help of fellow LA for Bernie volunteer Debra Mayes, and together we created a few more songs. That led to an event page on Facebook for a caroling event on the Sunday before Christmas, and we were off. On the page, someone posted some adapted holiday lyrics by Bard for Bernie, aka Meira Marom from Brooklyn New York. Others posted their ideas. And soon enough, we had 16 songs.
Like Bernie, I had an ambitious plan. I wanted to hit multiple shopping areas on the Westside of LA in six hours. Two weeks before, Debra and I walked the 5-mile route, starting at the Mar Vista Farmers Market, then to Abbott Kinney, a hip shopping street in Venice, where we planned to hit a coffee store and a lunch spot. Then we walked to Main St. in Santa Monica, where we planned to hit four more spots. Finally, we walked to Santa Monica Place where we decided to carol in front of the Nike Store and then walk up the Third Street Promenade, a pedestrian mall, to the Apple Store.
We hoped to carol outside with a PA system. Another member of LA for Bernie is a street musician who happens to have a permit to have amplified sound there. He agreed to reserve the space for two hours. Then we planned to go into the store and set all the browsers to Bernie's website.
We posted the event on Bernie's website as well and waited for the signups to come in. However, as with many events where people RSVP on line, most people who signed up did not show. Still, we had a core group of six at the Mar Vista Market that grew to 12 by the time we hit Santa Monica Place. One of our core members brought his guitar and a set of bells. The rest of us donned elf and Santa hats and reindeer ears. Most of us wore our Bernie shirts. And I brought rally signs for everyone to hold.
The reception we got was mostly positive. Fewer people stopped to listen to our whole set than I had anticipated. Many people listened to a few songs, took photos and videos and even posed with us. Some even took a songsheet and joined in. We got a lot of honks from drivers passing by. And we handed out some flyers and signed up a couple people to phone bank.
One hour before we were to hit the appointed spot in front of the Apple Store, the street musician with the permit messaged me that he couldn't make it. And when we arrived there, we found the spot taken. Thinking quickly, we asked the fellow if we could pay him to use his mic for 15 minutes. He said he couldn't do that. But he did accept money not to play. In 15 minutes, we got through much of our set. A few people even threw dollar bills into his bucket.
Unfortunately, our plan to set all the browsers in the Apple Store to Bernie's site didn't work out, as a few dogged employees eager to tow the corporate line kept telling us to cease and desist. After the event, we all repaired to a local restaurant to enjoy well-deserved drinks and appetizers. A photographer from the LA Weekly who had followed us around on the Promenade posted a great photo essay the next day.
I spent the next day and a half editing this video and posting it to a lot of Bernie sites hoping to inspire more groups to do this before the holidays are over. Bernie supporters, in case you haven't noticed, are pretty loyal and fanatical. Already we have events happening in Torrance, Sillicon Valley, and one planned for Saturday in Beverly Hills. A group in San Diego is also planning one for Saturday with some of the original Occupella singers who, no surprise, are Bernie supporters.
If anyone wants to do a Bernie caroling event, please email losangelesforbernie@gmail.com, and I will send you the songsheets. In the meantime, have a very Bernie Christmas and a revolutionary New Year!
Lauren Steiner