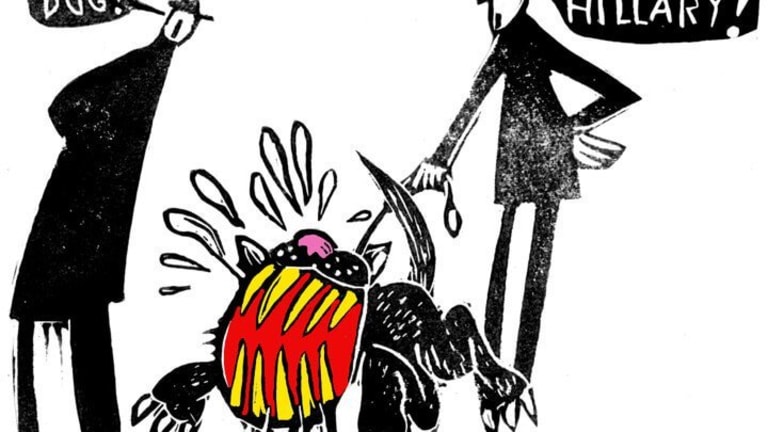 Cinderella at the Iowa Ball
Robert Nelson: Hillary Clinton will be masquerading as her progressive opponent Bernie Sanders in the first major electoral event of the presidential nominating process.
Progressives in the Democratic Party have long suffered from a Cinderella complex. Progressives do the heavy lifting — yet their half-sisters, the Wall Street Democrats, go to the ball. This happens every election year. This year is no exception. The star of the show this year is Bernie Sanders.
Patronize Sanders
Conservative Democrats belittle progressives in the primaries, patronizing them as unrealistic dreamers, then, once the Wall Street wing has secured the nomination, they order the progressive activists to turn out the vote in November. The conservative refrain is "Do you want Nixon, Reagan or Bush to win?"
Hillary Clinton will be masquerading as her progressive opponent Bernie Sanders in the first major electoral event of the presidential nominating process.
The Wall Street plan for dispatching Bernie Sanders, the self-defined "Democratic Socialist" senator from Vermont, was to ignore him. If he got a headline then they patronized him. Last fall, the mainstream media barely mentioned his name. If he was mentioned, it was in passing reference to his opponent's invincibility. When he appeared in the first debates his ideas were dismissed as pie in the sky.
Ignore Sanders
The Democratic National Committee, often accused of serving as the administrative branch of the party's Wall Street wing, scheduled candidate debates at obscure times — designed to ensure that the electorate would not be exposed to Sanders' progressivism. After each debate, the DNC referred the press to so-called "Democratic consultants" for analysis. Following the first debate, Democratic pollster Peter Hart wrote, "Hillary Clinton solidifies her lead over Bernie Sanders after a strong debate performance". The outcome of the nomination process seemed assured.
However, progressives adjusted their schedules and watched the debates. They engaged in Sanders' campaign. They cared more, driven by a passion to effect social change. The debates galvanized Sanders' supporters while his opposition swizzled martinis at $5,000-a-head fundraisers west of Las Cienega Boulevard and north of the Santa Monica Freeway, known locally as "The 10."
The plan unraveled because progressive Democrats are highly motivated. Soon the Democratic consultants changed their tune. On November 29, Peter Hart, who had dismissed Sanders a few weeks before, said, "If Diogenes was looking for that honest man, once he got past Bernie Sanders in the presidential election, he'd be looking for a long time. The voters can't find that honest person in 2016." Hart had highlighted a perceived difference between Sanders and his leading opponent. Sanders' sincerity had captivated Hart, a consummate political cynic. Hart was quoting Diogenes—the Greek philosopher who is credited with creating the philosophy of cynicism itself!
Borrow Sanders' Ideas
Sanders continued to stress the need to control Wall Street. His opponents modified their tunes. Barney Jopson wrote in the Financial Times of London two weeks ago that Secretary Clinton has joined with one of Sanders' Republican opponents, Donald Trump, in a call to scrap the "carried interest" tax break for hedge fund managers. This tax break is just one of many that Sanders identified as a service to Wall Street.
Throw Whatever Might Stick
Sanders continues to hold a lead in New Hampshire polls despite increased spending by political action committees favoring a Wall Street friendly viewpoint. His opposition has called out the dogs- The "Big Dog," that is — Bill Clinton himself. However, President Clinton carries baggage that makes it difficult for his wife to argue that she would make a difference were she to become the first woman president. Sanders did not have to make Bill Clinton an issue. The Republicans were glad to do it.
Hillary next sent her daughter Chelsea into the fray. The younger Clinton lacks the political savvy of her parents. She accused Sanders of advocating the scrapping of Obama's Affordable Care Act, waving a specter of Americans being left with no health care protection at all. The younger Clinton apparently was unaware that Sanders is well known as the most strident voice in US politics in support a single payer (Medicare for All) health care program. Chelsea Clinton was left standing alone. Maggie Haberman and Alan Rappeport of The New York Times reported, "Former President Bill Clinton, campaigning for his wife in Keene, New Hampshire declined to join in the attack on Mr. Sanders, though he allowed that vigorous debate between the two Democrats was a good thing."
When All Else Fails; Red Bait
Missouri Sen. Claire McCaskill borrowed a page from Joe McCarthy's playbook last week when she told The New York Times, "The Republicans won't touch him (Sanders) because they can't wait to run an ad with a hammer and sickle." Similar sentiments were echoed by Maryland Congressman Steny Hoyer on CNN. Their actions mimicked the role played by Dixiecrat legislators a half-century ago as they embraced the McCarthy witch hunts.
Something has gone seriously off-script. The public opinion polls in Iowa indicate that Clinton's lead has deteriorated. In New Hampshire, Sanders clings to a small lead. Polls indicate that Sanders would defeat Trump by double digits in a head to head confrontation. Mrs. Clinton would not fare so well. Would Wall Street Democrats join Sanders to defeat Trump in November? Do the Wall Street Democrats want Trump to win in November?
Cinderella, masquerading as Bernie, is preparing for a grand appearance at the Iowa ball. Can the Wall Street Democrats handle it?
Robert Nelson
Pasadena Weekly