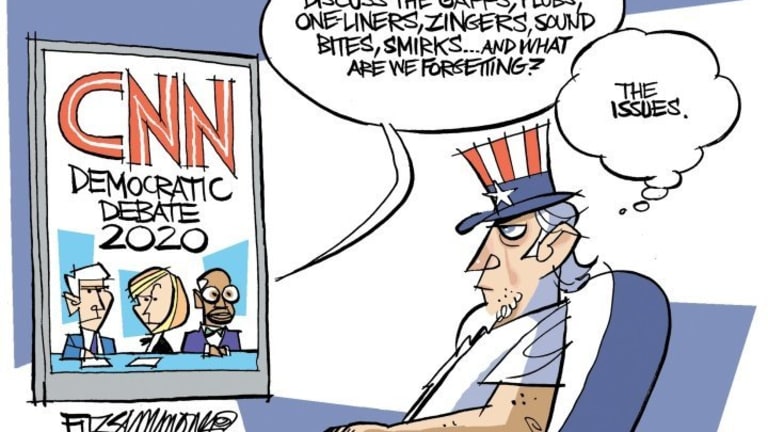 Closet Republicans, Right-Wing Media Giants Warp Dem Debate
Tom Hall: I have to agree with the Bernie supporters at the party: Warren is winning that contest. I only hope that Bernie and Warren can, and will work together no matter which one comes out ahead.
Wednesday night, I got home from a debate watching party and found an email from a client, who wrote, "Tonight's debate was terrible. These Democrats are SO lost!"
I understand the frustration. The debate was confused and fractious, and often confusing. But it was also wonderfully informative and gave us lots of insight into party dynamics and the reality that campaign salesmanship and corporate funding guide too much of the conversation. One of the best parts of the debate was watching the revelation that "back bench" candidates, who have been consciously downplayed by the corporate "liberal" media, show that one doesn't have to be a "frontrunner" to make important points and valuable contributions.
Before considering any individual candidates, let's consider CNN. I have always had some respect for Jake Tapper as a journalist. But on Tuesday's debate, he asked questions that had been drafted right out of Republican Party talking points. He attacked proponents of health care reform, and blocked candidates who tried to sneak in actual facts to contradict his Republican assumptions. And CNN assigned questions on race to the one black questioner, as if they were beneath the attention of the two white "journalists."
On Wednesday night, CNN started the program with blaring graphics and trumpet fanfares borrowed from World Wide Wrestling programs. The structure and conduct was designed to encourage viewers to see the entire program as a sports contest, rather than a discussion of issues of national importance. And candidates were repeatedly pitted against each other, like gladiators being ordered whom to attack, by Patrician spectators in their royal box.
This is not surprising. But it is important and it is disappointing. In 2016, Facebook lent its entire weight to the Donald's election campaign. Mark Zuckerberg has made clear that Facebook will again be all-in for the Donald in 2020. After Tuesday's debate, Google locked one disfavored candidate's donation account, to prevent her from receiving individual donations. Now CNN appears to have taken a side in the selection of Democratic candidates.
Where are all the alt-white voices, so concerned about imagined "censorship" now that the big internet companies are lining up behind the Donald?
If you pay attention to HuffingtonPost (now rebranded as HuffPost), you may have noticed that Verizon, which owns HuffPost, AOL and Yahoo!, has started having HuffPost editorial content, particularly story headlines, question Democrats and liberal/progressive activists. Verizon supports the Donald, and other Republican candidates. And now it is directing HuffPost and Yahoo! News to criticize Democrats as part of that support.
In this context, it is important for Democrats to be aware of, and question what is actually happening in the emerging campaign. For example, we are told that there are 20 Democratic candidates. But as we saw on Tuesday evening, there were only six Democrats on stage, mixed in with four Republicans, who were given extensive face time.
YES, John Delaney is a REPUBLICAN. His money comes from "financial services" companies that he founded to make loans to, and extract money from, the healthcare industry. He wants to protect the ability of insurers and other financial services corporations to continue making profits from healthcare. Politifact determined that statements he made about healthcare and the "evils" of Medicare for All, in the June debate were "unsubstantiated"—i.e.: NOT TRUE.
Tim Ryan is a REPUBLICAN. A lifetime politician, he started as an aide to Ohio's infamous Jim Traficant (remember the hair!) right out of college, and took up Traficant's seat upon Traficant's convictions for extreme corruption, and expulsion from the House. Ryan brings as much private business experience to Washington as the Donald brings military experience. He shares Republican revulsion for the idea that healthcare is a right. And he believes that the Donald is right in using tariffs to fight trade wars, he has introduced bills to impose tariffs, to protect U.S. industries from competition.
Delaney and Ryan are two of the results of Bill Clinton's efforts to drag the Democratic Party to the pro-business right, making a lot of Democrats the same as what were once "moderate" Republicans. These candidates are committed to past Republican policies, reliance on, and welfare for, big business. The label "Democrat" is misleading and incorrect for them.
Denying that these and some other "Democrats" are actually Republicans is like denying that CNN's questions on both nights of the debate were not drawn from Republican talking points. But understanding who these guys really are also helps us understand what we're hearing when we hear them say that "We can't do…" whatever it is that Republicans don't want us to even try.
I have to agree with the Bernie supporters at the party: Warren is winning that contest. I only hope that Bernie and Warren can, and will work together no matter which one comes out ahead.
I watched both nights of the debate with a crowd that was mostly white, mostly going grey, and at least half wearing Bernie t-shirts. And after Tuesday's debate, the almost universal opinion was that Warren was doing a better job than Bernie. But the Bernie who debated on Tuesday was a way better Bernie than we have been reading about in Norm Solomon's columns. He was scholarly, with informative points and clearly articulated explanations.
Individually, I'm not thrilled with Warren's personal anecdote style of campaign argument. I favor Bernie's more sort-of scholarly pitch. But I have to agree with the Bernie supporters at the party: Warren is winning that contest. I only hope that Bernie and Warren can, and will work together no matter which one comes out ahead.
One of the best parts of the two nights was watching the "second tier" candidates strut their stuff. The "liberal" media wants to stir up strife between a few leading candidates. But these huge panels allow people whom the media would like to ignore to talk directly to the people.
I am reminded of a space robot flailing its arms and yelling "Danger Will Robinson." But here, the robot is the press, and the danger is from "too much" democracy. The candidates will sort themselves out, and the field will be reduced in size. But against the wishes of the corporate "liberal" media, we will all have benefited from a few nights of having non-frontrunners allowed to share stage time, and opinions and facts, with the American People.
Verizon, through HuffPost, dismissed the "second tier" candidates as, "vanity candidates with pathetic polling and no real reason for running [who] waste everyone's time."
But in reality, these candidates each show us important things. New York Mayor DeBlasio shares a lot of Bernie's firebrand concern for people who have been left behind, and for the immigrants who have made this nation such a great power—and that a guy who mimics Rodney Dangerfield is not presidential. Tulsi Gabbard shows us that a politician can learn and grow, and become stronger. Even as too many other candidates claim that Joe Biden can't possible have learned or grown while working under President Obama.
There will be a lot fewer candidates for the September debate. Let us hope that the closet Republicans are gone, and some of the true Democrats who nonetheless lack presidential stature and appeal. There will certainly be more Republican questions asked, and more corporate "liberal" media efforts to make the debates wrestling matches more than informational.
But each of these helps us sort through who will be best to lead us out of the swamp which the Donald and his Republican co-looters have dug for us.
Tom Hall