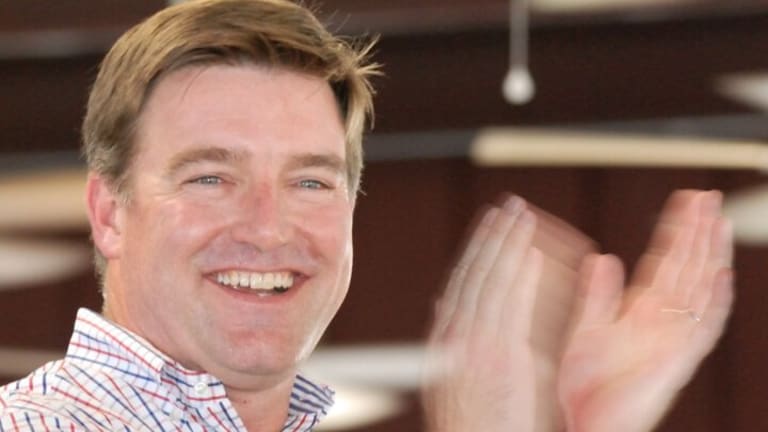 Kentucky Governor's Race: Conway Extends Olive Branch, Bevin Chops It Off
Berry Craig: Politics is a holy war to Bevin. Democrats are not just the other party to this guy -- they are the enemy who deserve no quarter.
[dc]"A[/dc]ngry," arrogant," "bitter," "pompous," "thin-skinned."
Add "lacks class" to those terms that describe Matt Bevin, the Republican who wants to be the Bluegrass State's next governor.
At the tail end of last night's Kentucky Educational Television gubernatorial debate, Democrat Jack Conway seemed to be extending the olive branch to his opponent by praising Bevin for adopting some African children.
"These campaigns get heated," Conway said, according to AP reporter Adam Beam, "but Matt, when I look at you and your family, without a doubt you have provided some children that wouldn't otherwise have a wonderful home with a wonderful home and that is something to be respected."
Moderator Bill Goodman asked Bevin if he had anything nice to say about Conway. He gave Bevin a golden opportunity to show some class, too, maybe by complimenting Conway's family.
Bevin wanted no part of it. "I look forward to you having the opportunity to join the private sector," he replied.
"After the debate, apparently wanting to avoid a replay of Sunday night's contentious gaggle with the press, Bevin immediately left the building while Conway was taking questions," Sam Youngman wrote in the Lexington Herald-Leader.
Bevin's exit led Conway to suggest there is "a significant question of temperament," Youngman added. The Democrat, according to the scribe, observed, "when you're governor, things aren't always going to go your way."
Politics is a holy war to Bevin. Democrats are not just the other party to this guy -- they are the enemy who deserve no quarter.
According to Youngman, Conway also mused, "I think what he's shown over these last couple of nights is that he doesn't have the temperament to be the governor of Kentucky. He's not going to be able to storm out of a Republican caucus meeting in the Senate when he's talking about what they're going to have to get through."
Both candidates have been tough on each other in debates and on the campaign trail. Kentucky politics has always been a contact sport.
But Bevin sits atop the heap as a practitioner of the politics of spite.
I thought no gubernatorial candidate could spew more bile than Louie Nunn did in 1967. Another Republican, he got elected largely by pandering to whites who didn't like the civil rights laws coming out of LBJ's Washington. Nunn made the president, who championed the landmark legislation, the campaign's main issue.
But the GOP's Larry Forgy trumped Nunn's nastiness in 1995. Republican David Williams surpassed the venomous Forgy four years ago.
The tea party-tilting, John Birch Society-schmoozing ballistic Bevin has worsted Williams.
Politics is a holy war to Bevin. Democrats are not just the other party to this guy -- they are the enemy who deserve no quarter.
Long gone is the GOP of Lincoln and Liberty – and its practitioners of the politics of civility. Ike, Rocky, Ed Brooke, Jake Javits, Mac Mathias, Howard Baker and the "Global Kentuckian," John Sherman Cooper, come to my mind.
Bevin is the Bluegrass State face of the GOP of Trump, Carson, Cruz and their reactionary ilk who equate compromising with Democrats to treason.
Perhaps with the bloviator Trump it's just posturing. But I'd bet my pension that the likes of Carson, Cruz and Bevin mean exactly what they say.
Bevin despises even the concept of unions. In the debate, he bizarrely claimed that a union-busting "right to work" law will help cure the state's heroin ills.
Bevin believes government has no real obligation to help citizens who need help. He is a bare-knuckles, neo-Social Darwinist who essentially believes that if you're poor, it's mostly your problem, and of no concern to Frankfort or Washington.
Forty-eight years ago, the race-baiting Nunn tied his Democratic opponent, Henry Ward, to LBJ. Nunn knew a lot of Kentucky white folks harbored a gut-level hatred of the president for "giving everything to the blacks" as I heard more than a few of them put it. Of course, "blacks" was not the word they used.
Likewise, the beyond conservative Bevin is making synonyms of "Conway" and "Obama." Our first African American president is deeply unpopular in Kentucky, a state that is more than 88 percent white and almost 11 percent whiter that the country as a whole.
Anyway, if I were a Kentucky Democratic Party bigwig, I'd already be working on a TV commercial featuring the last words of the last gubernatorial debate of the campaign.
Conway showed class, Bevin contempt. Most often, voters prefer the former trait to the latter in the candidates they want to elect.
Berry Craig