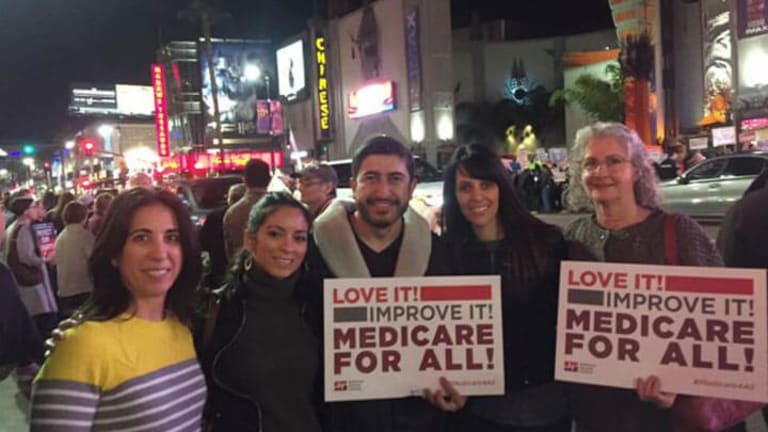 Xavier Becerra's Congressional Seat: Could Arturo Carmona Win?
Dick Price: A recent Latino Decisions poll tells a fascinating anti-establishment tale, putting Carmona first in favorability with 73% to Gomez's third-place finish with 69%.
With long-time Congressman Xavier Becerra sworn in Tuesday as California's first Latino Attorney General, the race heats up to take his seat in the 34th Congressional District.
At least 18 candidates have already stepped forward for a special election to fill the seat, which Gov. Brown will likely set for sometime in April or May.
After representing the heavily Democratic district for 24 years, Becerra follows former AG Kamala Harris, who used the attorney general's position to launch herself into the U.S. Senate this past November. Also, in something of a surprise, the 58-year-old Becerra was appointed by Governor Jerry Brown, who also served as the state's attorney general, which puts Becerra into consideration as either Brown's or Sen. Dianne Feinstein's replacement down the road.
A recent Latino Decisions poll tells a fascinating anti-establishment tale, putting Carmona first in favorability with 73% to Gomez's third-place finish with 69%.
Early favorites to replace him include Assemblyman Jimmy Gomez, former Los Angeles Unified School District board member Yolie Fores, Sara Hernandez, formerly of City Council member Jose Huizar's staff, and Arturo Carmona, who served as outreach director for Sen. Bernie Sanders in the Democratic Primary last spring.
Most years, Gomez would seem to have the inside track as he's been elected three times to represent California's 51st Assembly District, which sits squarely inside the congressional district he hopes to represent in Washington.
Gomez also enjoys a slew of endorsements from mainstream Democrats, including LA Mayor Eric Garcetti and Congressional Hispanic Caucus members Grace Naplitano (D-Norwalk), Pete Aguilar (D-Redlands), Juan Vargas (D-San Diego). Also onboard are LA-area heavyweight State Senate President Pro Tem Kevin de Leon, who also represented this district, Assembly Speaker Anthony Redmond of Paramount, and LA County Supervisor Hilda Solis.
But with the Democratic Party rocked back on its heels by Donald Trump's stunning victory and a populist insurgency sweeping the country, this is anything but "most years."
Could Carmona Win?
A recent CA-34: Sanders Movement Lives On, Voters Reject Political Establishment
" target="_blank">Latino Decisions poll tells a fascinating anti-establishment tale, putting Carmona first in favorability with 73% to Gomez's third-place finish with 69%. More telling, among the four candidates with the best chance through their fundraising, endorsements and political experience, Carmona finishes far ahead with 30% of the votes, to 19% for Gomez, with Sara Hernandez and Yolie Flores getting single digits.
" target="_blank">Carmona's big advantages are his long history of grassroots organizing and his close ties to Sen. Bernie Sanders, who won Becerra's district in last spring's Democratic primary—the only Latino-majority district in the region to "feel the Bern."
Before serving as National Deputy Political Director in the Sanders campaign, 38-year-old Carmona worked for the Council of Mexican Federations in North America (COFEM) and Mexican American Legal Defense and Educational Fund (MALDEF), before starting and becoming executive director of Presente.org—all grassroots organizations designed to protect and advance Latino rights. Presente.org led the fight to get race-baiter Lou Dobbs off the air and fought against the massive deportations in the Obama administration, according to Carmona.
"In Congress, I would continue organizing at the local level," Carmona said in a recent conversation with LA Progressive Publisher Sharon Kyle and Editor Dick Price. "That's what we're going to need to combat Republican control in Washington and in so many statehouses around the country. Real change doesn't happen from the top down."
Carmona is confident his campaign can compete against Gomez's insider campaign. "In the first three weeks after I announced, we raised $100,000 from 1,500 donors, 90% of them small donors. We're well on our way to raise the half million dollars we'll need to win," he said, indicating that he'll follow the Bernie Sanders $27 paradigm. "Gomez raised twice that, but most of it from big donors, many of them from outside the district, some from groups like the prison guard's union."
"Plus I speak fluent Spanish and Jimmy doesn't," Carmona adds with a smile as at least one candidates' forum will likely be in Spanish. When asked about the lack of focus from the Democratic Party on directly addressing issues that intersect like race, ethnicity, immigration status, sexism, and gender identity, Carmona has said: "We need to have a clear economic justice lens. We need to understand the intersectionality of all of these issues, whether it's issues around gender and LGBTQ, racial justice or criminal justice."
Carmona points to the recent Assembly District Election Meetings, where Democrats were elected California Democratic Party state central committee. Progressive candidates aligned with the Sanders campaign won big in the Eastside districts he hopes to represent, according to Carmona. "And Jimmy's slates lost in every ADEM in the district, including the 51st that he represents in Sacramento."
The heavily Latino 34th CD covers neighborhoods in Central, East, and Northeast Los Angeles, running form Boyle Heights in the east to Highland Park in the north, to Koreatown in the west. In recent decades, some of its neighborhoods were among the poorest in Los Angeles County, though now several are being rapidly gentrified, with two-bedroom bungalows in Highland Park fetching more than $1 million.
Carmona would use his congressional seat to make sure the Democratic Party makes immigrant rights a high priority. "We've heard lots of promises," Carmona said, who was born in Downey and lived for several years in Mexico with his parents. "But not much has actually been delivered for immigrant families."
Coming off the intense grassroots organizing that led to those local victories and springing from the huge largely progressive Women's Day March turnout where up to three-quarters of an Angelenos flooded the streets of downtown Los Angeles, Carmona's brand of grassroots organizing and his close ties to Bernie Sanders—whose popularity only seems to grow and who could conceivably visit the district before election day—make Carmona one to watch as the clock count down to election day.
Dick Price
Editor, LA Progressive