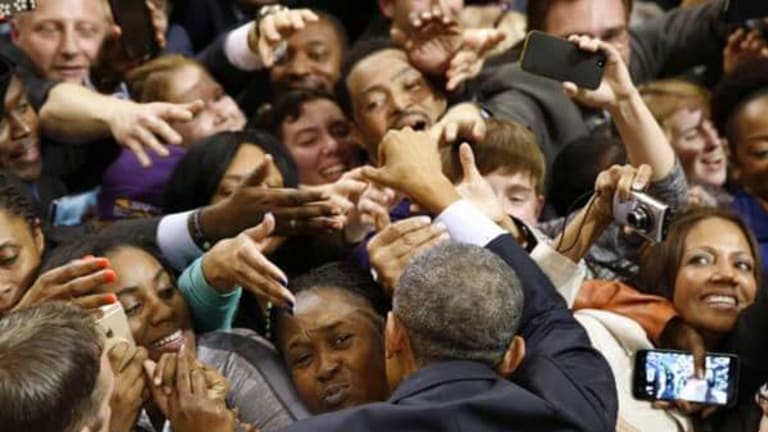 Cousin Pookie Is Back! And Yes, He's Still Sitting on the Couch
Nia-Malika Henderson: President Obama, desperate to get out the black vote, has revived the folk hero that is Cousin Pookie once again.
Cousin Pookie is back, y'all. Remember him? Last we checked, he was on somebody's couch. And Pookie was not thinking about voting because that's not what Pookie does. Pookie basically does Pookie.
Well, President Obama, desperate to get out the black vote, has revived the folk hero that is Cousin Pookie once again. Here's Obama at a rally on the South Side of Chicago for Gov. Pat Quinn on Sunday night:
"You've got to grab your friends, you've got to grab your co-workers, you know, don't just get the folks who you know are gonna vote, you've got to find Cousin Pookie. He's sitting on the couch right now watching football, hasn't voted in the last five elections, you've got to grab him, and tell him to go vote."
Obama said virtually the same thing at a rally Sunday for Maryland Lt. Gov. Anthony Brown, who is running for governor.
Yes, we are grateful that Obama name-dropped Cousin Pookie, because it means that we can recall all things Obama and Cousin Pookie. They make such a good pair that the urban dictionary cites Obama's reference to Pookie under the definition of "Pookie n nem": "The proverbial ominous 'hood' characters and or family member that every person with a connection to the ghetto knows."
Prior to Obama's invocation of Cousin Pookie, the most famous version of this stock character was Chris Rock's crack-addicted version in the classic movie "New Jack City" (1991).
Pookie from New Jack City " It be Callin Me Man": https://t.co/aOxbDNgwwC via @youtube— Samhain Pookie (@it_itt) April 6, 2013
Now, we can't be sure how long Obama has known about Cousin Pookie, but the voter mobilization version of Cousin Pookie goes back to 2008. Obama typically brought him up in front of black crowds, and when he did, it always brought laughter and recognition. It was a kind of code switching, easy proof that in fact, Obama was down with the people. (Sometimes Ray Ray would be in the mix, and less frequently, Uncle Jethro, Pookie's Southern white corollary).
[dc]"I[/dc] need you to grab Cousin Pookie to vote; I need you to grab Ray Ray to vote," Obama said in South Carolina at a rally during the 2008 primary battle. "If Cousin Pookie would vote, if Uncle Jethro would get off the couch and stop watching 'SportsCenter' and go register some folks and go to the polls, we might have a different kind of politics," he said in March 2007 in Selma, Ala.
Here he is in North Carolina in March 2008. Watch the crowd reaction at the 50-second mark.
Works every time.
Nia-Malika Henderson
Washington Post