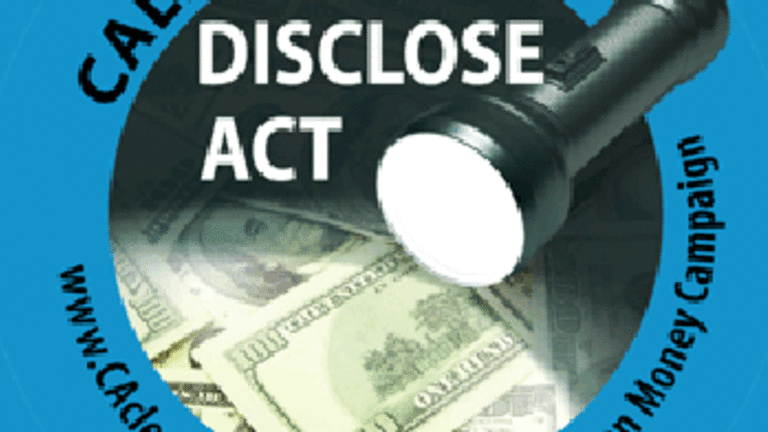 Disclose Act: Save This Bill, Get a Rush
We have about a day and a half to save a groundbreaking bill that will make corporations and big-spending One Percenters who buy political ads, reveal their identities in their commercials so you'll know who's trying to manipulate your vote.
The California DISCLOSE Act, AB 1148, authored by progressive champion Assemblywoman Julia Brownley (D - AD 41), is expected to come to a vote by the full California Assembly Tuesday. Two thirds of these lawmakers have to vote yes for the bill to continue to the state Senate.
With the list of organizational endorsers near 300 and growing steadily, and even more individuals, this should be a no-brainer -- for electeds as well as us civilians. After watching Republican Presidential candidates get trashed by anonymously funded hit pieces, who wouldn't want to know who's behind their opponents' attacks?
Yet a week and a half ago, hundreds of DISCLOSE supporters found themselves frantically calling and faxing key members of the Assembly Appropriations Committee, which was scheduled to hear the bill but had not committed to do so. We also reached out to Assembly Speaker John Pérez (D - AD 46), known for his collaborative leadership style which encourages all sides to cooperate for success.
Supporters were ready to make their way to the state Capitol to testify for AB 1148. But the day before the hearing, California Clean Money Campaign (CCMC, which sponsors DISCLOSE) President Trent Lange was still negotiating with Sacramento.
Throughout that day, committee members were inundated with phone calls. I had to fax one rep because his line was repeatedly busy. Staffers for every other committee member I called answered their phones, knew instantly why I was calling, and thanked me for participating in the political process. Seriously.
So many people contacted the committee that even Democrats who had not yet decided, confirmed their support. Several, including Speaker Pérez, became co-authors. AB 1148 passed Appropriations on the party-line vote of 12 Democrats for, five Republicans against.
What an adrenaline rush, being part of an impassioned, victorious, state-wide coalition working to bring transparency to elections.
But this upcoming two thirds vote requirement looms much tougher. Predictably, the California Chamber of Commerce opposes DISCLOSE, and sent an Alert Letter to every Assembly member, claiming the bill "would inhibit protected free speech in the political process by making significant and onerous changes to required disclosures on campaign advertisements and slate mailers."
Those onerous changes? Requiring that every TV advertisement display -- in easily recognizable print -- the names of its top three funders in the ad itself. Requirements are comparable for radio, other broadcast and new media, and print commercials.
There are 80 legislators in the Assembly, so we need 54 votes. Besides bill author Brownley, 34 members have become co-authors. That means 20 more votes -- by Tuesday.
Californians support this type of disclosure for ballot measures overwhelmingly. Last October's California Field Poll found that 84 percent of voters favor it, including 78 percent of Republicans, 86 percent of Democrats, 88 percent of independents, 84 percent of union households, even 83 percent of Tea Party members. The Assembly should be able to muster at least a two thirds favorable vote for AB 1148.
Now that I've experienced the thrill of having a direct, positive impact on state representatives, I know you -- YOU - have the same power. The California Clean Money Campaign makes it easy and it's free.
See for yourself here .
Wendy Block