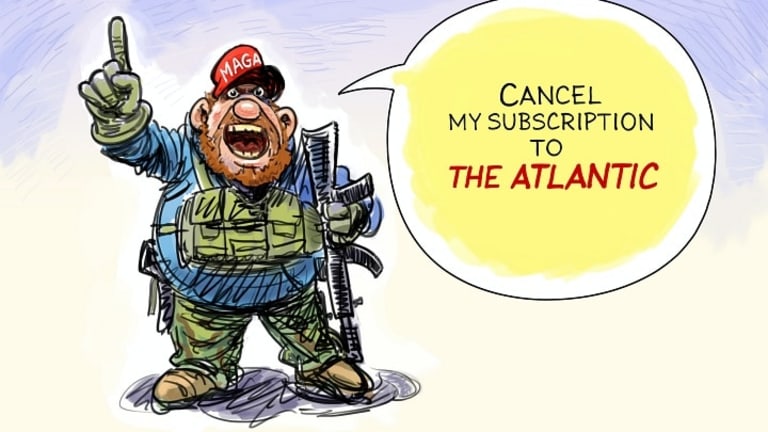 Trump's Disdain for Soldiers Lies Thrown Back
Mark Karlin: Fox reporter snaps back at Trump's call for Fox to fire her because she confirmed his crude disdain for dead soldiers.
Fox Reporter Jennifer Griffin Snaps Back at Trump's Call for Fox to Fire Her Because She Confirmed His Grotesque and Crude Disdain for Dead Soldiers: "My Sources Are Unimpeachable"
Several news outlets have confirmed all or parts of the September 3 Atlantic Monthly's devastating article revealing Donald Trump's appalling disdain for dead US soldiers — including his claim that John McCain was a loser and his opposition to any disabled veterans appearing in military parades, and his contempt for volunteer soldiers, including the son of his former Chief of Staff John Kelly. Trump also berated McCain, who was tortured in North Vietnam after his plane was shot down, as not worthy of respect because he was "captured."
One of Griffin's "unimpeachable" sources described Trump's description of killed soldiers as "suckers" and "losers" as "not a one-off."
The outlets corroborating Trump's ghastly contempt for soldiers and slander of them, as first detailed by Jeffrey Goldberg in The Atlantic, include CNN, Fox News, the Washington Post, the New York Times and the Associated Press.
On Saturday, HuffPost ran an article headlined, "Fox Reporter Snaps Back As Trump Demands Her Firing For Confirming War Dead Story." It began:
A Fox News reporter staunchly defended her work Saturday after President Donald Trump demanded she be fired for confirming parts of The Atlantic's bombshell story revealing the president's insults about military service members.

"I can tell you that my sources are unimpeachable," Fox News' national security correspondent Jennifer Griffin said on-air, "I feel very confident with what we have reported at Fox." 

She didn't confirm "every line" of the report, but did confirm "most of the descriptions and the quotes in that Atlantic article ... so I feel very confident in my reporting," Griffin said. She also discovered as part of her reporting that Trump had once said that including "wounded guys" would not be a "good look" at a July 4th parade honoring the military, according to a source.

The Atlantic article cited multiple accounts of shocking incidents when Trump denigrated military service members, including referring to fallen war heroes as "losers" and "suckers." It also revealed details of the president's refusal to visit the graves of America's war dead at Aisne-Marne Cemetery while he was in France in 2018. Trump has denied everything. [However, of course, he is the man of 20,000 plus lies, the ultimate con artist]
Trump has been so flummoxed by the disastrous exposure of his abominable views on soldiers who have made the ultimate sacrifice that he tried to claim he called Melania Trump at the White House from France.
The revelations, although some have been made public before — and Trump openly described McCain as a loser, didn't attend his DC funeral service and resisted flying the flag at half-mask for him — have uncharacteristically been so devastating to his standing with the military and the public that he has been on the defensive for three days. That is an inordinately long time for him, since he usually is able to control news cycles after negative news about him by going on the attack. But this is bombshell damaging if the story stays in the press, because The Atlantic report is obviously true, with General Kelly almost certainly a key source, and it might be devastating to his election prospects, possibly putting Biden so far ahead that Trump, Bill Barr and Putin won't be able to steal it.
Trump has been so flummoxed by the disastrous exposure of his abominable views on soldiers who have made the ultimate sacrifice that he tried to claim he called Melania Trump at the White House from France. He said he conveyed to her how much he wanted to visit the Aisne-Marne Cemetery. It was, to no one's surprise, another lie. Melania was on the trip to France with him and was scheduled to visit the cemetery with him.
It's usually slow news on Labor Day Weekend, and maybe Trump will once again be able to assert his hypnotic mastery as an entertainer and divert the media narrative. Then again, the backlash from members of the military, the families of the fallen, and Veteran's groups furious at the alleged "Commander-in-Chief" is snowballing.
The White House press operation appears unable to stem the tide of angry criticism of Trump, with one White House source reduced to claiming Trump loves the military, but this is just him saying a lot of "shit." That is not a good position to be in, with the election a few weeks off and one recent poll already showing that for the first time in memory, move active military members prefer Biden to Trump.
General Kelly, and probably Mattis, are two likely sources for the confirmations by news outlets, but they and others are still not ready to be cited by name.
If that should happen, we'll bet on four-star generals doing what so few have been able to do: demolishing the facade of normality that the press bestows upon Trump, and lighting a rage under soldiers, military leaders (none of whom have come to Trump's defense, except for the civilian Secretary of the Defense Department, Mike Esper) and patriotic Americans who value country and service over being a Trump cult member.
As HuffPost notes in its article, "Former NATO supreme commander and Navy Admiral James Stavridis tweeted Friday that the men's [Kelly and Mattis] 'lack of denial' speaks volumes."
If Trump can't restart his daily reality-TV show by Tuesday, consider this the hurricane of the 2020 election, with Americans finally realizing what a despicable despot is at the helm of this nation — and particularly its national security and respect for standards of decency.
Mark Karlin
BuzzFlash