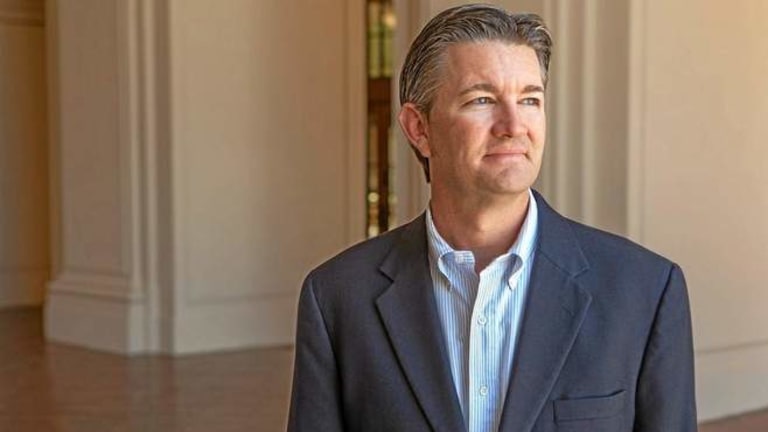 Don "Janus" Morgan's Two Faces
Dale Gronemeier: Morgan claims he was "set up" at a meeting held on Saturday. He is lying.
As he campaigns for mayor of Pasadena, Don Morgan presents himself as a "fresh face" who has not previously run for office and thus bears no responsibility for any of the city's problems. But Morgan can be more aptly described as two-faced, as he publicly says he favor increasing the Pasadena minimum wage but privately tells opponents of an increased minimum wage the opposite.
The City of Pasadena now has a Living Wage Ordinance that sets a $12.60/hour minimum wage for employees of private contractors with the City. A coalition of community groups is seeking to expand the Ordinance to include all Pasadena employers and to create a path to a $15/hour minimum wage.
At several candidates' forums, Morgan and the other mayoral candidates were asked if they supported a plan to expand the Pasadena Living Wage Ordinance. Each time Morgan answered "yes."
But a February 4 email from Morgan to Gregg Smith (co-owner of several local restaurants, including Parkway Grill, Arroyo Chop House, Smitty's Grill, and Seco New American) suggests that Morgan was lying about his embrace of the citywide minimum wage plan.
Morgan's email to Smith was preceded by publisher and Morgan-supporter Steve Tobia saying that "Don has a clear position on the this issue and does not support the idea of a Pasadena law that was thrown out at a forum." Morgan's response did not disassociate himself from Tobia's attribution of that position but rather stated: "Gregg, I am eager to talk through this with you. I left that meeting a couple of weeks ago knowing that it was a total set up and that I was going to need to sit down with you all to discuss."
Later on, Morgan wrote:
"On wages, there is no way we can act on anything as a city. If any action is going to happen on wages, it has to happen at the state level, or at a minimum at a regional level."
Morgan added:
"I have spoken with Rlene de Lang [from Mijares restaurants] , Robin Salzer [owner of Robin's BBQ restaurant], and Paul Pernecky [affiliated with McDonalds] about this. I think they are all comfortable that I will be an active partner with restaurants on this issue."
In his email to Smith, Morgan claims he was "set up" at a meeting held on Saturday, January 24, at Madison Elementary School sponsored by Pasadenans for a Livable Wage, a broad coalition of clergy, civic groups, and unions. He is lying. In fact, all five mayoral candidates who came to the public forum were given in advance the two questions that were publicly and uniformly asked:
Do you support expanding the city's current Living Wage Ordinance to include all employers? and
Do you support creating a path to a $15 hour Pasadena minimum wage?
With more than 100 people in the crowded school auditorium that morning, perhaps Morgan simply gave an answer that he knew would appeal to the activist audience.
Morgan had plenty of time prior to the event to consider his responses, and he answered "yes" to both. With more than 100 people in the crowded school auditorium that morning, perhaps Morgan simply gave an answer that he knew would appeal to the activist audience.
The Madison Elementary School forum was not the first time that Morgan was asked about the minimum wage plan at a public event. On January 13, Morgan attended a candidates forum sponsored by ACT, the liberal political group, held at Pasadena Community College.
Morgan was the last of the mayoral candidates to be asked whether they supported expanding and increasing the Pasadena Living Wage law. As the last candidate, Morgan had about 15 minutes to prepare his answer. He also had the benefit of hearing other candidates' positions. Jacque Robinson said "yes" and favored an immediate $15 per hour wage level. Bill Thompson said "no." Terry Tornek said "yes" but preferred that Pasadena would follow Los Angeles, which is now considering Mayor Eric Garcetti's plan to adopt a citywide minimum wage of $13.25 an hour.
Morgan answered "yes" and proposed a $14 per hour minimum wage. There was nothing casual about Morgan's response, which placed him slightly to the left of Tornek, quite a bit to the left of Thomson, but to the right of Robinson.
Morgan's email to Smith – who is one of the leaders of an effort by local restaurants to thwart the citywide minimum wage plan – suggests that he was being hypocritical, insincere, or simply lying when he voiced his support for the idea at the two forums sponsored by liberal groups. Morgan has been asked to respond to the contradiction between his public and private statements but has so far refused to clarify publicly which is his real position.
He also seems to be ignorant of the growing number of cities that have adopted minimum wage laws. Lack of progress in the nation's capital has provoked states and cities to take action. Santa Fe, Albuquerque, San Jose, and San Francisco (now $15/hour) were among the first in this century. In California, Oakland, Richmond, Mountain View, Sunnyvale, and Berkeley followed suit, as did Chicago, Las Cruces, N.M., and Seattle, which last year adopted a $15/hour citywide minimum wage to be phased in over several years. New York City, Chicago, Louisville, Portland (Maine), Philadelphia, and other cities are preparing to follow suit.
Last year Los Angeles adopted a law establishing a minimum wage of $15.37 for hotel workers. Although Mayor Garcetti is pushing for a $13.25 citywide wage threshold, several LA City Council members want to go for a $15.25 level. Researchers have studied the effects of citywide minimum wages on local economies. The findings have been positive for both lifting low-wage workers out of poverty and for strengthening the business climate by injecting lots more consumer spending into local businesses.
Because Morgan is a newcomer to Pasadena politics – indeed, a newcomer to involvement in Pasadena civic life in any significant way – it is hard to base any judgment of his candidacy based on his track record. All voters have is what he says at public events, on his campaign website and Facebook page, and in his campaign literature. In his official biography, posted on his campaign website, Morgan lists no Pasadena organizations with which he's affiliated as a member, leader, or donor, despite having lived in the city for a decade. Moreover, according to official records, Morgan has not even voted in five of the last six state or local elections. He, his wife, and children live in a 5-bedroom, 3,144 square foot house on Madison Avenue that Zillow estimates is worth over $1.9 million.
Because he is so little known within the community, Morgan's campaign has had to rely on creating an image almost from scratch, and that requires money for campaign mailers, signs, and other expenses. Fortunately for Morgan, he has the financial resources to promote himself to Pasadena voters, unfiltered by any local media efforts to investigate whether what he's selling is actually true.
Morgan came by his wealth the old fashioned way – he married it. Morgan's wife Whitney is the daughter of Fife Symington, the disgraced ex-governor of Arizona who was indicted on 21 federal counts of extortion, making false financial statements, and bank fraud and in 1997 and was convicted for seven counts of bank fraud for defrauding his lenders as a commercial real estate developer, extorting a pension fund and perjuring himself in a bankruptcy hearing. He resigned his governorship the day after his conviction. He was pardoned in January 2001 by President Bill Clinton.
Fife Symington, a conservative Republican who cut taxes and spending, came from a wealthy family and then lost his fortune with bad real estate investments, eventually filing for bankruptcy. His great grandfather was steel tycoon Henry Clay Frick, one of the nation's richest men and considered one of the politically powerful Robber Barons of the early 20th century. His father J. Fife Symington Jr. was U.S. ambassador to Trinidad and Tobago and his cousin, Stuart Symington, was a U.S. Senator from Missouri. Fife married someone from an even wealthier family. His wife – Whitney Morgan's mother and Don Morgan's mother-in-law – is the former Ann Olin Pritzlaff, a granddaughter of the founder of a chemical, ammunition and weapons conglomerate now known as the Olin Corporation whose family foundation is a major contributor to conservative causes.
Whitney Morgan's grandmother – Mary Olin Pritzlaff of Santa Barbara, who has been a major giver to Republican candidates for many years – donated $10,000 to Don Morgan's campaign on January 5 (his largest contribution). Fife Symington sent a check for $500. His wife Ann Symington added another $1,000. Richard Symington, who is described on campaign disclosure forms as "marketing-self-employed" and lives in Paradise Valley, Arizona, donated $1,000. Thomas Symington, a "self-employed" Phoenix resident, made a $300 donation. Pasadena resident Scott Symington added another $300.
But Morgan has reached outside of his wife's family to create his campaign war chest. His disclosure forms, covering the period ending January 2015, is littered with checks for $500 and more from people involved in finance, real estate, law, and other businesses. One of them is Paul Pernecky, who is affiliated with the McDonalds fast-food chain and whom Morgan mentioned in his email to Gregg Smith, who donated $1,000.
Pernecky will surely view that $1,000 as a good investment if Morgan manages to overcome the odds and get elected mayor. After that time, the odds are that Morgan will no longer have is feet squarely planted on both sides of the fence; rather, he'll then follow where the money has come from and oppose any plan to help lift McDonalds employees out of poverty by adopting a citywide minimum wage.
Dale Gronemeier