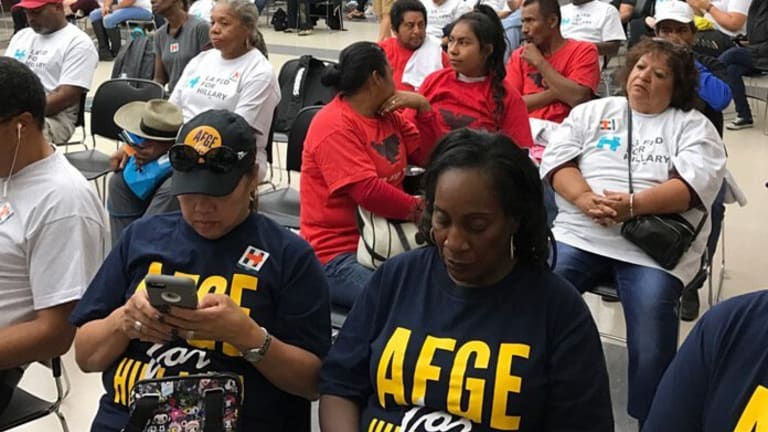 From L.A. to Vegas, Door-Knocking for Hillary
Eric Gordon: As the secretary-treasurer of the Nevada Federation of Labor says, "When we're union strong, we're country strong."
Three buses full of union members and allies left the Service Employees International Union-United Healthcare Workers (SEIU-UHW) hall just east of downtown L.A. in Commerce, Calif., at 6 a.m. Saturday bound for Nevada. In that battleground state, concentrated street pounding on behalf of presidential hopeful Hillary Clinton and U.S. Senate candidate Catherine Cortez Masto could have a real impact.
More than 100 activists filled those buses under the auspices of the Los Angeles County Federation of Labor. Other labor contingents are flooding to Nevada from AFSCME, SEIU, UAW and groups such as Equality California. Some of these stories come from fellow bus riders.
Nevada's six electoral votes could swing a close election for the presidency, though by this past weekend polling numbers were trending dramatically upward for Mrs. Clinton in the wake of shocking revelations about Donald Trump's alleged sexual assaults and misconduct. Perhaps as much or more on people's minds was the importance of retaining the Democratic Senate seat held by the retiring Harry Reid.
In that open race, Nevada Attorney General Catherine Cortez Masto, a liberal Democrat who had just been endorsed by Bernie Sanders, is pitted against U.S. Rep. Joe Heck. The Republican had only recently placed some daylight between himself and Trump, but his record has "Tea Party" written all over it: He voted against extending unemployment benefits to workers hard hit by the recession, he supports TPP and tax cuts for companies that ship jobs overseas, opposes equal pay for women, seeks to privatize Social Security, and defends family-splitting deportation policies.
The U.S. Senate race here could determine the future of the Senate, because if Democrats lose Reid's seat, they have to win two more to start winning back a majority. Heck, already well known to right-wing funders, enjoys heavy backing by Koch Brothers money.
As the secretary-treasurer of the Nevada Federation of Labor says, "When we're union strong, we're country strong."
We arrived shortly after noon at the Carpenters Union Hall for a short pep rally that laid down the terms. Here in Vegas, workers at Trump's hotel voted for a union, and Trump won't negotiate with them. Wages there are $3 an hour less than at other unionized venues. As the secretary-treasurer of the Nevada Federation of Labor says, "When we're union strong, we're country strong."
George McCubbin, a national vice president from District 12 (representing much of the Southwest and West) of the American Federation of Government Employees (AFGE), thanked us all for coming to Nevada for this chance to make history. "We're gonna walk, we're gonna knock, we're gonna talk."
California Assemblymember Rudy Salas from Bakersfield also came to help out for the weekend, "fighting for the soul of the country." Paul Peterman of the National Assn. of Letter Carriers (NALC), told us, "We want to turn this state blue – dark blue!"
Spokesmen from the Carpenters Union said that every night this hall has been full of carpenters. But "look at this crowd, and it's America. Trump tells us he's been fighting unions all his life – well, welcome to Las Vegas, where we fight back!"
Rusty Hicks, Secretary-Treasurer of the L.A. County AFL-CIO, outlined our goals for the weekend: Knock on 16,000 doors, with an average of 35 doors each. Hicks' federation had paid to transport us in, fed us, gave us an LA FED FOR HILLARY t-shirt, housed us overnight at the Westgate Las Vegas Resort & Casino, let us loose on the town Saturday night (at our own expense), and would transport us back. All we had to do was two four-hour stints of door-to-door canvassing – one Saturday, one Sunday – to engage Nevada voters on their crucial role in the fate of our nation. That's how critical labor believes this election is for all Americans.
I paired up with Anthony, who brought voter lists that gave us the voter's name, address, age, gender, party and union affiliation, and recent voting history. We met 24-year-old Tara, who volunteered that she's voting Libertarian for president. We knew we didn't have time to discuss it, and she seemed pretty sure of her plan. But she did know about Cortez Masto, and gave us a strong Yes.
At another home I found Rod, 59, puttering in his garage, which was lined with NRA shooting targets. He swung his arm around to point them out and proudly admitted, "I'm a Second Amendment supporter." But, he added, "I'm for Hillary: We've got to stop that man. My only concern with her is the gun issue. Well, I guess she just wants to keep guns out of the hands of people who shouldn't have them, and I can live with that."
We met Scott, 22, just out of college and living at home for the first time in five years. He sees our Hillary tee-shirts and says, "Don't worry about me. I'm for Hillary. You got me." We congratulated him and asked about the Senate race. "Cortez Masto?" he replied. "I'm there too." "Wow," Anthony said, "you even know her name." "Surprised, huh? Yeah, well, a lot of kids my age are totally out of it, but not me."
A volunteer named Gabby talked about her afternoon walking with two cousins. Her union steward husband was scheduled to come, but took sick and had to stay home. But he encouraged Gabby to go anyway. This was the first time any of them had ever done precinct walking. "Nobody was rude. We met a lot of polite people," Gabby said. "There's a fear of knocking on a door not knowing what to expect, but after a while you get more confident. It was something to overcome and we did. A good experience."
Linda, another volunteer, had an especially useful encounter. She met a lady at one house whose former home had been foreclosed in the Bush recession, and she lost it. As attorney general for the state of Nevada, Cortez Masto fought the predatory banks and won a massive settlement to distribute to affected Nevada citizens. This lady got a check for $5000, which helped get her back on her feet again. Linda told that story to her team and everyone started mentioning it to whoever answered the door.
Volunteer Sandy found a mom working on a school project with her kid and when she heard about Cortez Masto, she said she wanted to volunteer for the campaign. Another guy asked how to register to vote.
As we headed to the Westgate a full harvest moon rose over the neon city.
Day two
Day two, more shoe leather, more stories. Anthony and I got into a complicated conversation about history and ethnicity, and suddenly found ourselves disoriented on the neighborhood map we were given. Just ahead a woman in an arm sling stood by a car. "I hope she's a Hillary supporter," I said, "because if not, when she sees your Dump Trump tee-shirt, she'll probably send us in the wrong direction." She saw us approaching. "Oh, I love your shirt," she exclaimed, "and thank you. I'm living out here now, but for thirty years I lived in New York as an actress and model. I knew Donald Trump. Believe me, there are thousands of women who could tell you the same stories about him. I knew him and I saw him in action. We all had the same experience, and we called him The Douchebag."
Most of us did come across the occasional person who told us their vote is "none of your business" or who told us they're absolutely not voting for Hillary. Oh, well, move on.
Marcel, who was on his second trip to Las Vegas in this campaign, had an odd encounter. He approached the door of a nice home. His voter sheet indicated that both husband and wife are union members. The wife was listed as a Democrat, and the husband was listed as undeclared.
As it turned out, it was the residence of Las Vegas Mayor Carolyn Goodman and her husband, former mayor Oscar Goodman.
"I'm still undecided," Mayor Goodman said, playing it close to the vest as they do in Vegas. "But you don't need to talk to me any more. Bye now, and it's good to see people out doing the work you're doing." Surely, Marcel thought, she must have decided something already, but after all, this is a town of high rollers, the home of multimillion-dollar GOP funder Sheldon Adelson. The Goodmans must certainly know him. And then, too, the final Presidential Debate is this Wednesday night in Las Vegas. Maybe it figures that the mayor keeps her views to herself.
Our buses returned to SEIU-UHW in Commerce late Sunday night. Los Angeles canvassers will be traveling to Nevada right up to Election Day, hoping to help paint the state an ever deeper shade of blue.
Eric A. Gordon
People's World