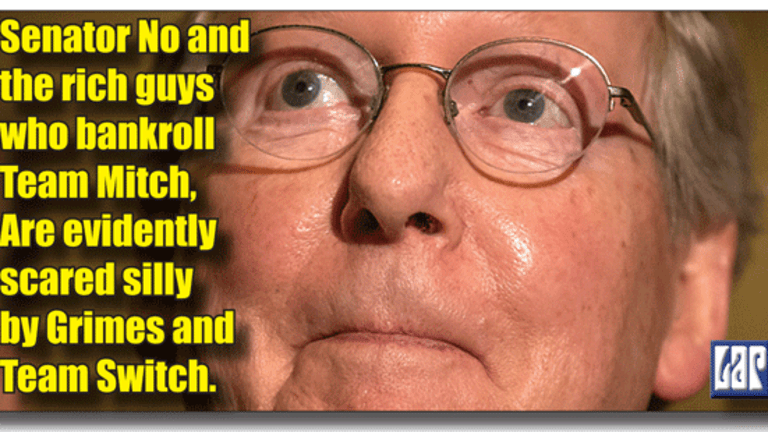 My Muse, Mitch McConnell
Elect Alison Lundergan Grimes -- Most of us were rooting for entertainer Ashley Judd – one of us -- to come home and take on McConnell.
Sen. Mitch McConnell emailed special Yuletide greetings to the faithful – his version of "'Twas the Night before Christmas."
"'Twas the night before Christmas, four years ago. Liberals wanted Obamacare, but Kentucky said no," the Senator recited.
More versifying followed, including: "Obama wondered: Who's my Kentucky candidate for these times? And guess who it goes to? Alison Lundergan Grimes."
The captain of Team Mitch fudged the facts.
Liberals – admittedly an endangered species in the Bluegrass State – preferred a single-payer health care plan to what McConnell and the Republicans slam as "Obamacare."
So far, around 97,000 Kentuckians have said "yes" to the president's Affordable Care Act by signing up for the program under our state health care exchange.
Too, the president got behind Grimes after she tossed her hat in the ring. She's not the great liberal hope for us left-leaning Kentuckians either.
Okay, we're an endangered species in the Bluegrass State. But most of us were rooting for entertainer Ashley Judd – one of us -- to come home and take on McConnell.
Grimes was always the favorite of the moderately conservative state Democratic Party brass. Almost all of the Blue Dogs ran like scalded dogs from Judd, the "Hollywood Liberal." They argued that only Grimes could ditch Mitch, and maybe they were right.
In any event, Grimes – or somebody in her inner circle -- deftly dubbed her campaign "Team Switch." A lot of union-card packing lefties like me have joined, but I'm far from first string. I've only met the candidate once.
I've never met Charly Norton, the Team Switch spokeswoman. Yet like her candidate, she's proving she can give as good as she gets.
"As we've seen from his insurmountable disapproval ratings, Kentuckians are tired of Mitch McConnell's silly political games," Norton responded to McConnell's cyber-rhyme.
Even so, the senator has moved me to poetry. With apologies to Clement Clark Moore, the author of "A Visit from Saint Nicholas" -- better known as "'Twas the Night Before Christmas" -- I call my versification "'Twas a Night Before New Year's":
'Twas a night before New Year's, and all 'round his state,
Millionaire Mitch McConnell was fretting his fate.
His race was so close with Alison Grimes,
That he desperately turned to doggerel rhymes.
Senator No and the rich guys who bankroll Team Mitch,
Are evidently scared silly by Grimes and Team Switch.
The polls show McConnell with a big gender gap,
But Team Mitch keeps spouting that sexist claptrap.
The old boys, they sneer, she's a mere 'empty dress'--
But if that's all they've got, they're in a 'melluva hess.'
So what's next from Mitch his misogynist pals?
More cartoons about Grimes and Obama gals?
Berry Craig