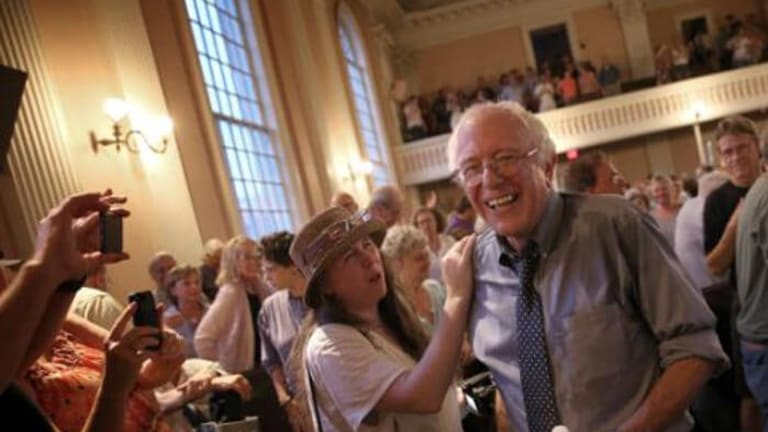 How to Run the Revolution for Bernie Sanders
Michael Hertz: Although the social media is flooded with Bernie people, the way social media is set up it's difficult for all those people even to know where one another is.
Bernie Sanders says: "We need a political revolution in this country, which means we're building a movement." So be it, and I agree. And there's a lot of people out there who agree, too.
Have you ever looked at all the Facebook groups that are out there for Bernie? There's one for almost every state, lots of cities (Seattle, St. Louis, Chicago) plus a raft of others: African-Americans Bernie, Bernie Sanders for President 2016, Bernie Sanders 2016 – Ideas Welcome! There's a LGBTQ group, an artists group, a millenials group, a veterans group, a student group, a Republicans group (I kid you not). There are events springing up all over. For instance: Bernie is appearing on the Bill Maher show this Friday, June 19, and supporters are flocking to see it. And there's also going to be a "viewing party" at Canter's, a local restaurant around the block from the studio. 107 people are signed up to come.
In other words, there is enormous enthusiasm. Hilary Clinton, of course, is here in Los Angeles, attending three parties at which people give her $2700 apiece. Bernie Sanders is going to two gatherings while he is here, and the minimum suggested contribution is $250. So who has the billionaires on her side?
What Bernie has going for him is people. Hillary Clinton isn't even appearing in public much. Her re-launching of her campaign took place last weekend, but she's not appearing on television shows. Bernie is. And he's appearing in public around the country. She isn't.
Although the social media is flooded with Bernie people, the way social media is set up it's difficult for all those people even to know where one another is.
So if Bernie has people ready for him and his revolution, how does he bring them into action? By sharing information. And here is the real problem for a "social media" candidate in 2016. Although the social media is flooded with Bernie people, the way social media is set up it's difficult for all those people even to know where one another is.
I'm one of the administrators of Bernie Sanders 2016 – Ideas Welcome on Facebook. We grew from 1400 members in mid April to 4507 members in mid June. And people keep signing up. But I don't know where there are located, and in most instances I cannot find out unless I personally "friend" them and they have that information on their Facebook page. Many do not.
I am working with a small group of local Los Angeles Bernie fans, and we are trying to get the names, emails, and zipcodes of people who are eager to work for Bernie in Los Angeles. And we're running into problems with that. Facebook, for all its importance, doesn't really work as an information gathering device. Why? Because if you post something, even in a group of a few hundred people, there's no guarantee that everyone will see it. The Facebook algorithm does not share all information with all members of the group. (Some people are members of 50 groups. They cannot receive all the information from all those groups through their account.)
On the other hand, people are signing up with the campaign itself, with Progressive Democrats of America, and with lots of other groups. They want to do something. But there is no central place that receives all of this information, and therefore there is no simple way of connecting people even within the same city.
Here's what Bernie needs to do. He needs to say, "This is our revolution. If you are volunteering to work for me, you are volunteering to work with everyone who is for the revolution that we are trying to start. We need to share information so that people in any town or city in America know which of their neighbors want to join them. Don't keep it secret. Give it out."
Yes, if you post people's emails out in public, they are going to get spammed. I'm not suggesting that. But what I am suggesting is that the campaign find ten trustworthy people somewhere in this great land who can be in charge of vetting the local volunteer organizers and getting them the information they need. We do have an Internet, after all. It can be used.
Here's how it works. The campaign finds 10 people who want to work. They (the "overseers") can be contacted through the campaign's website. If a local bunch of people want to find all the other locals in their area who are for Bernie, they contact the overseers, and the latter speak to them by telephone, get emails, and eventually approve them to receive local names and emails. And the local group then has a database. And as they get more people, they send the names back to the overseers to add to the base.
It sounds easy, but it will take work. Now is the time to start.
Michael T. Hertz