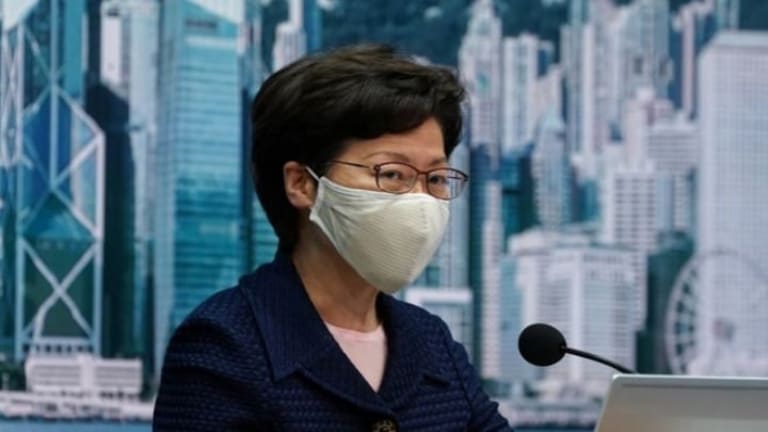 An Election Cancelled for a Year
Larry Wines: Opposition politicians say that, under Hong Kong election laws, the polls can only be postponed by 14 days -- and a longer delay will "trigger a constitutional crisis in the city."
Friday morning, word comes that "Hong Kong postpones elections for a year 'over virus concerns'" -- in an international story that surprises no one. That full story is on the BBC, and our summary is below.
Hong Kong, which has 4.4 million registered voters, has had more than 3,200 confirmed infections and 27 deaths from the virus. But a new spike there comes after Hong Kong appeared to have contained the outbreak after weeks of few or no local infections. The overall numbers are still lower than those of many other places. Suddenly, for 10 days in a row, Hong Kong has had more than 100 daily new cases with 121 new cases on Friday.
Hong Kong Chief Executive Carrie Lam said she was invoking emergency powers to postpone the elections. She justified it, saying elections would involve "a large-scale gathering and an immense infection risk", while social distancing measures would prevent candidates from canvassing. Right away, the Beijing government said it supported that decision, saying it was made "in the interests of the public and based on the actual situations in Hong Kong".
Opposition politicians say that, under Hong Kong election laws, the polls can only be postponed by 14 days -- and a longer delay will "trigger a constitutional crisis in the city."
Opposition politicians say that, under Hong Kong election laws, the polls can only be postponed by 14 days -- and a longer delay will "trigger a constitutional crisis in the city." Friday's announcement of no election for a year comes after Thursday's ban of 12 pro-democracy candidates who had been on the ballot.
Activist Joshua Wong, who was disqualified from running in the elections, wrote on Twitter that the pandemic was being used as "as an excuse to postpone the election" and was "the largest election fraud in #HK's history."
The BBC report says, "Opposition activists had hoped to obtain a majority in the Legislative Council (LegCo) in September's poll, capitalising on anger at Beijing's imposition of a controversial national security law in Hong Kong, and fears that the territory's freedoms are being eroded." They continue, "Pro-democracy candidates had made unprecedented gains in last year's district council elections, winning 17 out of 18 councils."
"Health experts," says the BBC, told them, "with the reintroduction of social distancing measures, the rate of infection appears to have slowed, and they hope Hong Kong will be back to close to zero local infections within four to six weeks." And, "The city has introduced tough new measures to combat the virus, banning gatherings of more than two people."
Hong Kong had previously enacted draconian measures to eliminate all forms of protest. As a result, its citizens can now be removed to mainland China and subjected to prosecution under laws beyond those previously in place in Hong Kong. Still, hundreds of thousands of people voted in unofficial pro-democracy primaries in July, to demonstrate an ongoing show of support for the pro-democracy movement there.
At issue are seats on the Legislative Council - or LegCo - which "helps" to make and amend Hong Kong's laws. Comprised of 70 seats, only 35 of them are filled by direct vote of the public. Of the other half (35), 30 seats represent "functional constituencies" which are voted on by smaller select groups that represent special interests. Primarily those interests are businesses, banking and trade, and the BBC reports, "Historically these sectors have been largely pro-Beijing."
The last five seats, made up of district councillors who are elected by the public to sit on LegCo, would seem to produce a majority chosen by the people. But "This system, where only a proportion of [The five] LegCo councillors are chosen by the public, has been called undemocratic by critics," but "supporters of the system say it helps avoid populism and protects Hong Kong's business interests," according to the BBC's analysis.
What have other governments done?
While Trump's call on Thursday to postpone US elections proved to be an attempt at distraction from runaway Coronavirus deaths and a record economic collapse, it brought prompt rejection from key political figures of both major parties.
For what has happened elsewhere, the BBC report cites the "Global overview of COVID-19: Impact on elections" updated July 29th and published by the International Institute for Democracy and Electoral Assistance. They say at least 68 countries or territories postponed elections due to Covid-19, while 49 jurisdictions held elections as planned. And most postponements were short-term, to enact safety measures that allowed elections to get past early spikes as the pandemic spread globally.
Lam, during her press conference, argued that "many governments had also postponed elections by a year, including the London's Mayoral elections, and local government elections in Australia's New South Wales."
Journalists present weren't buying it, noting the Hong Kong's outbreak was not severe and her citation of cancelled elections was not true. London now has 35,000 Covid-19 cases, compared to Hong Kong's 3,200. In Australia, elections in Victoria went ahead as scheduled in March, as did a federal election in New South Wales. Singapore held its general election earlier this month -- and had its highest turnout in recent years, said Eugene Tan, a law professor and political commentator at Singapore Management University.
Tan said, "There is never a good time for an election during a pandemic," but the vote went ahead with several safety measures in place and "demonstrates that it is possible to protect public health even as people go about exercising their democratic right to vote."
Larry Wines