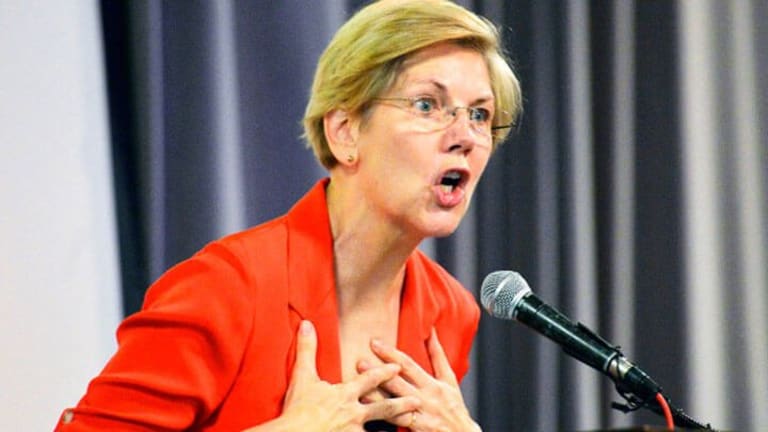 Bankruptcy Complications From Elizabeth Warren for Both Hillary and Joe
Michael T. Hertz: If you think that the impact of money in politics is central to our broken political system, you'll want Bernie Sanders for President over both Hillary Clinton and Joe Biden.
Elizabeth Warren, former professor of law at Harvard, specialized in bankruptcy law. As Massachusetts' junior senator, she is awitness to the corporate capitalism of both Hillary Clinton and Joe Biden. What she can teach us about Hillary and Joes is all wrapped up in the history of bankruptcy law.
On the other hand, her critique of Hillary and Joe does not extend to Bernie Sanders. His voting record in Congress clearly shows that he and Warren think alike on these issues.
Prior to 1898, the United States had no standing bankruptcy law, but that year Congress enacted its first permanent bankruptcy legislation. It remained almost intact until 1978, when Congress passed a coherent reform bill. That bill was, for the most part, very pro-debtor and established a principle of "bankruptcy on demand."
However, starting in 1984, Congress began to whittle away at the provisions which favored debtors against creditors. This brings us to the Bankruptcy Abuse Prevention and Consumer Protection Act of 2005, which slashed important consumer protections.
Senator Warren tells a very interesting story of her meeting with Hillary Clinton in 2000. According to Warren, she gave a talk about bankruptcy law, which Mrs. Clinton, then First Lady, attended. After the talk, the two women met privately, and Warren gave Clinton a private lesson on bankruptcy law.
As a result of that discussion, Warren says, Mrs. Clinton opposed a Congressional Act to "reform" the pro-debtor bankruptcy law and to make it far less debtor friendly (and far more lender friendly). She convinced her husband to veto the legislation, which he did by a "pocket veto" at the end of his tenure as President.
In 2001, similar legislation was introduced, which then Senator Hillary Clinton supported. That legislation failed to pass, but it did pass in 2005. Senator Clinton did not vote on the later bill (she was visiting her husband in the hospital) but says that she would have voted against it because the 2005 law omitted a provision that had been in the 2001 law.
Senator Warren (speaking to Bill Moyers in 2004 about the 2001 legislation) thought that Senator Clinton's position in 2001 conflicted with her position when she convinced Bill Clinton to veto the 2000 legislation. Presumably, Senator Clinton would argue that she had improved the legislation in the 2001 version and felt she could support it, even as (she says) she would have voted against the 2005 legislation. However, while there were certainly differences between the legislation in 2000, 2001 and 2005, the overall effect of all of this legislation was or would have been to erode the rights of debtors against those of creditors.
Senator Warren blamed Senator Clinton's change of position between 2000 and 2001 on the substantial financing of politics by the financial industry. In the Moyers film, she says that "[Senator Clinton] worries about them [the banks] as constituents." Senator Warren discussed the amount of money that the financial industry put into modifying the bankruptcy, "making it easier and easier and easier for them to drain money out of the pockets of middle-class families." It is precisely this question – the impact of money on the political process – that is so important to many voters in the 2016 election.
(If you don't want to view the Moyers film, the following summarizes it nicely:
Q: You have an amazing anecdote in The Two-Income Trap [a book Warren wrote with her daughter] about Hillary Clinton and the bankruptcy bill, which she called "that awful bill" and opposed when her husband was President but voted for in 2001, though it didn't pass then.
Warren: I give Hillary Clinton a lot of credit. When she was First Lady, I sat down with her in a hotel in Boston. I had all these graphs and charts, and she was crunching through a hamburger, listening, and asking a lot of questions, and she really got it. At first, she was resistant. After all, the White House was quietly supporting the banks' bankruptcy bill. But boy, by about the third or fourth slide she was starting to say, "Oh," and she could jump ahead. She got it. Someone later told me there were skid marks on the floor in the White House from people reversing position on that bankruptcy bill when Hillary Clinton got back from Boston.
Q: And then those skid marks turned the other way again when she went to the Senate and soon thereafter voted for a similar bill.
Warren: That was the interesting thing. She stayed in the same place so long as she was in the White House. I believe that Mrs. Clinton was responsible for President Clinton's veto of that bankruptcy bill. Ultimately, Congress passed the bill again in 2005 and George Bush signed it into law. But in that five-year period in between, eight million families went through the bankruptcy system, while the law was still intact. So the veto was important, and I believe she was the cause. And that's what's so disheartening. She changed her vote in the Senate. If Hillary Clinton, one of the strongest, most independent politicians of her generation, felt that she needed to conform her voting to the desires of the banking industry once she held elective office, what hope is there for the rest of the politicians?"
While Senator Clinton can argue that she did not vote for the 2005 legislation (which basically enacted the bills that failed in 2000 and 2001), she did vote for the 2001 legislation, which was essentially the same as the legislation she opposed in 2000. Barack Obama used her 2001 vote to criticize her during the 2008 election campaign. On the other hand, Bernie Sanders voted against the 2005 law, as he has on most bankruptcy legislation. In general, bankruptcy legislation since 1984 has favored the banks against their customers.
The problem for Joe Biden with respect to all of this is that he clearly supported and promoted the 2005 Act and its precedents. "As a Harvard law professor in 2002, Warren published a journal article excoriating Biden for playing a leading role in delivering legislation that made it more difficult for Americans to reduce debts through bankruptcy filings. As the senator from Delaware, Biden's repeated push for the bill—signed into law by President George W. Bush in 2005—amounted to "vigorous support of legislation that hurts women," Warren declared. She said "the group that will be most affected by the changes in the bankruptcy legislation Senator Biden so forcefully supports will be women, particularly women heads of household who are supporting children."
In a separate 2003 book ["The Two-Income Trap"] she co-authored with her daughter, Warren said, "Senators like Joe Biden should not be allowed to sell out women in the morning and be heralded as their friend in the evening."
Because of her conflicting position with Biden, it would be difficult for Warren to run as vice-president with h – even though apparently this possibility has attracted some attention. "Warren's 2002 writings, however, may stymie that effort both because her criticism was specifically targeted at Biden and because the criticism revolved around an issue that cuts to the heart of Democratic voters' concerns over the growing political power of the financial sector.
In Warren's 2002 review of Biden, she said the senator of 36 years played a "crucial" role in passing the bankruptcy legislation over the objections of unions, consumer groups and women's organizations. The bill was backed by major credit card companies, including MBNA, which is headquartered in Delaware and whose employees collectively became Biden's top campaign contributor. The firm also hired Biden's son, Hunter, as a consultant."
Based on all of this, one can see that Elizabeth Warren's writings and her talk with Bill Moyers undercut the positions of both Joe Biden and Hillary Clinton that they support the middle-class against the financial interests that provide the money to both of their campaigns. On the other hand, Bernie Sander's voting record in Congress with respect to the same (and similar) legislation is clear: he opposes the banks and supports the middle-class. So the result is clear: if you think that the impact of money in politics is central to our broken political system, you'll want Bernie Sanders for President over both Hillary Clinton and Joe Biden.
Michael T. Hertz