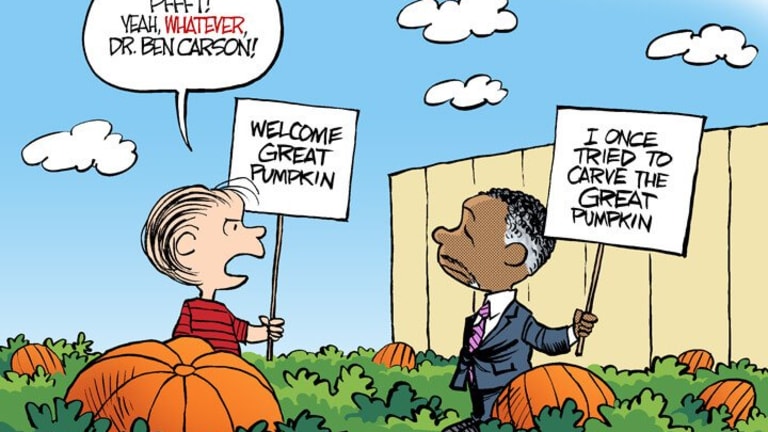 Is the GOP, Amidst Wacky Candidates, Seeking a Panic Button?
Larry Wines: The Post says the insiders, in desperation, have launched a "Draft Romney" movement. It's in response to Jeb Bush's inability to get traction, along with a feeling that it just isn't Marco Rubio's time.
Friday's early news brings a few apparent "aha" moments amid plenty of wacky assertions. It runs counter to the old D.C. cliche of the "Friday dump," when you wait all week to release the news you don't want covered, because everybody in the media is occupied with wrapping-up the stories they've been covering all week.
Not today. This Friday provides plenty of fodder for the Sunday shows and the hosts that George Will once infamously characterized as "the sabbath gasbags."
The Post says the insiders, in desperation, have launched a "Draft Romney" movement. It's in response to Jeb Bush's inability to get traction, along with a feeling that it just isn't Marco Rubio's time.
First is the feature in the Washington Post freshly detailing how GOP insiders are looking at "preping the panic button." It's the "Republican establishment's" growing concern that Trump or Carson could win their party's nomination. The Post says the insiders, in desperation, have launched a "Draft Romney" movement. It's in response to Jeb Bush's inability to get traction, along with a feeling that it just isn't Marco Rubio's time.
Chuck Todd, host of "Meet the Press," underscores the GOP's problem: "The Republican primary electorate is getting whiter. The general election electorate is getting a lot less white."
Indeed, in 2012, the GOP primary electorate was 72% white. Now, it's 92% white.
Todd makes the connection between that demographic trend and the Republican obsession with immigration.
"You look at Ted Cruz and he thought he was going to be the hard liner on immigration. But Trump has outflanked him," notes Todd.
His observation is purposeful, since his Sunday topic is immigration, and his guest is Jeb Bush.
For his part, Trump did a 95-minute rant Thursday night that reasserted his pledge for massive deportations, cited the "incompetence" of our leaders because he "Would bomb the shit out of [ISIL]," then he spent the bulk of his speech rambling about opponent Ben Carson being "pathological." At one point, he seemed to be calling Iowa's evangelical voters "fools" because they "fall for" Carson's narrative, based on famous brain surgeon Carson's central narrative about his religious transformation. It included Trump's re-enactment of Carson's own alleged stabbing of his friend's belt buckle, and it made for political theatre without modern parallel.
Gene Robinson, Pulitzer Prize-winning journalist from the Washington Post, said, "Having covered politics all my life, I'm like a pig in, umm, watching this. It's compelling. The last few weeks, Trump has dialed it down, been a bit less Trumpian. But he brought it back last night. He's going back to what has worked for him."
Donny Deutsch, soon to host a political show on the USA cable channel, observes, "At this point with Trump, it's baked-in. If you support him, you're already on-board. But this isn't adding to his support."
Is Trump gambling, or just throwing a tantrum, to spend an hour-and-a-half demolishing Carson's autobiography? The shake-your-head climax came when Trump, whose lengthy rant was in Iowa, asked "How stupid are the people of Iowa to believe this crap?" referring to Carson saying he took a hammer to his mother and a knife to his friend.
We see it as Trump revealing the same characteristic as Ross Perot in 1992: the autocratic head of a corporatocracy is not accustomed to opposition. And their top-down management paradigm makes them temperamentally unsuitable to running a government intentionally based on a dynamic of give-and-take and compromise.
That should have formed the central narrative about Donald Trump all along. Instead, we'll be lucky to see it as a sidebar in his attacks on the competing candidates. Because coverage of the coming election has been trumped by quips from and about the candidates.
An illustration? Just this morning, GOP pollster Kristin Soltis Anderson warned, "America likes Ben Carson. Attacking him will cause people to turn on you."
In the new NBC-Wall Street Journal Poll, Republicans were asked if they could see themselves voting for each of their current candidates. Carson is now way ahead, scoring 75%. Trump is second at 57%. And Jeb Bush is way back, having fallen by 11% since the previous poll. This poll is revealing, since it transcends the simple "who are you for?" question.
Perhaps America is beginning to pay sime attention to meaningful questions. There's the increasingly obvious amateur status of GOP candidates in comprehending international dynamics and foreign policy.
On today's "Morning Joe," former CIA Director Gen. Michael Hayden revealed he had received a call from GOP presidential candidate Ben Carson, seeking information about numerous topics.
Hayden told Mika Brzensky, "I think he is a man trying to learn about things that his life experience hasn't given him the chance to know about."
Brzensky responded with surprise, saying, "That isn't usually what we want to see, to give someone a chance to be a national leader."
Gene Robinson asked Hayden, "Given that he (Carson) has a corrupted database, does he seem to want to replace that with good data?"
Robinson made quick reference to Carson's repeated claims — each proven false — that the Chinese have a military presence in Syria; that Vladimir Putin attended a university in Moscow in 1968 with the future heads of Palestine and Iran when Putin was 16 years old and in Leningrad; and Carson's assertion that ancient Egypt's pyramids were built by a Biblical character to store grain, and not as tombs.
Hayden focused on his call from Carson. He answered, "He has good instincts and he wants to learn. All I can tell you is he asked good questions and had good follow-ups."
Later, Referencing the interview with Hayden, Brezinsky continued her incredulity, saying, "I'm still digesting the interview with Hayden. I don't agree [with his positive assessment]. I think you need to come to the table with more background knowledge [than Carson has] if you want to be president."
Of course, the questions for the Sunday shows are whether they will demonstrate that foreign policy is not an abstract, and whether those who would be president have any understanding of that. And whether the media can remember, despite all its fun "embeds" with U.S. troops, that U.S. foreign policy is as likely to involve military action as the toolbox of diplomacy.
There is overnight news of 30+ U.S. airstrikes in critical support of the successful "Operation Free Sinjar." Carried out on the ground by Peshmerga forces and Yazidis operating as Kurdish troops, it has re-taken the northern Iraqi town of Sinjar and severed ISIL's supply line to Mosul, a city with a population of over a million people. And just that fast, the need for a grasp of foreign policy is again in focus.
So, despite most of the media playing trivial pursuit, it's about much more than the world's archaeological community laughing at Ben Carson's crazy reinterpretation of the purpose of the pyramids and fomenting fear over a nonexistent Chinese threat in Syria. Or Donald Trump playing to the rah-rah, flag-waving, bring-plenty-of-beer-to-the-pregame-tailgate-party, "I'll Bomb the shit out of [ISIL]" mentality.
It should disturb us that those two examples, simplistically but essentially define the Carson base of there's-a-Bible-basis-for-everything, and the Trump base of make-America-great-again-by-being-a-reactionary-badass.
Then there's the real world. Where even people who should know better can still say stunning things.
During his early-morning interview, Gen. Hayden, who once ran the CIA, also asserted, "I said it about a month ago and I'll say it again: Air strikes without ground power are a bit like casual sex — gratification without commitment."
Which informs — one way or the other — this morning's report that ISIL's chief beheader of helpless prisoners, British expatriate "Jihadi John," was likely killed by an American drone airstrike in Syria.
But don't expect the GOP candidates to discuss whether drones should be launching weapons on Syrian cities.
Those candidates are too busy asserting that they really did attack people with hammers and knives and that we're under attack by immigrants that need to be deported en masse. Eleven million undocumented immigrants. The way Eisenhower deported 1.1 million. Except humanely, says Trump. Even though Eisenhower's deportation tells us that a mass deportation is antithetical to a humane outcome.
Somehow it'll be 'uge and we will love it. Just like Carson's autobiography.
Larry Wines