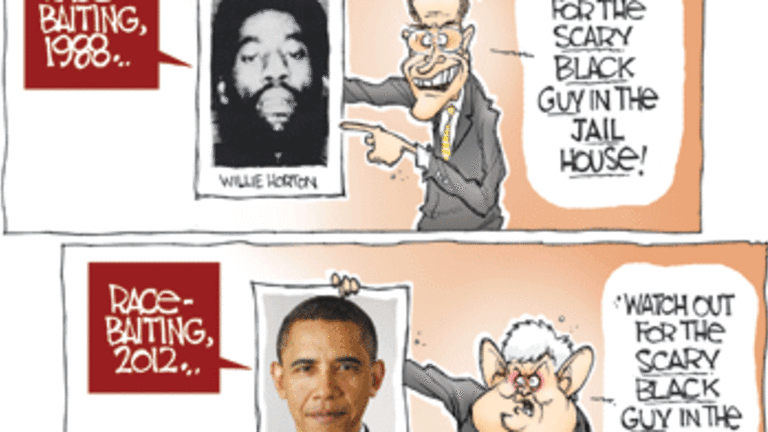 Don't Panic - It's Only South Carolina
Scott Prosterman: Republicans are in a snit because their selection process is so Darwinian. Whatever rises to the top of that vat surely won't be cream.
Hey, ya'll relax 'cause its only South Carolina we're talkin' about here. Not a normal state or even a normal "southern" state for that fact. Newt pulls off a win catering to his base, while dispensing with the usual code, and everybody in the country goes into a snit:
Republicans are in a snit because their selection process is so Darwinian. Whatever rises to the top of that vat surely won't be cream.
Democrats are in a snit because they forget that South Carolina isn't exactly a bellweather indicator for anything, except maybe how the "Sons of the Confederacy" feel about an issue.
Leftists are in a snit because they FEAR Newt and don't recognize his limitations. Also, this group is known to lose context in a panic.
Romney's people are in a snit because they realize they don't have a solid package to sell. Yes, the Emperor has clothes and very nice ones at that, and he's nicely coiffed too. But that phrase "empty suit" makes them nervous and it won't go away. Romney WANTS to say things that might get him elected in November, but he can't say them in the primaries or he won't have a prayer. He probably feels like Orson Wells in Catch-22 when he has to award all those bogus medals to hide a larger embarrassment and cover his boss's ass. Newt is like Robert Altman playing the naked guy who you can't ignore, but has to be awarded a medal.
So relax ya'll. Republicans are about to learn what I learned in 1980, when I accidentally helped elect Ronald Reagan by voting for Barry Commoner. Damn, I felt so good about that vote – he was a lefty environmentalist, and he taught at a school that rejected me for undergrad (Washington University-St. Louis) so I knew he was smart. He was like Ralph Nader but less dramatic and not as funny, so that made him presidential. But between John Anderson and guys like Commoner, Jimmy Carter's support base was eroded and Reagan won without help from the Supreme Court.
Obama makes Republicans genuflect and hyperventilate as badly as Brother Bill did at one time. The funny thing is that both guys did, have done and keep doing a lot of very Republican things that those guys oughta love. Whether inadvertently or not, Republicans are doing all they can to ensure Barack Obama's re-election. They're only PRETENDING to hate him to stir up the folks in Dubuque and Charleston , AND to keep those large checks coming in from the super-PAC's. But deep down, they love the guy. They were real jealous at first, but now they're real glad that Barack took out Osama, and did a few other things that Bush Jr. only grandstanded about.
On the other hand, Barack grandstands about going after the Big Bank thieves but let's them keep on thieving. He made a big stink about taking down Bush Jr. secret government within the government, but decided he likes the imperial privileges. So, despite their genuflecting, hand-wringing, whining and squealing, Republicans love Barack deep down as one of their own. I'm sure at least a few guys in South Carolina would vote him if he weren't "colored." That works against him in a place like South Carolina. So let's place this in context:
In South Carolina, Newt actually yelled at a "colored guy" at a campaign stop for asking a thoughtful question, and then blasted him for reflecting the shameful work ethic of his people. Now as a native Southerner, I know that in neighboring North Carolina or even Georgia, that kind of talk just won't fly these days. But South Carolina is . . . well . . . different. They were so honored that the Gershwin's and Dubose Hayward wrote that opera about "Catfish Row" in Charleston, they've done their best to keep it as it was in 1935. So that's the context, ya'll.
We're talkin' about a state that never got over losing the Civil War, and they still want to start a whole nother one. They feel badly misunderstood about that "States' Rights" thing and Newt's the only guy who understands that. That's what he means when he says he's "the only one who understands the anger at the National Establishment." Damn, looks like Newt DID learn something from the 1960's – that running against "The National Establishment" will make you popular in South Carolina, just as it used to be popular in the rest of the United States in the 1960's. But things are different now – there's a "colored guy" in the White House so the "National Establishment" is farther away from "States Rights" than ever.
So, here's my prediction ya'll for the 2012 Presidential Election:
1st Place – Barack & Hillary – They know they need each other and the country knows they need each other. Deep down, most people outside of South Carolina know we need them.
2nd Place – Mitt & Newt – LBJ & JFK came to terms; these guys will too.
3rd Place – Sarah & Kiffin – She never REALLY dropped out of the race, and the USC football coach is a perfect match of a running mate for this "Peter Principle" ticket. They both keep getting promoted despite their glaring lack of acumen, merit and accomplishment.
In their so-called Presidential Debate last week, Perry got South Carolina excited about a new Civil War, they booed the Golden Rule, and applauded Gingrich's waxing racist. So relax ya'll. It's only South Carolina – "America 's Whoopee Cushion" according to Jon Stewart. Next time they threaten to secede, nobody say anything.
H. Scott Prosterman