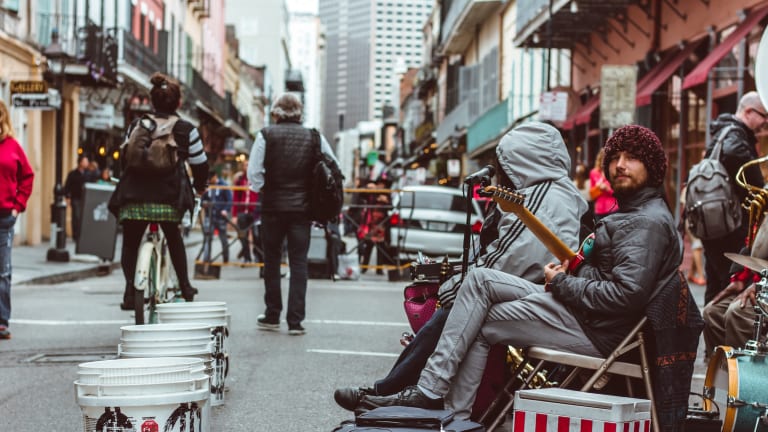 Grid Failure Kills People in Louisiana: Voting Can Save Their Lives
The time is now to wean off fossil fuels and reduce transmission congestion in our grid, making room for renewable sources a clean and brighter future demand.
Louisiana Governor John Bel Edwards recently announced a milestone emissions reduction project. And yet, there is still no plan to mitigate the systemic grid failure that results in avoidable deaths and continues to threaten the lives of Louisianians every year.
Systemic grid failure is a deadly result of political and corporate mismanagement in Louisiana. But now is the time to create a more resilient grid system, starting with voting in new leadership during midterm elections in the state.
The Louisiana Gulf Coast often faces back-to-back catastrophic, life-altering hurricanes. In the aftermath of these storms are frequent and unpredictable rolling blackouts—with little to no assurances or accountability from utility monopolies or political leaders to make changes to the grids. Entergy has already said earlier this year that even a Category 1 hurricane would cause statewide power outages in Louisiana for seven days, and 21 days if there's a Category 4 storm. And those are conservative predictions.
To be sure, hurricanes and other severe weather events will cause unpreventable power outages to some degree. But state and federal entities that do have the power to transform our electric sector and improve grid reliability still refuse to do so because of their alliance with the fossil fuel industry, especially in oil and gas states like Louisiana and Texas. Major utilities like Entergy or CPS Energy campaign against renewable energy advancements and invest millions of dollars into fossil fuels and politicians backed by polluting industries.
This is systemic grid failure—and we are flooded with examples here in The Gulf South. Political corruption and corporate greed has created deadly energy crises in areas that experience severe natural disasters the most, and thus, more and more frequent blackouts. It's a deadly cycle that goes beyond having to use flashlights or a camp stove.
I was living in Austin, Texas during Winter Storm Uri last year, one of the most stressful natural disasters of the many I've experienced growing up in Southeast Texas. Some reports show that over 700 people in Texas died during Winter Storm Uri, many from a lack of electricity. The evidence, even from ERCOT itself, was overwhelming and clear: natural gas and coal were largely responsible for the grid failure. To make matters worse, most average people's homes weren't (and still aren't) weatherized—meaning outfitted with technology that helps protect people in the event of power outages, like solar panels and/or battery storage and proper insulation. Hundreds of people watched their loved ones die in their homes.
And yet, the Texas grid is nowhere near fixed. Just this past summer, ERCOT urged Texans to conserve energy during a major heat wave because it was once again on the brink of failure. Texas not only continues to reject comprehensive energy reform, the state also continues to prop up the fossil fuel industry and spread disinformation about renewable energy. Again, this is systemic grid failure.
Louisiana's energy situation is grimly similar to Texas'. Entergy New Orleans and its parent company have vigilantly resisted efforts to improve its infrastructure with renewable energy, which industry experts say is necessary to limit power outages and minimize impacts. The Entergy enterprise also skirts past weatherization programs to protect people in their homes.
Rather, Entergy puts money towards huge polluting power plants. In 2017, Entergy spent $210 million to build a gas-fired power plant in New Orleans (that residents didn't want), which came online in 2020. They justified building the plant by saying it would help prevent blackouts from major storms.
Yet, a year after the plant came online, Hurricane Ida came through, and the city of New Orleans went dark. Much of Southeast Louisiana's river parishes—and especially their historically Black and Indigenous communities—were without power for over a month, and continue to live with unreliable electricity. Of the 14 people in New Orleans that died as a result of Hurricane Ida, nine were related to excessive heat and the prolonged power outage.
Once New Orleans "recovered" months after Ida, several lawsuits were filed against Entergy, calling the frequent post-storm blackouts "deadly and avoidable." And Louisiana is still dealing with unreliable energy and frequent rolling blackouts while ratepayers face exorbitantly high bills (also due to our reliance on natural gas), with the burden disproportionately landing on Black and low-income people.
Most people who die from severe weather events die in their homes, not in commercial buildings. Therefore, energy leaders and city officials should collaborate to create plans that equip people's homes and residential buildings with battery storage, solar power, and updated insulation standards.
But grid resiliency could change the energy game, and it's a matter of life or death. Instead of holding on to antiquated coal power plants or using ratepayers' money to build gas plants, public dollars should go towards electric infrastructure that follows strict resilience standards to mitigate and adapt to severe weather.
Regulators like Entergy, New Orleans Council, Louisiana Public Service Commission (LPSC), and the Federal Energy Regulatory Commission who refuse to protect the public from widespread power outages are committing manslaughter on a mass scale.
Their decisions result in the deaths of hundreds of people.
Grid operators, utilities, fossil fuel lobbyists, and the political agencies that prevent grid reform and home weatherization (despite knowing the consequences) must be also held accountable for the traumatic harm and deaths they cause. And one of the most powerful ways to call for accountability is with our vote.
While it's not a presidential election cycle, election season is here and new legislative sessions are just around the corner in 2023. There are 2 of the 5 seats up for election this November for LSPC. Commissioners serve 6-year terms, with 3-term limits. That can add up to 18 years, making these positions very powerful.
State and local public agencies control our energy future. For example, the LPSC can reduce energy burdens, create an equitable and robust renewable energy portfolio, fix transmission issues, and improve energy efficiency.
Renewable energy helps when disaster strikes in areas like Louisiana, Texas, and Puerto Rico. The time is now to wean off fossil fuels and reduce transmission congestion in our grid, making room for the renewable sources that can prevent energy blackouts and save lives.