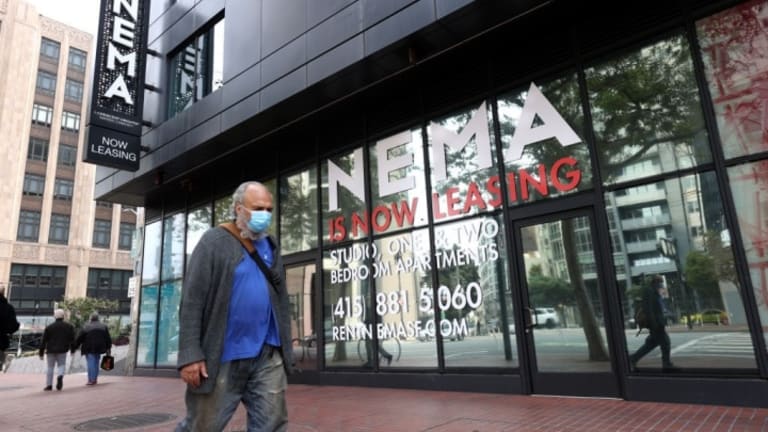 Group or Groups Attacking Proposition 21, Rent Control
Robin Urevich: Yes on 21 activists believe the initiative will fare better this year. A precarious housing situation has worsened for many Californians who have lost work due to the pandemic.
"It's like putting lipstick on a pig," says veteran Sacramento political consultant Steve Maviglio.
For Maviglio the pig in question is rent control, an increasingly contentious issue affecting about 45% of cash-strapped Californians who do not own their homes. The lipstick? Presumably the attempts by affordable housing advocates to present a milder rent control proposition before the voters next week than one that was trounced in 2018. The new initiative, Proposition 21, is sponsored and bankrolled by the AIDS Healthcare Foundation (AHF), and strenuously opposed by real estate interests and their spokesman, Maviglio.
California's real estate industry is fighting hard against Prop. 21, having so far poured more than $95 million into a "No" campaign, much of it used to flood the airwaves with folksy, if somewhat apocalyptic, ad spots predicting doom for affordable housing and the dashing of pensioners' dreams should localities begin imposing stiffer rent caps. The Yes on 21 campaign has raised more than $40 million.
Yes on 21 activists believe the initiative will fare better this year. A precarious housing situation has worsened for many Californians who have lost work due to the pandemic.
Although the No side touts "a broad, diverse coalition of seniors, veterans, labor, homeowners, affordable housing advocates and businesses" that oppose the measure, its grassroots veneer chips away with closer scrutiny of the coalition.
Some of its members have received direct financial contributions from the campaign committees or have close financial ties with them, raising pay-to-play questions about their relationships with a campaign largely funded by corporate landlords.
One organization listed, Black Women Organized for Political Action, flatly denies endorsing No on 21. "Please be advised that BWOPA has not taken a position on Prop. 21," wrote the group's political action committee director, Melody Walcott, in an email. Indeed, Prop. 21, pro or con, doesn't appear on the group's online endorsement list.
Three organizations received direct financial contributions from the No on 21 committee:
The Crenshaw Chamber of Commerce, $15,000.
Greater Los Angeles African American Chamber of Commerce (GLAAACC), $5,000.
Los Angeles Metropolitan Churches, $5,000.
L.A. Metropolitan Churches executive director Cheryl Branch also heads up the Califia National Organization for Women Chapter of Greater Los Angeles, which has also endorsed No on 21. Branch didn't respond to Capital & Main's email and phone calls. The Crenshaw chamber's president, Armen Ross, declined to comment on his group's endorsement. "We're not giving any interviews," Ross said.
But Angela Gibson-Shaw, the president of the GLAAACC, said the group opposes 21 because "it would have a negative impact on small rental owners." She said her organization wasn't approached by the No on 21 campaign, and decided to endorse on its own.
Still, financial contributions to endorsers "have the look of their endorsement being purchased," said Ann Ravel, a University of California, Berkeley, law professor who served as chair of the California Fair Political Practices Commission from 2011 to 2013. (She is currently running for a state senate seat in Santa Clara County.) But even if the financial arrangements between organizations and political committees look like pay to play, such deals aren't illegal, Ravel said.
Those who do power the No on 21 campaign are among the largest corporate landlords in the country. They are not the worried nurses or the harried-looking veterans depicted in No on 21 commercials. The five biggest donor firms have contributed more than $32 million, about 34% of the campaign's total fundraising haul, and they do not appear on the No website or in TV or internet ads, except in the fine print.
While San Mateo-based Essex Property Trust is the top contributor with donations of more than $10 million, three of the firms are headquartered out of state. They include Chicago-based Equity Residential and AvalonBay Communities, Inc., headquartered in Virginia, which rank eighth and ninth, respectively, on a list of the 10 largest U.S. real estate investment trusts.
Describing a case that also looks like pay to play, CalMatters reported last month that Alice Huffman, the president of the California NAACP (National Association for the Advancement of Colored People), earned $1.2 million through her firm, AC Public Affairs, as a consultant to five corporate-backed no campaigns on the November ballot, including $280,000 from the No on 21 campaign.
Huffman signed the official ballot argument on the no side, while her organization, the California NAACP, is listed as a No on 21 endorser.
No on 21 spokesman Steve Maviglio argued that the same sort of consultant arrangements are also in place on the yes side. He pointed to Yes on 21 endorser and L.A. City Councilman Kevin de León, who acts as a policy advisor to the campaign. He also said that Rev. Al Sharpton's National Action Network received a donation from the yes side.
AHF policy director Susie Shannon denied the pay-to-play accusations, saying AHF has long supported Sharpton's group, adding that de León's support predates his consulting work. De León endorsed another rent control measure, Prop. 10, in 2018 and added his name as a Prop. 21 supporter late last year — months before he joined the campaign in May as a policy advisor, according to Shannon.
No on 21 lists faith organizations, senior groups and veterans as endorsers — all considered coveted and credible backers of political causes in California. But some of these groups also have financial ties to the No campaign, or in at least one case appear to exist purely on paper.
For instance, the California Senior Advocates League, which is listed as a No on 21 endorser, and whose board member, Marilyn Markham, signed the group's official ballot argument, lists no contact information on its website; its director, Deborah Howard, whose Twitter and LinkedIn bios say she is now living in Arizona, and Jason Lotridge, who is registered with the secretary of state as the group's contact person and who works for a Sacramento political consulting firm, did not return phone calls and emailed queries for this story. The group's address is a mailbox in a Sacramento UPS store.
The California Senior Advocates League also appears to run a slate mailer organization that was paid $68,000 by the Committee to Protect Affordable Housing (which is run by the California Business Roundtable) to recommend a No on 21 vote in one of its voter guides or slate mailers.
Pay-to-play slate mailers are deceptive but legal — they're created to look as though senior citizens or educators or veterans endorse the candidates and positions listed, although the fine print spells out that the candidates or measures have paid to appear.
The California Business Roundtable didn't answer phone calls or an email inquiring about the senior citizen group.
Twenty veterans' groups have also signed on to the No on 21 campaign. At the Sanger headquarters of the American Legion, Department of California, Adjutant Paul Brown said he didn't know enough about the endorsement to discuss it, and referred Capital & Main to retired Sacramento lobbyist Pete Conaty, whose firm has received $65,000 as a No on 21 consultant. Conaty, who lists a Texas address with California's secretary of state, represented the American Legion and four of the other endorsers as a lobbyist.
Conaty didn't return phone calls to discuss his role, if any, in securing the endorsements. But he was criticized in the past for delivering the support of veterans' groups to causes that might be against their own interests.
A 2016 Stars and Stripes article said Conaty secured a letter from six California veterans' groups supporting a U.S. Chamber of Commerce­–backed bill that would have released the medical history of those poisoned by asbestos to industry defense lawyers.
Additionally, the identity of one of the three faith leaders listed as No on 21 endorsers, a Rev. Gerald E. Thompson, is also a mystery. An internet search for "Rev. Gerald E. Thompson" returned no results. A public records search did turn up dozens of Gerald E. Thompsons, including one in South Los Angeles, who, when asked whether he'd endorsed No on 21, queried, "Is that the one that would raise the rent?"
Prop. 21 would not raise anyone's rent. But it's no surprise that Thompson is confused.
One No on 21 ad features an African American homeowner who says Prop. 21 "even allows landlords to raise rents on the lowest-income Californians by 15%." The statement appears to take out of context the 15% cap the initiative places on rent increases for new tenants. Currently, landlords can raise rents as high as the market will bear when a new tenant moves in.
In 2018, a Public Policy Institute of California poll found 52% of likely voters backed the idea of rent control, but only 36% supported Prop. 10, which, like this year's Prop. 21, would have allowed cities to include single family and newer homes under tougher rent control laws.
Yes on 21 activists, who have the support of Sen. Bernie Sanders, Rep. Maxine Waters and United Farm Workers union co-founder Dolores Huerta, among many other elected officials and groups, have said that their initiative will fare better this year than it did two years ago. Turnout is expected to be larger, and a precarious housing situation has worsened for many Californians who have lost work due to the pandemic.
Still, a September 23 UC Berkeley Institute of Governmental Studies poll showed California voters evenly split 37% to 37% on Prop. 21, with 26% undecided.
Regardless of how Prop. 21 fares in November, the number of Californians covered by local rent control laws could grow. Voters in Burbank may adopt a new such law when they go to the polls on Nov. 3, while a Sacramento ballot measure asks its citizens to adopt a more stringent rent control law than one the city council enacted last year.
Meanwhile, in Culver City and Mountain View, real estate industry referenda on rent control laws seek to buck the trend by repealing local rent control laws currently on the books.
Robin Urevich
Capital & Main