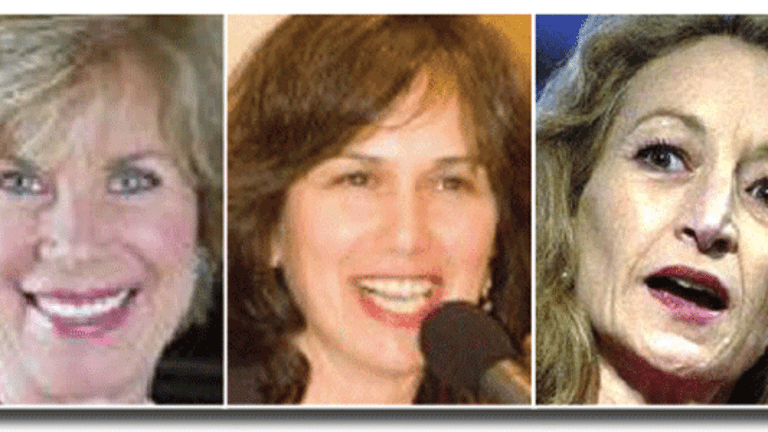 The Harman Twins - Janice & Debra
Nick Antonicello: How does Bowen send mailings to voters insinuating support for a speedy end to these conflicts when she doesn't have the political will to support Kovic's pledge?
If 36th Congressional District voters needed a reason why Marcy Winograd is the reliable and credible candidate of peace in this special election to fill Jane Harman's vacancy, all you had to do was attend the debate last week sponsored by the Mar Vista & Venice Neighborhood Councils.
That same evening Ron Kovic, the decorated Vietnam War veteran bound to a wheelchair some 43 years thanks to wounds in the line of duty asked all 36th congressional candidates to sign a pledge that would cut off supplemental funding of these conflicts in Iraq as well as Afghanistan.
Kovic, who's memoir inspired the Oliver Stone Academy Award winning film, "Born on the Fourth of July," is a resident of the district and decorated US Marine who was awarded the Bronze Star as well as the Purple Heart for his service and bravery in the line of combat.
Combat he volunteered for twice in tours of duty in Vietnam.
One would think it would be a political "no brainer" to endorse such a simple, yet direct solution to ending the fighting.
Fighting both Debra Bowen & Janice Hahn pretend to oppose.
For how does a Debra Bowen or Janice Hahn look Mr. Kovic straight in the eyes and deny such a simple request?
How does Bowen send mailings to voters insinuating support for a speedy end to these conflicts when she doesn't have the political will to support Kovic's pledge?
How does one claim to be "a profile in courage" when she turns down a decorated Vietnam veteran bound to a wheelchair?
How does Janice Hahn use images of "Arlington West" in campaign brochures, but refuses to sign the same pledge as campaign staffers tug at her arm to get away from having to make a tough decision?
How does candidate Hahn look at herself in the mirror at night claiming to be "investing in peace and prosperity?"
How can she claim she is "protecting and supporting our Veterans?"
Is Ron Kovic not one of those Veterans she pretends "to protect and support?"
For the hard reality is that since 2001, both Debra Bowen & Janice Hahn supported the ongoing war policies of Jane Harman.
They endorsed her candidacy time and time again and ignored Marcy Winograd's call for a new direction in 2006 and again in 2010 because a Winograd victory would not have personally enhanced the political career of either of these two, embedded politicians seeking a second federal pension courtesy of taxpayers like you and me!
To claim opposition to the ongoing wars in Afghanistan & Iraq while saying "no" to the likes of war heroes such as Ron Kovic is insulting to any reasonable voter who seeks peace today.
Phony plans to reduce troop strength over the next four years are pandering platitudes designed to keep the voters restless as the same failed policy drones on in Washington, DC regardless of who's in control of the purse strings!
For Janice "Harman" and "Jane" Bowen, it's business as usual.
Tell them whatever they want hear.
Prostitute any images of peace for the sake of winning a vote.
Let the pollsters and spin doctors run the same old, poll-driven message for the hopes of gaining entrance to a July runoff!
The Harman Twins just don't get it and never will.
Janice & Debra. Termed out and too tired.
Just like Jane Harman.
Nick Antonicello
Venice Beach