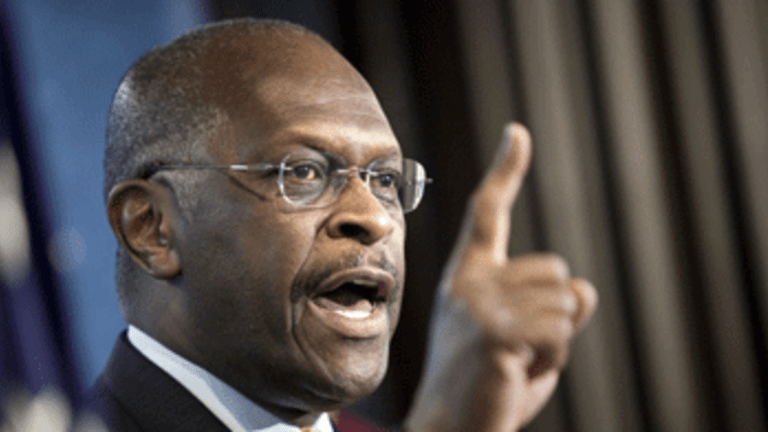 Who Is This Herman Cain?
Ted Vaill: Is he a legitimate contender for the White House, or just running a book tour? Is he a stalking horse for the Koch Brothers? Has he sexually harassed female subordinates?
Herman Cain has reached the top spot in the 2012 Republican Presidential field, with 30% support from Republicans in the latest poll. Mitt Romney is a distant second.
However, as more comes out about this man, the more disturbing it gets. Is Cain a legitimate contender for the White House, or just running a book tour? Is he a stalking horse for the Koch Brothers? Has he sexually harassed female subordinates? Does Cain know anything about foreign policy, after his gaffe showing ignorance of China's having nuclear weapons since 1964? Does Cain realize that China is not Uzbeki-uzbeki-uzbeki-stan-stan, but a major world power, one that the next President will have to deal with every day? Is his cancer really in remission?
Herman Cain was born in 1945 in Memphis, Tennessee in a self-described "poor but happy" black family. He grew up in Atlanta, a Baptist, and graduated from Morehouse College in 1967 with a B.S. degree in mathematics. He married his only (and current) wife Gloria in 1968 (they have two grown children and three grandchildren), and got a masters degree in computer science at Purdue in 1971, while working full-time as a ballistics analyst for the U.S. Navy.
Herman Cain began his business career in the early 1970s with Coca-Cola in Atlanta as a computer systems analyst, and moved to Minneapolis in 1977 to work for Pillsbury as director of business analysis of its restaurant and foods group. In the 1980s, he moved to Philadelphia to manage 400 Burger King outlets (Burger King was a Pillsbury subsidiary). His success at Burger King led Pillsbury to name him in 1986 as head of another subsidiary, Godfather's Pizza. He closed 200 outlets and eliminated thousands of jobs thereafter, but returned the subsidiary to profitability. In 1988, Cain and another Pillsbury executive and a group of investors bought Godfather's Pizza from Pillsbury in a leveraged buyout.
In 1992 after becoming a member of the board of directors of the Federal Reserve Bank in Kansas City, Cain served as its chairman from January, 1995 to August, 1996.
In 1996, Cain left Godfather's and became CEO of the National Restaurant Association, a trade group and lobbying body for the restaurant industry in Washington, D.C. He had previously served on the board of the Association, and his lobbying work for it put him in touch with a number of Republican Congressmen and other politicians. Cain left the Association in 1999, apparently not too long after financial settlements were reached with two female employees of the Association who claimed inappropriate behavior by Cain.
He returned to Omaha for a year, and then moved back to Atlanta in 2000. Herman Cain briefly ran for the Republican nomination for President in 2000, and for the U.S. Senate in Georgia in 2004, but lost to Congressman (later Senator) Johnny Isakson in the primary, winning 26.2% of the vote. In 2005, he began working for the Koch family-funded Americans For Prosperity with Mark Block (who became his 2012 campaign manager), and several other AFP employees have also joined his campaign. Cain's senior economic advisor, Rich Lowrie, the principal author of Cain's 9-9-9 tax plan, served on the AFP board.
In 2010, Cain spoke at over 40 Tea Party rallies, and announced in September, 2010 that he was thinking of running for the Republican nomination for President in 2012, a decision that was made formal in May, 2011.
He has also served as a radio talk show host, syndicated columnist, and motivational speaker, and he's written several books, the most recent being "This is Herman Cain: My Journey to the White House", published in October, 2011. In 2011, Cain reported his wealth as between $2.9 million and $6.6 million.
In 2006, Cain was diagnosed with Stage IV colon cancer, which metastasized to his liver. He was given a 30% chance of survival, and underwent surgery and chemotherapy thereafter. He claims his cancer is in remission today.
Here are the main issues regarding Presidential candidate Herman Cain:
His extremely conservative positions on all the major issues, which puts him out there as a Tea party favorite;
His recent Stage IV cancer, which means that if he should be elected President, his choice of a Vice President would be critical (remember Sarah Palin?);
His close ties to the ultra-conservative and ultra-rich Koch Brothers, who might get a pipeline to running/taking over the country if Cain is elected;
His lack of any government experience, except for his part-time work on the board of the Kansas City Federal Reserve, a quasi-governmental body; and
The skeletons in his closet (if they exist).
But who is he, really?
Ted Vaill
Ted Vaill is a Los Angeles lawyer and filmmaker whose latest non-political film, "Finding Shangri-La", will be shown at the ITN Film Festival in New York City on November 24, 2011 at 1pm at the Quad Cinema in Greenwich Village. He is currently working on a political film on Occupy Wall Street.