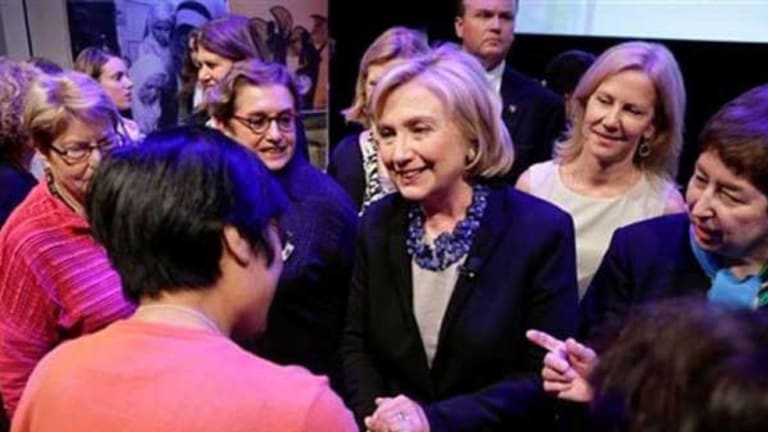 Is Hillary Ready for Latinos?
Mario Solis-Marich: The path undertaken by the official Hillary included an unnecessary book tour that was rife with bad press and now a trip to Iowa for which the un-candidate was un-prepared.
Hillary Clinton's recent visit to Iowa may have provided the opening that other Democratic presidential hopefuls need when it comes to courting the electoral college empowered Democratic Latino voter base.
During her visit to the Tall Corn State last week the former Secretary of State was confronted by a small group of local students who live under the threat of deportation although they have known no other country. The group asked Hillary about Obama's recent reversal of his promise of executive action for undocumented tax payers and other workers. Hillary was, to put it kindly, not ready. A clip of the encounter can be viewed here.
Let me disclose on the onset that I have been a Hillary admirer since Bill Clinton's first campaign. I currently have a "Ready for Hillary" bumper sticker on my car. I attended a "Ready for Hillary" event. But the Iowan encounter has me wondering if I should rethink my Hillary love affair.
The Ready for Hillary campaign was brilliant - it was fun, fresh and easy. The viral aspect of the un-campaign for Hillary was exciting. The campaign was run independently of Hillary due to federal campaign finance laws and so it was free of some of the traditional Democratic consultants that seem locked into certain patterns. In short: Ready for Hillary worked and a national platform was set. It seems like early this year the old pros stepped in and took Hillary down a weary campaign path. The path undertaken by the official Hillary included an unnecessary book tour that was rife with bad press and now a trip to Iowa for which the un-candidate was un-prepared.
The Iowa trip was telling because it shows that even today only a few DC political consultants know that Latinos are everywhere. But even the great surprise of finding out that immigration issues affect an agricultural state (pardon my sarcasm) should not excuse the fact that Secretary Clinton was callous in her response to the students. The former Secretary of State clearly does not understand the underlying sentiments among the Latino voter base regarding how Democrats have mishandled the immigration issue.
Latino voters should be aggressive in the upcoming Presidential primaries. Democratic Presidential hopefuls should be questioned aggressively by Latinos on issues ranging from job creation to immigration and from small business development to internet access. Latinos should question why we spend trillions in Iraq and struggle to gather a couple of billion for the entirety of Latin America during a humanitarian border crises. Latinos should act like any other key political constituency and promises should be demanded and the number of Latino appointments should be secured. This questioning should come from Latinos firmly outside the Beltway and from far under the usual grasstops voices. Latinos will play a critical role in choosing the next President. Presidential hopefuls should take notice.
I sincerely hope that Hillary re-prioritizes her Latino posture. I hope that Hillary meets with "Outside the Beltway" Latinos and comes to understand the real frustrations that Latino families are facing each day. I truly hope that Hillary prioritizes Latino voters and if she doesn't I hope the bumper sticker on my car doesn't leave a mark.
Mario Solis-Marich