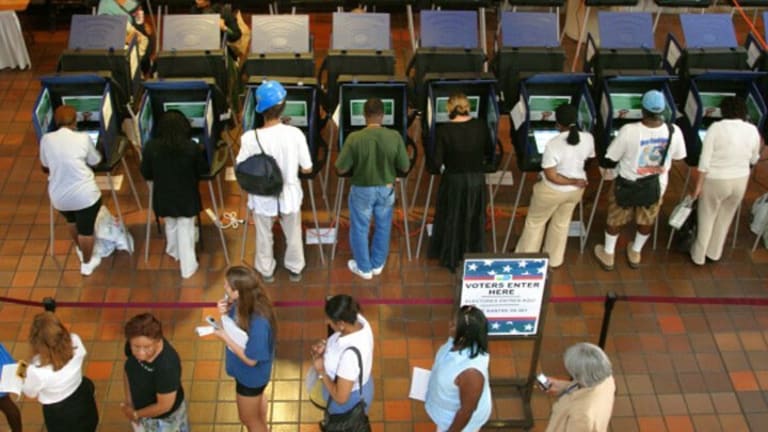 Hillary's Touch Screen Landslide
Ernest Canning: Was this official "landslide" actually an overwhelming rejection of Sanders's political revolution or the pre-designated result of the South Carolina's easily hacked touch screen voting systems? Hillary South Carolina Landslide
We'll Never Know Whether Voters or Machines Source of Clinton 'Landslide' South Carolina Win
Hillary Clinton could not have asked for more. According to the official count, she scored a 47.5 point victory of Bernie Sanders in the South Carolina primary—20 points greater than the RCP average going into the February 27 primary election.
Clinton's fawning supporters wasted no time. The Washington Postproclaimed that the results spelled "big trouble for Bernie Sanders" going into Super Tuesday.
Was this official "landslide" actually an overwhelming rejection of Sanders's political revolution or the pre-designated result of the South Carolina's easily hacked touch screen voting systems?
But was this official "landslide" actually an overwhelming rejection of Sanders's political revolution or the pre-designated result of the South Carolina's easily hacked touch screen voting systems? We'll never know because, as the author noted in 2011, South Carolina, and unfortunately a large number of Americans, are "still clueless" about the 100% unverifiable touch screen voting systems that were used during yesterday's faith-based election.
For more than a decade, computer scientists and election integrity advocates have sounded the alarm—to no avail. "I follow the vote," CIA cybersecurity expert Steven Stigall told members of the U.S. Election Assistance Commission back in 2009. "And wherever the vote becomes an electron and touches a computer, that's an opportunity for a malicious actor potentially to...make bad things happen."
While e-voting systems have often been the source of unlikely results, it was the 2010 South Carolina U.S. Senate Democratic Primary contest between Alvin Green and Judge Vic Rawl that produced an "It's the machines transparency, stupid!" moment. That election was conducted on the same 100% unverifiable ES&S iVotronic touch screen voting system that was used in yesterday's Democratic Presidential Primary.
Greene was unemployed; virtually unknown. He had no campaign website, no volunteers, no campaign literature. He didn't even own a computer or a phone. His opponent, the respected circuit judge and former state legislator Vic Rawl had raised hundreds of thousands of campaign dollars, appeared at 80 campaign events; had hundreds of volunteers.
The numbers were beyond absurd. Lancaster County paper absentee ballots went to Rawl 84% to 16%. The unverifiable touch-screens in the same county, however, said Rawl lost the it by 17%. Greene received more votes than were cast in 25 Spartanburg County precincts. The votes of 50 other precincts were missing from the final count. Statewide, the virtually unknown Greene somehow managed to captured 60% of the vote, according to the iVotronic DREs.
Denied access to the iVotronic memory cartridges, source codes, and machines, Rawl nonetheless presented an impressive five-hour case to the state Democratic Party Executive Board in contesting the race. Two computer scientists testified that system malfunction provided the only reasonable explanation. Voters said they saw their votes flipped to Greene. Campaign workers saw poll workers swapping out memory cartridges during the election.
Rawl's challenge of the machines was ignored by most of the mainstream media and summarily rejected by the Democratic Party's Executive Board, largely for what has been described to The BRAD BLOG by insider sources as "political reasons".
Touch screen voting has been and remains a clear and present danger to our democracy -- and not just because of the risk of malicious manipulation of the count.
In "The Problem with Touch-Screens" ...Dan Rather visited the Manila sweat shop where he witnessed the shoddy assembly of the ES&S iVotronic LED screens by $2.50/day workers. The company's "quality control" process at the Filipino facility, on the rare occasions that it was applied, was to hold up one of these sensitive items of electronic equipment and shake it to determine whether there were any loose parts rattling around inside.
When he covered Rather's documentary at The BRAD BLOG, the late John Gideon observed: "The machines made by ES&S may not have any screws loose, but the folks who think this is any way to run a democracy certainly do!"
That pretty much sums up the level of thinking in every jurisdiction which continues to employ these exorbitantly-priced pieces of unverifiable electronic junk.
So when anyone tells you that South Carolina voters handed Bernie Sanders a landslide defeat, your answer should be "maybe, but maybe not."
Ernest Canning
Veterans for Bernie