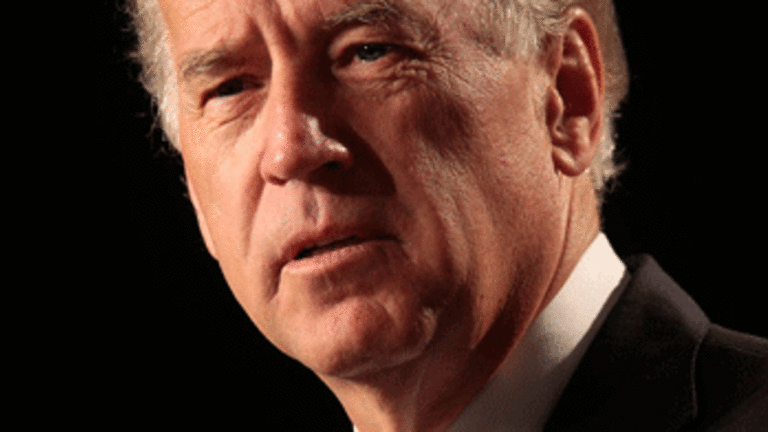 Will Joe Biden "Keep It Real?"
Karen Finney: The ability to connect cold data points to reality gives Biden a real advantage on Thursday night, not the number of times he's previously debated.
Both Vice President Biden and GOP vice presidential nominee Rep. Paul Ryan (R-Wis.) will have to be careful not to "wonk out" too much when they face each other this week for their one and only debate. Both men are steeped in data and information, able to demonstrate command of the facts.
As Catholics, both men will likely speak from the heart about how their values inform their policy decisions. Ryan could face criticism similar to the concerns raised by the U.S. Conference of Catholic Bishops and others about the impact his budget approach as chairman of the House Budget Committee would have on poor and low-income Americans. And while Biden's positions on ensuring a woman's access to contraception, abortion care (sans qualifications about "legitimate" rape) and marriage equality are consistent with a majority of Americans, they are out of step with the Vatican.
While Ryan seems to become increasingly agitated when challenged with follow-up questions, that's when Biden's passion and authenticity are at their best. The ability to connect cold data points to reality gives Biden a real advantage on Thursday night, not the number of times he's previously debated.
We saw that reality and passion in one of the best moments of the 2008 presidential campaign, when Biden eloquently pierced Alaska Gov. Sarah Palin's overly rhetorical performance during the vice presidential debate, not only challenging stereotypes but personally connecting policy implications with the reality for American families:
"Look, I understand what it's like to be a single parent. When my wife and daughter died and my two sons were gravely injured, I understand what it's like, as a parent — to wonder what it's like if your kid's going to make it.
"I understand what it's like to sit around the kitchen table with a father who says, "I've got to leave, champ, because there's no jobs here. I got to head down to Wilmington. And when we get enough money, honey, we'll bring you down.' "
"But the notion that somehow, because I'm a man, I don't know what it's like to raise two kids alone, I don't know what it's like to have a child you're not sure is going to — is going to make it — I understand."
That response reminded the audience that for Biden, and for President Obama, discussions about policy issues like the budget or jobs aren't just a theoretical exercise or ability to do the horse trading compromise requires: It's intimately linked to the consequences of those decisions in human terms.
Biden just needs to keep it real in Thursday's debate. Not only when discussing the economy or social issues, but also to the foreign policy saber rattling we've consistently heard from Romney-Ryan and the GOP. Just as former President George W. Bush and his administration failed for too long to recognize the true cost and impact war was having on Americans here at home, so has the Romney-Ryan rhetoric been disconnected from the experiences of a war-weary country and a national security strategy that must adapt to the 21st century.
Long before his own son, Beau Biden, went to serve in Iraq with the Delaware National Guard, the vice president went to Dover, Delaware, and saw the real costs of voting "to send people to war," as Ryan has touted to bolster his foreign policy cred: more than 6,500 Americans killed, 49,414 wounded, budgeting practices that waged a war on our economy here at home, and the imperative of keeping an estimated $1 trillion promise to provide care and services for more than 2 million new veterans.
Karen Finney
The Hill
Posted: Tuesday, 9 October 2012