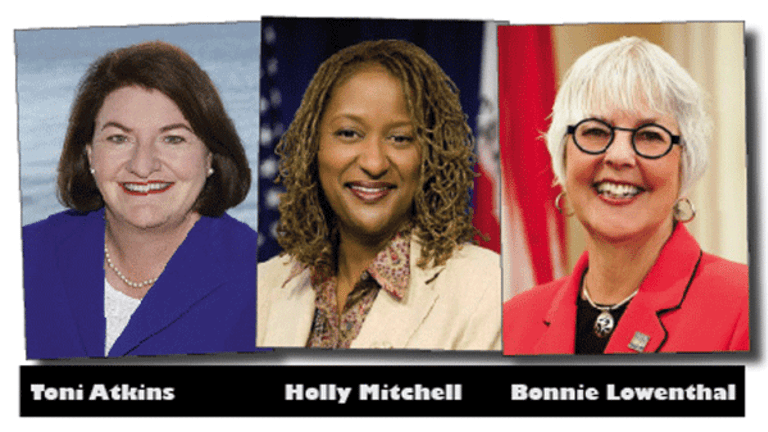 Speaker John A Pérez, Absolutely Qualified and Ready to Lead for California Women
Toni Atkins, Holly Mitchell, and Bonnie Lowenthal: There is no one we trust more than Speaker John A. Pérez to be our next State Controller.
As elected women leaders in California and the Democratic Party we're concerned that recent comments made by Patty Bellasalma, President of California National Organization for Women (California NOW), about the record of John A. Pérez are misleading.
Contrary to her claims, John is more than qualified and experienced to lead our state as Controller. Female legislators have been emboldened in the Speaker's administration, legislative issues related to the concerns of women have been elevated during his tenure, and John has steered us through the fiscal road map to California's financial rebound.
We've worked with Speaker Pérez throughout his career in the Assembly. His leadership has embraced and empowered women's issues to rise in priority. He has been a leader on reproductive health and last year fought to pass AB 154 to secure access for women's right to choose. That's one of the reasons why the Planned Parenthood Action Fund scored John with a 100% voting record. California NOW itself has strongly supported the Speaker's pro-women legislative agenda. Last year alone, John authored half a dozen bills that were important to California NOW ranging from funding for veteran housing to expanding the list of people who can be convicted under the California's domestic violence statute.
Democratic women have consistently played a key role in the Speaker's inner circle. In fact John has appointed two women as Speaker pro Tempore to run the floor of the Assembly—Fiona Ma, the first API woman to serve in the position, and Nora Campos of San Jose. As Speaker, John also used his leadership to appoint women to chair many powerful Assembly policy committees. Together, we've passed major pieces of legislation to level the playing field for women.
We made real gains for women across the board and especially in our most vulnerable communities, like overtime for domestic workers, re-establishing the California Commission on the Status of Women & Girls, expanding Med-Cal coverage, passing the Trust Act, and increasing the minimum wage.
And there is no issue where John has been a bigger champion for women then in the area of child care. When Governor Schwarzenegger slashed child care money for single moms, John fought back and the Assembly has since restored $780 million in child care funding resulting in 30,000 children remaining in child care programs. And when Schwarzenegger vetoed funding for stage 3 child care, John used savings from the Assembly's own operating budget to provide $6 million in bridge funding for those child care programs.
It was also the drive of Speaker Pérez that led us to create new opportunities for women to succeed such as the Middle Class Scholarship, effectively slashing UC and CSU fees for middle-class families by up to 40%. Higher education is the most powerful tool women have to advance equity for themselves and their families. Speaker Pérez also appointed Nancy Skinner of Berkeley as the Assembly Budget Chair and has worked closely with the women in his leadership team to turn our state's finances around. We passed three balanced, on-time budgets in a row for the first time in 30 years. We eliminated the repetitive structural deficit and are now looking at a $4.6 billion surplus. Our economy is growing faster than 44 other states and our job creation is expected to outpace the nation for the next decade.
Our legislative success is a direct result of the Speaker's political acumen and tenacity. He raised the money and made major contributions to stand with our sisters and brothers in the labor movement to pass Prop 30 and defeat Prop 32. And by effectively funding the Assembly Democratic campaigns up and down the state, we now have a supermajority of 55 Democrats in the Assembly – the most in 25 years.
There is no one we trust more than John A. Pérez to be our next State Controller. He deserves the job based on his record and fiscal performance. As women who believe strongly in the values of the Democratic Party, we call on Ms. Bellasalma to stand down from the attacks. California NOW has a longstanding history of supporting the most feminist candidates, both women and men.
John has more than proven his commitment to the women and girls of California, and has used his position to advance women's equality and shape the lives of the future generation of women leaders.
Sincerely,
Toni Atkins
Assembly Majority Leader
78th Assembly District
Holly Mitchell
Senator, 26th District
Bonnie Lowenthal, Chair
Legislative Women's Caucus
70th Assembly District