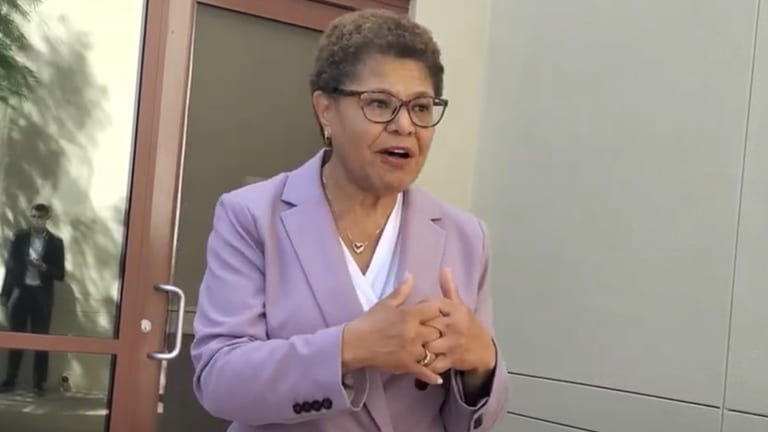 Karen Bass Has a Vision for Los Angeles
Karen Bass (D) stumped in Pasadena to share her vision for how she would approach being Mayor–should she be elected in the 2022 Los Angeles
Ahead of the first Los Angeles Mayoral debate that was held on March 21st hosted by FOX 11, the LA Times, and USC's Dornsife Center, the honorable Congresswoman Karen Bass (D) stumped in Pasadena to share her vision for how she would approach being Mayor–should she be elected in the 2022 Los Angeles Mayoral general election. A few dozen supporters, mainly a curated group of upwardly-mobile Gen X'ers ranging from executives to community-based nonprofit leaders and constituents gathered on a late winter March Saturday morning in a courtyard reception at Black-owned and community staple Perry's Joint on Lincoln Ave.
In what can best be described as a beautifully melanated morning fundraiser–hosted by former Pasadena Vice Mayor Jacque Robinson-Baisley and Patrice Marshall McKenzie, a Pasadena-based Educator and Community Advocate. Ms. Bass currently represents California's 37th congressional district in the U.S. House of Representatives and is the former California Assembly Speaker – one of the three Blacks (including Hon. Willie Brown and Hon. Herb Wesson) to hold the leading position in California history. Now, she's a viable contender to head up a city with the world's third-highest GDP– by-city rankings.
Bass has spent her life serving her hometown of LA. According to her campaign bio, in 1990, in response to the crack-cocaine and gang violence crisis that was gripping Los Angeles, she founded Community Coalition, a community-based social justice organization in South L.A. that empowers the African-American and Latino community across generations to address substance abuse, poverty, and crime in South Los Angeles. She also organized with Pasadena activist Michael Zinzun, the subject of a new documentary Zinzun: A Revolutionary Activist. Both had a shared resolve for police reform and accountability.
Touting her roots of being raised in the Venice/Fairfax District of West LA, Bass sees herself as a proud daughter of Los Angeles. She credits watching the Civil Rights Movement on television with her father as initially sparking her interest in community activism.
My question to her – if she is given the opportunity, what would it mean to her to be elected the next Mayor of the city she has served for decades? How would she approach the responsibility?
"I want to take all of my years of experience as a community organizer, an activist focusing on areas of policy, and resolve the biggest crisis that LA has faced in many years–40,000 Angelenos are unhoused," Bass shared.
Speaking about the unhoused and unsheltered–calling it a crisis, I asked if she had a plan?
"Absolutely," Bass assertively responded.
Before she began her remarks, California Assembly Chair of the Appropriations Committee, Hon. Chris Holden (D41) had some brief comments about Bass, calling her a "Servant Leader '', and saying "you have that anointing that we all carry. And yours is as a public servant, and you have a heart for it, and you're honest, and you're transparent, collaborative. And that's what the city needs right now. That's what the state and the world need." Holden praised.
Bass graciously greeted the morning audience. Video from the event can be viewed below.
Addressing the shortage in available affordable housing, she expounded on her plan. "We have to build, we have to get people off of our streets. But, then we also have to address why they're on the street, to begin with. So addressing the root causes and not viewing the unhoused as a monolith."
Acknowledging the public frustration with the current crisis, Bass expressed her concerns. "People are angry, people are demoralized, people are discouraged. And that's when a candidate can come in and mobilize all of the anger, all of the fear, and when that happens, who suffers."
Adding, "the unhoused people are the ones that are going to suffer instead of marshaling their fear and anger. Why not marshal the inspiration and the hope and the positiveness of what exists in our city so that we can get the job done. And I believe that we can absolutely do that."
2022 LA Mayoral Race
Incumbent Mayor Eric Garcetti is ineligible to seek a third term due to term limits. Back in 2015, a Charter Amendment, Measure 1 approval moved elections to align with state and federal polling.
A full field of candidates is vying for Los Angeles' top position vacated by Mayor Garcetti including:
● Joe Buscaino, city councilmember from the 15th district, and former LAPD officer
● Rick Caruso, developer of The Grove at Farmers Market and The Americana at Brand
● Kevin de León, city councilmember from the 14th district, candidate for the US Senate in 2018, and former President pro tempore of the California State Senate
● Mike Feuer, Los Angeles City Attorney and former state assemblyman from the 42nd district
● Craig Greiwe, business executive
● Alex Gruenenfelder Smith, Echo Park neighborhood councilman
● John "Samuel" Jackson, business owner
● Andrew Kim, lawyer
● Ramit Varma, co-founder of Revolution Prep
● Gina Viola, community activist
● Mel Wilson, real estate agent, and former Metro board member.
Elections are expensive. In 2013, the LA Times reported more than $36 million in spending for the race.
This election cycle is expected to be much different. In fact, according to February 22, 2022, Los Angeles Magazine reported on campaign funds and expenditures. The field is already more than halfway to eclipsing the $13.5 million raised in 2013, the last time there was a contested mayoral primary.
Bass entered the race last September and has raised $1,928,751 in her first few months.
According to her campaign team, Bass has received an average of $528 from 3,755 donors.
Her war chest could be attributed to grassroots organizing. She and her supporters believe that their on-the-ground mobilization will end with her at 200 N. Spring Street this Fall.
The 2022 Los Angeles Mayoral primary election will take place on June 7, 2022. The top-two primary candidates will advance to the general election, which will take place on November 8, 2022.
Back to Bass - on being elected the Mayor of LA.
"I've spent time in Sacramento, I have relationships and ties there. That's significant to LA - and then my relationships in Washington DC, especially with this administration. I want to take all of my years of experience as a community organizer, an activist focusing on areas of policy." Bass wrapped up her comments and time with the Conversation Live.
After listening to Bass, it was one of those times when a journalist discreetly discards their index cards of questions. No framing was required to tell this story. It tells itself.
But, in case you missed it–Bass was received well.