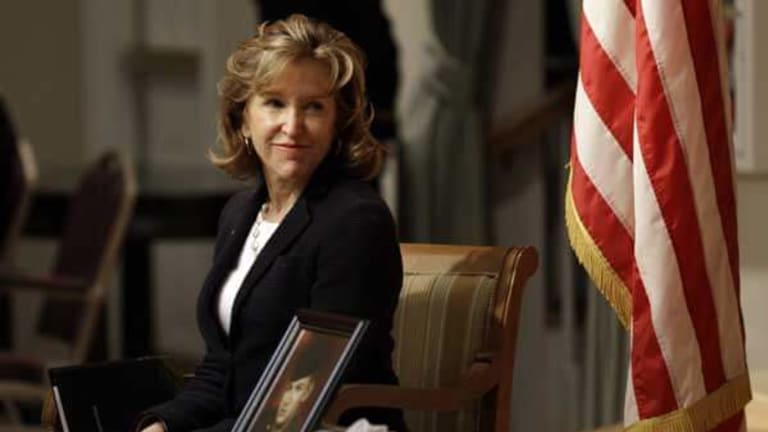 Why Hagan Wins North Carolina
Brent Budowsky: The fact that Hagan is still standing after millions of dollars' worth of personal attacks against her, financed by out-of-state ultra-conservative and hyperpartisan GOP money from the Koch brothers and others, is a testament to her political resilience
Sen. Kay Hagan (D-N.C.) is the target of what could be the most aggressive, dishonest, vindictive and lavishly financed negative campaign against any statewide candidate I've ever seen, yet according to the summary of polling from Real Clear Politics, she is still running neck and neck with her opponent, Thom Tillis, the Republican Speaker of the North Carolina House of Representatives.
The fact that Hagan is still standing after millions of dollars' worth of personal attacks against her, financed by out-of-state ultra-conservative and hyperpartisan GOP money from the Koch brothers and others, is a testament to her political resilience and the good sense of many Tar Heel voters who are offended by the politics of personal destruction practiced by her opponents in the epic battle for North Carolina.
While President Obama did not help Hagan by addressing the American Legion convention in North Carolina this week, in her speech Hagan showed that she is one of the strongest supporters of veterans in the Senate and comes from one of the most respected military families in the state.
Hagan serves on the Senate Armed Services Committee and is steeped in the values and traditions of military families. As the Charlotte Observer recently reported, "her husband is a Vietnam veteran, her father and brother served in the Navy, her father-in-law was a Marine Corps general, and two nephews are on active duty." The Koch brothers could import their entire fortune into North Carolina to buy television ads to attack her, but military families know that Sen. Kay Hagan works her heart out to fight for them because she is one of them, something money cannot buy.
While Democrats are challenged by the need for higher turnout from Democratic voters in midterm elections, Hagan will benefit by the fact that North Carolina voters are closely following the white-hot campaign. Voters in the Democratic base are angry, offended and frightened by the extremism of Hagan's opponents and the ugly attacks being waged against her, and will turn out in higher numbers than expected in the state's midterms.
Gallup has just issued its political profile of North Carolina, noting that analysts consider the Senate race a toss-up. Gallup observed that North Carolina voters will be making a "monumental" decision about the future of the state, which is crucial.
In North Carolina, the governorship and state legislature are both controlled by Republicans who are far to the political right. This Republican state government is markedly less popular than the national average of states. Hagan is hobbled by the unpopularity of the president, but Tillis is hobbled, moderates are alienated and Democrats are highly motivated to vote by the drive for total power of the far-fight North Carolina GOP.
With a state electorate that Gallup notes is equally divided between the political parties, will voters choose a Democratic senator who most objective analysts agree is moderate and centrist, or will they choose to make North Carolina a one-party state ruled by an ultra-conservative GOP? I place my bet on Hagan.
One thing Senate Democrats have done very right is that the Democratic Senatorial Campaign Committee, under executive director Guy Cecil, has placed major emphasis on increasing voter turnout, while Senate Majority PAC has committed substantial resources to North Carolina. This will reap major dividends for Hagan.
The Rev. William Barber, president of the North Carolina NAACP — in my view the most inspiring civil rights leader in the nation — has spearheaded a strong organizational drive and a Freedom Summer voter registration campaign.
As Election Day approaches, many independent women and some moderate Republican women will gravitate toward Hagan. Democratic women are so alarmed that a Tillis victory would bring a victory of the GOP war on women to Raleigh and Washington that turnout of Democratic women in North Carolina will soar.
While turnout of young voters in North Carolina will follow the pattern of being lower in midterm elections than presidential elections, campus activity is growing for Hagan. The moderately increased midterm turnout of young voters in North Carolina will be crucial in an election decided by a razor-thin margin.
For these reasons the election will be close, but I believe Kay Hagan will win the battle for North Carolina and be re-elected, with enormous consequences for the future North Carolina and control of the U.S. Senate.
Brent Budowsky
The Hill