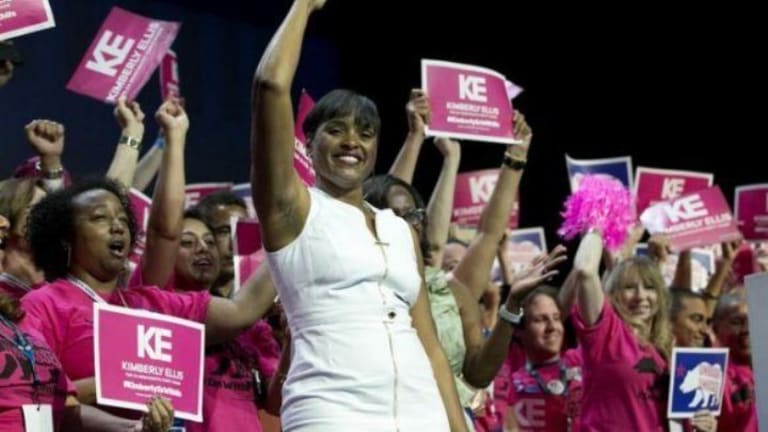 Will State Democrats Show Wisdom to Elect Best Candidate, a Strong Black Woman?
LGBTQ leaders say we trust Kimberly Ellis to lead the way in ending abuse and building a safer party.
LGBTQ leaders say we trust Kimberly Ellis to lead the way in ending abuse and building a safer party
From the inception of our struggle for dignity, freedom, and full humanity more than five decades ago, LGBTQ Californians have repeatedly faced abuse, harassment, and dangers to our safety. The continuing saga of our progress towards equality echoes with stories of courage and resilience in the face of coercion, assault, and retaliation against those of us who spoke up to challenge misconduct that some actively justified at the time but which in retrospect is repressive, atrocious, and shameful.
A special election for a new chair of our California Democratic Party is happening because the former chair engaged in a long-running pattern of abuse, harassment, assault, and retaliation. Most of the people he victimized were gay men, and many were activists, young leaders, and staff of the Democratic Party who were interested in serving others and applying their talent to create a more just and humane California.
We state these simple facts because they are true, because they must not be denied or ignored despite the pain resulting from the wrongdoing that caused them, and because they shape the decision that delegates, including LGBTQ leaders like us, will make in choosing our next state party chair.
There is only candidate for state party chair now who has shown the courage to stand solidly and unequivocally with survivors of abuse, harassment, and retaliation in our own party ranks and to ensure their voices are respected and not suppressed.
There is only one candidate who has the credibility based on her own experience running a large organization devoted to leveraging women's leadership to now carry the state party forward with improved protections for staff and volunteers, including LGBTQ people.
There is only one candidate who speaks with authenticity to her own inspiring example of not backing down to bullying, racism, and sexism and stepping up to the imperative for better governance in our state party. Honest oversight and accountability are essential to creating modern and inclusive operations where all talented Democrats are welcome to step up, serve, and contribute as volunteers, donors, candidates, and voters.
The candidate is Kimberly Ellis. We are LGBTQ Democrats who want to look with pride upon our party chair as a spokesperson for diversity, equality, and justice, including for trans and gender nonbinary people targeted so sadistically by the Trump Administration.
Only Kimberly has engaged and excited Democratic delegates in huge numbers up and down our state, earning the endorsement of both the rank and file activists of our state party in every corner of California and numerous county central committees.
Only Kimberly has shown the skills needed to bring our party together and rally Democrats to win in all parts of our diverse state for the values we say we cherish, including equity, civic participation, fresh leadership, and fairness.
Only Kimberly ensures that the "first" achieved in our state party by the former chair, who was openly gay but resigned in disgrace after survivors of his egregious misconduct told their stories of coercion, assault, and retaliation, is not our last breakthrough as a party. She would be the next. This adds to our resolve to elect her and assist her in rebuilding trust and investment in our state Democratic party.
Only Kimberly can best our opponents on symbolism. We are appalled at the platform and tactics of state Republicans, but we note that their state party has at least shown the readiness to elect by majority vote a woman of color as their new state party chair.
Our state party is truly at a crossroads. One path is the status quo, and we are concerned that course leads to lost opportunities, lost grassroots support, and lost elections. It might even loop around to another reckoning like this one.
A second path is the trail that Kimberly is charting, marked by solid organization, clear plans, courage, and resilience. Her leadership is in harmony with the soul of our struggle for LGBTQ dignity and respect. Her commitments resonate deeply with our experience and beliefs as Democrats. We will be a better party if we show the wisdom to elect her.
Hilary Hodge, City Councilmember, Grass Valley, and delegate, Nevada County
Hans Johnson, President, East Area Progressive Democrats, Los Angeles, and delegate, L.A. County
David Campos, Chair, San Francisco County Central Committee, and delegate, S.F. County
Tiffany Woods, Secretary, LGBT Caucus of the California Democratic Party, and delegate, Sacramento County
Ryan Trabuco, President, San Diego Democrats for Equality and elected representative from his AD to the state party executive board, San Diego County
Andrea Cubitt, Board Member, San Diego Democrats for Equality, and delegate, San Diego County
Alfred Twu, President, East Bay Young Democrats, and delegate, Alameda County
Dennis Martinez, Founding Board Member, HONOR-PAC, and delegate, L.A. County
Alex Gutierrez, Treasurer, Tulare County Central Committee, and member, Tulare County Stonewall Democrats, and delegate
Shay Franco-Clausen, Co-Chair, Silicon Valley Stonewall Democratic Club, and delegate, Santa Clara County
Zach Denney, Vice Chair (Central), Progressive Caucus of the California Democratic Party, and delegate, San Joaquin County
Chris Robson, Executive Vice President, California Democratic Council (CDC), and President, YES WE CAN Democratic Club, Long Beach, and delegate, L.A. County
Carlos Medina, Los Angeles, Past President and Corresponding Secretary, Democrats for Neighborhood Action, Los Angeles
Ray Mueller, Co-Chair, Silicon Valley Stonewall Democratic Club, and delegate, Santa Clara County
Carlos Mendoza, member, Tulare County Stonewall Democrats, and delegate, Tulare County