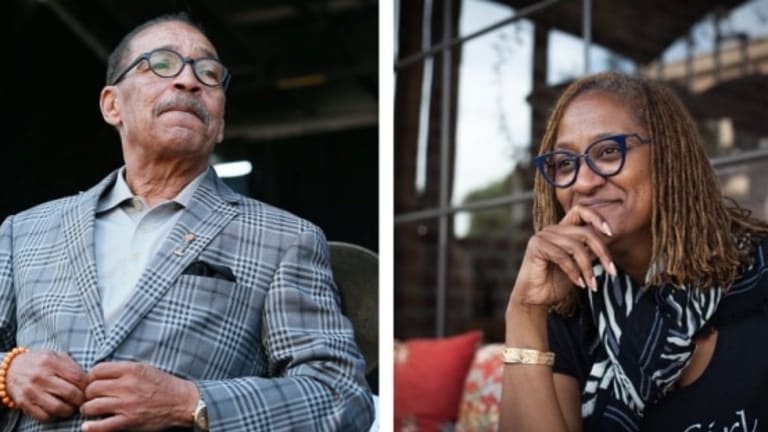 L.A. Battle Royale: Holly Mitchell v. Herb Wesson
Jason McGahan: High voter turnout for the presidential election and universal mail-in voting only deepen the uncertainty of the most competitive race for the 2nd District in a long time.
Only eight months ago Los Angeles City Councilman Herb Wesson looked like the favorite to win the open seat on the County Board of Supervisors. Wesson, 68, the savvy president emeritus of the council, had lined up a murderer's row of Democratic Party establishment and labor endorsements, not to mention a fortune in campaign donations far outpacing the other six candidates in the field.
No donation at the time was larger than the half million dollars a committee supporting Wesson's campaign received from the Association for Los Angeles Deputy Sheriffs, the law enforcement union known to spend big in local races. A seat on the powerful five-member board dubbed the Five Kings appeared well within reach.
As it happened, Wesson's big name recognition, formidable war chest and powerful backers were barely enough for a narrow first-place finish, with 29.9% of the vote — far short of the majority needed to avoid a runoff. Holly Mitchell, the state senator representing a swath of Los Angeles from Century City to South L.A., finished a close second, with 29% of the vote, less than 3,000 behind Wesson.
High voter turnout for the presidential election and universal mail-in voting only deepen the uncertainty of the most competitive race for the 2nd District in a long time.
But then came George Floyd. The protests that followed his death struck L.A. and reshaped the already competitive race between the two heavyweight politicians. Soon other names closer to home joined Floyd's as kindling for widespread anger at police. The fatal shootings of Dijon Kizzee and Andres Guardado by sheriff's deputies sparked further community outrage in South L.A.
Today Wesson, the doyen of developer-influenced city politics, finds himself under steady attack for his ties to law enforcement unions. Wesson's reversal of fortune mirrors the shifting fates of many establishment figures reaching for the brass ring one last time to postpone retirement.
The lightning pace at which the political situation evolved over the summer appears to favor Mitchell given her reputation as an advocate for criminal justice and police reform at the state level. Mitchell, 56, came to politics in 2010 after seven years serving as the CEO of the L.A.-based nonprofit Crystal Stairs, one of the largest child and family development groups in California. Before that she was a lobbyist for social advocacy group the Western Center on Law and Poverty. Mitchell has ascribed her philosophical differences with Wesson chiefly to age and disposition.
"It's generational, it's the kind of legislators we are, the kind of policy we do," she told TheLAnd Magazine. "I've gone the deep policy route, budget route, and he's gone the leadership route, and those are two very different tracts, in all honesty."
Five years ago, Mitchell made headlines for withholding her support in the state senate for a Democrats-endorsed budget bill that she argued underserved poor families and children. Rather than leading to her ostracization, the unusual move aided her rise to the chair of the senate budget committee.
She has the official endorsements of many of her peers in the Legislature as well as of Gov. Gavin Newsom, Sen. Bernie Sanders and statewide health care worker unions. The L.A. Timeseditorial board said she "displays the moral and policy compass Los Angeles needs in a county supervisor."
Mitchell has seized the shift in momentum. She took a "no cash from cops pledge" and stepped up attacks on Wesson for the once-coveted donations from police unions. She has also repeatedly slammed Wesson's role in helping pass a 2017 charter amendment that critics say made it easier for officers accused of misconduct to avoid punishment. The LAPD officers' union, the Police Protective League, supported the initiative.
"In many ways, this race is going to be the Rosetta Stone for the 'defund' movement," said Areen Ibranossian, a political consultant and former chief of staff to Councilman Paul Krekorian. "How far will the negative attacks on Wesson for his ties to law enforcement propel a lesser known candidate like Holly Mitchell?"
The summer of unrest has been felt deeply in the 2nd Supervisorial District, the vast demesne stretching between South-Central L.A. and the Westside that is home to nearly half the African American residents of Los Angeles.
"Pre-George Floyd, housing and economic security were the issues on top of everyone's mind," said Boris Ricks, an associate professor of political science at California State University, Northridge, who studies the intersection of race and politics. "But police brutality is dominating the airwaves right now."
Even though a Black politician has held the 2nd District seat since 1992, wealthy white voters in areas like Marina Del Rey and Culver City are a significant part of the electorate, which makes the activist tenor of this contest feel unusual. In a recently released commercial, the Mitchell campaign slammed Wesson for having taken "hundreds of thousands from police unions and weakened the disciplinary system for officers who shoot unarmed civilians."
"Think five moves ahead," Wesson once advised an L.A. Times columnist who asked the dapper power broker for the secret to survival in politics. Since his staunch support from the Police Protective League and the Association for Los Angeles Deputy Sheriffs became a political liability, Wesson has pivoted to what activists call "reimagining the police and public safety."
In recent months, he has initiated one city council motion to cut $150 million from the LAPD budget and helped pass an LAPD reform plan to create an unarmed crisis response team for nonviolent 911 calls in the city. He withdrew his political endorsement from the incumbent district attorney of L.A. County, Jackie Lacey, whose campaign support from law enforcement unions has made her a target, like Wesson, for activists.
He also welcomed activists with the People's Budget to testify to the council on their proposal to redirect funds from the LAPD budget to community programs. In a recent debate, he referred to himself as "the tip of the spear in reimagining public safety. Not just here, but in the entire United States of America."
What Wesson may lack in activist bona fides he makes up for in whipping votes, a union ally of Wesson's told me. The Los Angeles County Federation of Labor has lauded Wesson for advocating to raise the minimum wage and being supportive of last year's teacher strike at L.A Unified. The powerful Brotherhood of Electrical Workers Local 18, which represents Department of Water and Power workers, has poured hundreds of thousands of dollars into Wesson's supervisorial bid, and unions from the building trades, including carpenters and pipe fitters, have donated tens of thousands.
Admirers and critics of Wesson refer to his disarming levity and charm, a vestige from when he dabbled in standup comedy in his youth. The married father of four also once sold kitchenware and worked as a workers' comp investigator before he came to politics in 1989. His reputation as a power broker goes back four decades to when he became chief of staff to larger-than-life 10th District L.A. City Councilman Nate Holden.
He later held the same position under 2nd District County Supervisor Yvonne Brathwaite Burke. "He's the last in a line of old-school politicians, the rare kind who can get endorsements from the AFL-CIO and the Chamber of Commerce," said the political consultant Ibranossian.
Indeed, Wesson prefers not to engage in public spats, and disagreements are hashed out behind closed doors, where he has an iron-fisted reputation. He has not been above power plays or politically menacing moves. On the eve of the mayoral run-off in 2013, the Downtown L.A. News quoted Wesson hectoring developers and other grandees at a luncheon downtown.
"I'm telling you and you can rest assured that when you go talk to the mayor, whoever that is, you better come talk to me, because I'm going to be an equal partner, the council will be," he said. "We're not going to be a junior partner."
Wesson and Mitchell are progressives of different shades and clashing styles who lean left on social and economic policy. For instance, they both support a proposed charter amendment known as Measure J, "Reimagine L.A. County," which would set aside at least 10% of locally generated revenue for community investment. They differ more in terms of implementation: Wesson promotes the idea of 100% affordable units on publicly owned land, while Mitchell argues that such an approach would isolate poorer residents.
"It's been a long time since we had such a competitive race for the 2nd District," said Damien Goodmon, a South L.A. political consultant and activist. High voter turnout for the presidential election and universal mail-in voting only deepen the uncertainty, he said. Goodmon is staying out of the race and has only positive things to say about the two candidates.
"I understand why people are split in [this] race," Goodmon continued. "When you look at the strengths of both candidates, Herb is a politician who has spent a career being able to maneuver quite effectively within systems — whether state or city hall. And in Holly you see a very successful Black woman who's been able to move policy and position herself in very powerful roles.
"Anyone who tells you they know how this election is going to turn out is using a crystal ball."
Jason McGahan
Capital & Main