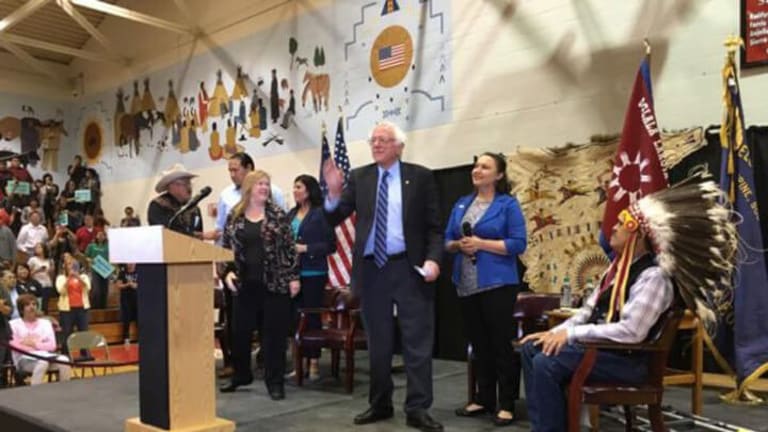 Crazy Horse, Other Lakota Leaders Back Bernie
John Seeley: Lakota leaders appear to have been inspired by a quote from Crazy Horse they display on their website. "A very great vision is needed and the man who has it must follow it as the eagle seeks the deepest blue of the sky."
Disturbed Whites Demanding Sanders Surrender Disregarded
John Yellow Bird Steele and other leaders of the Oglala band of the Lakota (or "Sioux") nation have endorsed Bernie Sanders in the upcoming South Dakota primary, perhaps following the advice of their revered spiritual leader and sometimes warrior, Crazy Horse.
The Oglala people are the largest of a confederation of seven related tribes, or seven council fires, also known as the Teton Sioux. They played a central role in native resistance to white encroachment and exploitation since the late 19th century, led by such famous names as Sitting Bull, Black Elk, Red Cloud and Crazy Horse. Oglala warriors played the leading part in the last victory over settler occupation forces, the defeat of General George Custer and his troops at the battle of Little Big Horn.
Lakota leaders appear to have been inspired by a quote from Crazy Horse they display on their website. "A very great vision is needed and the man who has it must follow it as the eagle seeks the deepest blue of the sky."
In making their decisions in May, none of the tribal leaders discussed Clinton's super-delegate lead with this reporter or suggested it was time to unify around the front-runner. Unlike some city-dwelling elders in the Democratic tribe, they remained focused on the issues. Lakota leaders appear to have been inspired by a quote from Crazy Horse they display on their website. "A very great vision is needed and the man who has it must follow it as the eagle seeks the deepest blue of the sky."
The backing of Native Americans will be important in South Dakota, where Republicans dominate and the combined Obama-Clinton vote in the 2008 Dem primary was less than 100K altogether. This small Midwestern state has the third highest proportion of Native Americans of any state—behind only Alaska and New Mexico—about 9 % with another 2% of mixed race. Five of the state's counties lie entirely within reservations, and several of these counties are among the poorest in the United States.
On May 13 Bernie Sanders came to Pine Ridge, the largest of these reservations, to listen to its residents and confer with its elected leaders. He impressed both groups. "He recognizes the treaty obligations," said John Yellow Bird Steele, the Oglala's elected President, in a phone interview, "and that these obligations are legal… to provide decent health care – it's deplorable the number of people who are dying; education—Native American children are educated at the lowest level—and social services and infrastructure." Steele explained that infrastructure needs included housing, utilities (a 1995 Census Bureau study found that 58% homes had no telephone), roads and communication.
"I really appreciated Senator Sanders, the way he come out and …actually opened his questions up to the people and children of our reservation," C.J. Clifford, chairman of the tribe's Education Committee and council member for Wounded Knee (site of the notorious 1890 Wounded Knee massacre of hundreds of women and children, occupied in 1973 for ten weeks by American Indian Movement and Oglala activists who were attacked by the FBI), told Sioux Falls TV station KELO. According to KELO's report, Clifford said Sanders explained how he would make the Bureau of Indian Affairs more responsible and responsive to tribal needs. And Sanders showed he would be a good listener as president, Clifford added. "As far as open communications, it was there – 100 percent"
Secretary of State Hillary Clinton had made no efforts to meet with tribal leaders, said Steele.
Pipeline Problems
In addition, there seems to be some skepticism among Native Americans about Clinton's stance on the Keystone XL Pipeline, which moved from support to opposition less than a year ago—on the campaign trail in Iowa last September. The pipeline project is routed over parts of the immense Ogallala Aquifer, which extends over large portions of eight states and supplies much of their drinking and irrigation water. The reservation is at the aquifer's northern edge. Tom Poor Bear, Vice President of the Oglala, told the Indian Country Today Media Network: "We have been strong opponents of the Keystone XL Pipeline, and we are hoping that Sanders will take a serious look at all pipelines and how they are contaminating our waters that we are trying to protect for future generations."
Faith Spotted Eagle, Council spokesperson for the Ihanktonwan (known to whites as "Yankton Sioux," a related band in the east end of South Dakota) commented after Clinton's change: "Hillary's switched opinion on KXL is a plus for our climate change efforts, however, given her previous support of this pipeline, our celebratory reaction as Oceti Sakowin [Seven Fires] people remains guarded. Hillary is like sand cherries to us, moving in whatever direction the strongest wind is blowing. She knows how to harvest votes."
But perhaps Sanders will prove to have the better harvesting techniques. Ellen Fills the Pipe, an Oglala tribal council member, says one of her children came from out of state to hear Sanders, and left the mid-May gathering an enthusiastic Berner. Sierra Wolcott, a Sisseton Wahpeton Dakota, and South Dakota Democratic delegate, was quoted by Indian Country Today Media Network: "Bernie Sanders represents humanity, respect for Mother Earth, kindness, and community," said Walcott. "It's time for our country to come into the 21st century and support progressive candidates, and create a system that empowers our people."
South Dakota's Democratic primary is open to Independents and will allocate 25 delegates on a proportional basis. Clinton prevailed statewide over Obama in 2008 with a modest 10% margin, 55 to 45 percent, but lost all the reservation counties to Obama, some quite solidly. This year Clinton has not fared so well with white and rural Midwesterners, and if Native Americans are starting to feel the Bern, her prospects in the state look bleak.
What Difference Does It Make? 
Coverage of the June 7 contest there has been overshadowed by the battles for the hundreds of delegates in California and New Jersey taking place the same day. Whatever the outcome of the South Dakota skirmish, it's California that might become Little Big Horn for the candidate who misses the brass ring in the Golden State.
However, the South Dakota results still have meaning in themselves for November. While hardly anyone expects the state to turn blue, a poor Clinton showing in June there is a bad sign for her prospects in the neighboring swing state of Iowa, where the demographics (aside from Sioux) are remarkably similar. Both states' whites have high proportions of German stock, followed by Norwegians and other Scandinavians. Both states' populations skew older, as the young flee for job opportunities elsewhere. Sundays find pews fairly full in Catholic and Lutheran churches. People of any description are far outnumbered in both states by hogs, which, along with corn and soybeans, are central to the local economy.
And Wisconsin, another swing state, is also quite similar, except that it has a substantial African-American presence in Milwaukee, which makes the state one or two percent more Dem-friendly than Iowa. Both these states are perennial battlegrounds, and sophisticated observers will realize a weak Clinton vote in South Dakota means trouble with Trump in ultimately capturing the pair's 16 electoral votes.
John Seeley