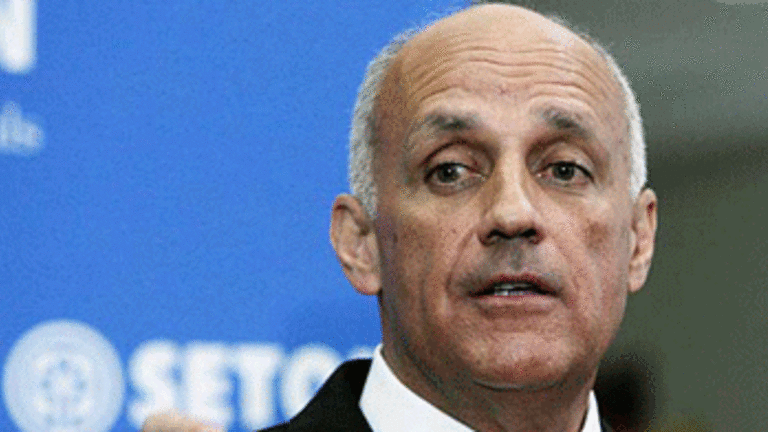 Carmona and Cruz: Latino Senate Candidates with a Difference
Victoria Defrancesco Soto: The tale of the two Latino candidates for the Arizona and Texas Senate races highlights the diversity of Latinos in this country.
By this time next week the Latino caucus in the U.S. Senate will have increased by 50 percent and perhaps have even doubled. Texas Senate candidate Ted Cruz is a shoe in and come January will be joining Senators Bob Menendez and Marco Rubio. And if Arizona Senate candidate Rich Carmona can inch beyond the dead heat of his race he too will be heading to Washington in the new year.
Senate candidates Ted Cruz and Richard Carmona are living proof of the American Dream. Both men are the sons of immigrants pulling themselves up by their bootstraps to become accomplished professionals in their respective fields – law for Cruz and medicine for Carmona.
Both men also got their start in the world of politics under George W. Bush's presidential administration. Carmona served as Surgeon General and Cruz worked in the Department of Justice. But that's about it when it comes to the similarities between both men.
Politically these candidates are a valley apart.
Richard Carmona is a very moderate Democrat. He was a lifelong Independent and just recently changed his affiliation to Democrat when he decided to run for Arizona's open Senate seat. Though Carmona is running as a Democrat and has been an Independent he served under the Republican administration of George W. Bush. You can't get much more moderate and bi-partisan than that.
When it comes to the issues, his platform is Democratic through and through, but in a measured form. For example, he supports Obamacare believing that all have a right to basic healthcare but at the same time believes that the legislation was rushed and requires bi-partisan tweaking. On the issue of immigration he does not advocate for comprehensive immigration reform, but is a staunch supporter of the DREAM Act.
As a former combat veteran, deputy sheriff, and SWAT team leader Carmona is anything but a softy/wimpy Democrat. He's got the law and order chops that so frequently characterize the GOP's candidates.
Ted Cruz on the other hand is a Tea Party backed Republican. In his primary race Cruz made conservative Lt. Governor David Dewhurst look like a liberal. He is emblematic of the new brand of politics that rose up in 2010 bundling staunch fiscal and social conservatism.
Given his Tea Party backing and his Cuban-American descent it is tempting to view Cruz as a mini Marco Rubio. But in reality they are fundamentally different given their paths to power. Marco Rubio's electoral base was cemented by fellow Cuban-American Republicans in Florida. While he received non-Latino support, he received overwhelming support from his co-ethnic base.
Ted Cruz, in contrast relied on white voters to carry him through the Republican primary and run-off. While there are Republican Latinos in Texas, close to seven out of ten Latinos are Democrats. In the end, Latino candidate Ted Cruz's political rise has nothing to do with his ethnicity as my colleague Jessica Lavariega-Monforti notes.
GOP Senate candidate Ted Cruz's issue positions are clear-cut. He wants to repeal Obamacare and overhaul entitlement programs. He is also opposed to any form of immigration reform, including the DREAM Act and is a staunch pro-life advocate.
Senate candidates Cruz and Carmona not only differ in their partisanship, but more fundamentally in their ideological stances. Relatedly, their bases of support are also disparate. Carmona's base is made of up Arizona's Latino population, white Democrats, moderate Republicans, and Independents. Cruz's base is made up of white Republicans with a smattering of Latino Republicans.
While over two-thirds of Latinos identify as Democrats, within that identity there is a diversity of ideological stances ranging from very progressive to very conservative. Republican Latinos are in the numerical minority, but still about two out of every ten registered Latino voters identifies with the GOP. We also know from the George W. Bush years, that non-Republican Latinos are willing to vote for a Republican who has policy stances they support.
The tale of the two Latino candidates for the Arizona and Texas Senate races highlights the diversity of Latinos in this country. Some Latinos are moderates, some are conservatives, some are Independents, some support immigration reform, and others don't.
Latinos are more often than not lumped into one homogenous grouping. But, as the candidacies of Richard Carmona and Ted Cruz demonstrate a Latino, isn't a Latino, isn't a Latino. In the end, both races are indicative of the disparate mosaic that the term "Latino" encompasses.
Victoria Defrancesco Soto
Dr. VMDS
Posted: Fruday, 2 November 2012