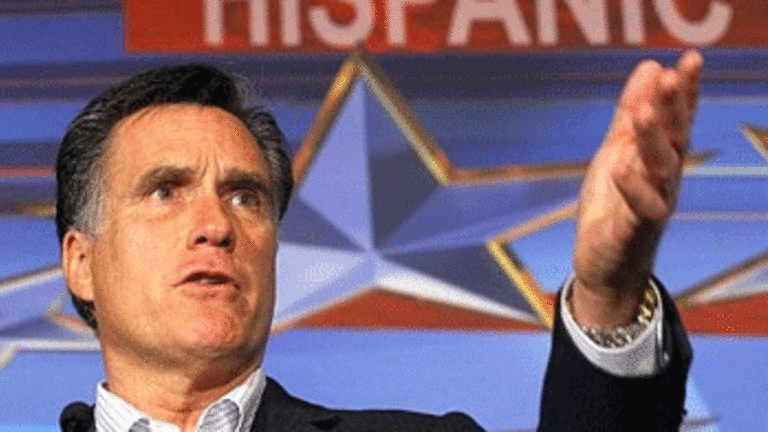 Latino Vote Uphill Climb for Romney
Pilar Marrero: Mitt Romney continues to overwhelmingly lose the Latino vote and has low levels of favorability among the majority of the Latino electorate.
Just before the beginning of the Republican National Convention in Tampa presidential candidate Mitt Romney continues to overwhelmingly lose the Latino vote and has low levels of favorability among the majority of the Latino electorate. The first weekly tracking poll of Latino registered voters by Latino Decisions and impreMedia reveals that 65% would vote to re-elect President Barack Obama and 26% would prefer the Republican alternative offered by Romney.
[ See Full Poll Results Here ]
This figure is similar to that obtained by both candidates in similar surveys of Latino voters but this poll, to be held every week from now until the election, will reveal any change in the image of the candidates during the months of intense electoral campaign to come after the national conventions.
For now, things are not looking too good for Romney in regards to Latinos, said political scientist and research director at Latino Decisions, Gabriel Sanchez.
"As we have seen in recent months and confirm in this survey, Romney has many challenges in making significant inroads with the Latino vote," said Sanchez.
The Latino vote is important because even though this community represents a relatively small percentage of the national vote (NALEO predicts 8% of the national vote will be Latino), the way we vote in the U.S., state by state, and the closeness of this election makes it relevant.
In the most recent national surveys Obama and Romney are neck and neck in both the popular vote and in states that are crucial to win the majority of the Electoral College, like Florida, Wisconsin and Ohio.
Among the states where Latinos will be important are Colorado, Florida and Nevada, among others.
Some possible reasons for the stagnation of the Republican candidate are also reflected in the survey. One is the fact that Latino voters primarily blame former President George W. Bush for the state of the economy and not necessarily to President Obama. 68% blamed Bush for the economic downturn of recent years and only 14% blamed Obama.
Another possible clue is the personal popularity of President Obama among these voters, who maintains a high level of 74% favorability, compared to only 27% for Romney.
According to experts, the "favorability" or favorable image of a candidate is important because it is the first step in getting voters to listen and trust their ideas.
Sylvia Manzano, another political scientist and senior contributor at Latino Decisions said that the last Republican to have a significant level of favorability among Latinos was former President Bush and this greatly influenced the Latino vote, which reached levels of 40% in 2004, a high mark for a Republican.
"Bush had a friendly side that allowed Latinos to listen to him," said Manzano. "If a presidential candidate does not connect with voters they won't be open to listen."
This adds to the image problems that Republicans already have among Latinos because of immigration issues and differences of opinion on how to solve the economic problems of the country.
The survey finds that 53% of Latino voters consider the economy and jobs as the most important issue, but the issue of immigration, which for Latinos is also a primary issue which is closely linked to family, was also selected by 51% as one of the most important issues. Immigration barely shows up among the general public as an issue this year.
As for issues that have been hot in recent days, these voters were asked their views on whether the Republican candidate should disclose his tax returns for additional years than he has already delivered. 66% of Latino voters say yes.
As for candidate preference, 9% of Latino voters said they were undecided, and although this influential group influence may not change the overall voting trends of Latinos, it could be important in specific states. Theoretically, in an effort to attract the Latino vote Mitt Romney could focus on these crucial undecided voters in swing states.
The perceptions of the Democratic and Republican parties outreach to Latinos explain why Romney is losing the Latino vote so significantly. More than half of Latinos (56%) think the Republicans are ignoring or do not care about Latinos and 21% consider them downright hostile towards them. This includes 57% of Latino Republicans, who think their party is not doing a good job in attracting them because they do not care.
Just over half of Latino voters said they are excited to vote (54%) and 31% are somewhat enthusiastic.
All this indicates that this year's presidential race will be more competitive than ever, with the two leading candidates virtually tied in both the popular vote and in crucial states where the Latino vote can make a difference.
This is why impremedia , in association with the polling firm Latino Decisions, will conduct a weekly tracking poll of Latino registered voters which will be announced in impreMedia's various media platforms every Monday until the election on November 6. This is a short survey of 300 Latino registered voters to be held each week, with a margin of error of 5.6%
Latino Decisions has identified a series of nine states of Latino influence that can have a direct effect on the presidential election results as well as for Congress and other public offices. The most crucial states are Colorado, Nevada and Florida, followed by states where the Latino vote is growing rapidly as Virginia, North Carolina and Iowa and finally, noncompetitive states like Arizona, New Mexico and Connecticut, where significant variation in the Latino vote could lead them to be competitive in a presidential vote.
Pilar Marrero
Impremedia
Posted: Monday, 27 August 2012