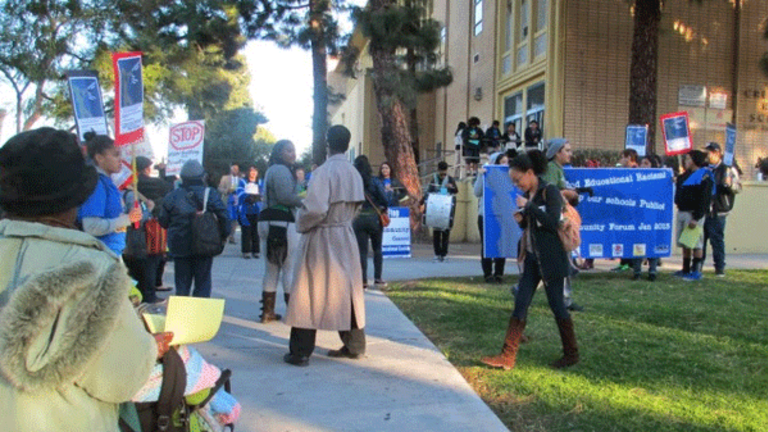 Replacing Marguerite LaMotte in LAUSD District 1
Robert Skeels: Angelenos in LAUSD District 1 should honor the memory of the late Marguerite Poindexter LaMotte by electing someone who, like her, values student need over corporate greed.
"Someone said to me chartering schools re-institutes segregation, we need to think about that." — The late, Honorable Marguerite Poindexter LaMotte
As the runner up in the 2013 LAUSD District 2 election, and as a long time public education advocate, activist, and essayist, I have a keen interest in LAUSD politics. I've been studying the District 1 Special Election from a social justice perspective. Let me summarize the candidates running for LAUSD Board of Education District 1 seat. There are four professional educators, and three wholly unqualified opportunists running for the position.
I've endorsed Sherlett Hendy Newbill and believe she is the best candidate of the four educators running. Her amazing story is inspiring, and she has proven that she puts community and students first in practice, not in rhetoric. I've contributed to the Sherlett Hendy Newbill campaign and will work to get her elected. I also have much respect for, and support both Hattie McFrazier, and Rachel Johnson. All three of these women deserve our admiration for their selfless dedication to the students of Los Angeles. Any of the three would be worthy to sit in the seat of the venerable Marguerite Poindexter LaMotte, the late board member whose courage in standing up to neoliberalism and corporate domination of our school board was peerless.
If George McKenna ends up in runoff against one of the non-educators (listed below), I will support him. I know there are mixed feelings about McKenna. People I know and trust, including the highly celebrated Judy Perez of the Associated Administrators of Los Angeles, have spoken highly of him. The teachers of Miramonte ES, and others have also spoken on his behalf. On the other hand, other people I trust, including teachers from the former Fremont, Crenshaw, and Dorsey high schools have a much different perspective on McKenna.
Marguerite Poindexter LaMotte
The other three candidates shouldn't even warrant mention. Unfortunately their disdain of public education and the professional educators serving our school children have garnered them tons of contributions from reactionaries and business interests. There is no shortage of well-heeled charter school tycoons, right-wing business bankers, and contract wielding real estate developers ready to invest in unprincipled candidates that will put their financial interests ahead of the education of Los Angeles Students. Hayes, Manigault, and Johnson are just those type of unprincipled candidates.
Genethia H. Hayes is a perfidious equivocator. The multiple "errors" (read fabrications) on her resumé should have seen her withdraw from the race in ignominy. While she works for the district, it's hard to call an individual lacking integrity an educator. It is a testament to the power of corporate money that she feels emboldened to continue running after the shameful revelations of her dishonesty came to light.
Omarosa Manigault's "claim to fame" is the reality TV circuit, including multiple stints on a program with a fellow narcissist: right-wing billionaire (and Birther) Donald Trump. Other than that dubious distinction, she has no connections whatsoever to education. Moreover, she is classic carpetbagger, living in District 1 just long enough to qualify for the election.
Alex Johnson is the worst of bunch. He is an unscrupulous opportunist who only views LAUSD as a political stepping stone. He has been getting $1,100 a shot contributions from charter school moguls, real estate developers, and right-wing bankers. According to his 460 filing, of the 195 contributions for $113,051to his campaign, not one comes from a teacher, principal, librarian, or social worker. One would think if he really cared about students and education, that he'd have a working relationship with the professionals that work with the community's children. He has dodged multiple requests for policy positions, undoubtably because he is a hand puppet for the neoliberal corporate education reformers. Former LAUSD District 5 candidate, the distinguished Dr. John Fernandez, had this to say about him:
This does not surprise me at all Robert. At a recent candidate's forum at UTLA, I submitted a question commenting that District 1 has been historically represented by an African American but that the students in District 1 now comprise 70% Mexican/Latino student population. I asked what were the three main issues affecting Mexican/Latino students in District 1? All Mr. Alex Johnson could say was they needed resources. Mr. Johnson could have stated that Mexican/Latino students need a culturally relevant and responsive education, they need bilingual cross cultural education, teachers must be trained to teach Mexican/Latino students, textbooks must used to highlight the achievements and contributions of Mexican/Latino students, Mexican/Latino students must be provided with high tech vocational training and teachers must provide English language strategies—all the very things that African American students need.
Who to vote for on June 3, 2014? Of the four authentic educators running in this race, I'm supporting Sherlett Hendy Newbill. However, you can't go wrong supporting Hattie McFrazier, Rachel Johnson, or George McKenna. District 1 needs someone familiar with its unique composition, and who will be able to provide principled solutions.
Sherlett Hendy Newbill was born and raised in District 1, attended Dorsey High School, went to college, and then returned to her high school alma mater to teach and coach.
A family woman and parent, Hendy Newbill would represent her fellow District 1 constituents as a mother, teacher, and coach whose own hard work and academic discipline saw her graduate from Dorsey, Xavier University, and then obtain a teaching credential.
Angelenos in LAUSD District 1 should honor the memory of the late Marguerite Poindexter LaMotte by electing someone who, like her, values student need over corporate greed.
Robert Skeels
Subscribe to LA Progressive's daily newsletter
* indicates required
Email Address *


First Name

Last Name

Email Format
Powered by MailChimp