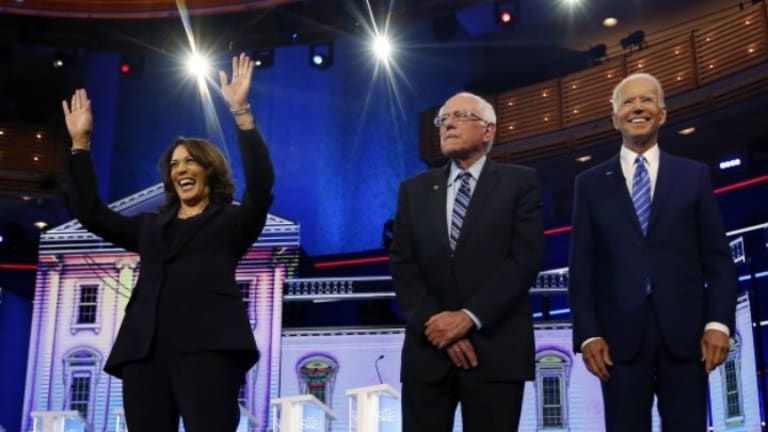 5 More Lessons for Democrats to Defeat Trump in 2020
Alvaro Huerta: To defeat Trump—following the valiant example of the boxer Andy Ruiz Jr., who demolished Anthony Joshua to become the first Chicano heavyweight world champion—Democrats should be ready to knock out, politically speaking, the "man baby" Trump in 2020!
As a follow-up to my last essay, "Top Five Lessons for Democrats to Defeat Trump in 2020," here go another five lessons. As an independent, for the sake of transparency and objectivity, I've consistently been critical (to the present) of Democrats and Republicans in the areas of race, class, place, immigration, etc., as documented in my most recent book. Also, I'm offering these perils of wisdom to the Democrats on a pro bono basis, so don't blow it!
If only white folks attend your political rallies, it's time to drop out
Your political rallies can't look like Kenny G concerts. If you actually know who Kenny G is, you must be white. If not, ask Kanye West—the black Trump worshiper—who recruited him to serenade Kim Kardashian-West at their lavish house. To retake the White House, Democrats must successfully motivate and mobilize Latinas/os, African Americans and other marginalized groups. While then-presidential candidate Hillary Clinton lost due to the interference of Russia, WikiLeaks and then-FBI director James Comey, as documented in my previous essay, "President Trump: The Hustler 2.0," she also had major problems with African American voters due to her offensive comments and political positions from the past.
Enough with the friendly fire!
As the Democratic candidates have taken their focus off the illegitimate President Donald J. Trump by attacking each other, as illustrated in the recent Democratic Debates (June 26-27, 2019), they are not helping the cause to defeat Trump in 2020. Essentially, when you have 20 Democratic candidates, the individual candidates can either elevate themselves by advancing bold and progressive policies or they can bring others down by attacking them. While the former favors the Democrats, the latter favors the hustler Trump! Essentially, by cutting themselves down and exposing their weaknesses, whomever wins the presidential Democratic nomination, she/he will be a wounded and weak candidate compared to the unscathed Trump.
Money matters in political campaigns
As I previously argued on how to defeat Trump in 2020, by having too many Democratic candidates, they are only competing against each other for the finite political donations to defeat the illegitimate President Trump. During this past fundraising period (2nd quarter), according to AXIOS and other media outlets, the top Democratic candidates divided the fundraising pie as follows: Mayor Pete Buttigieg ($24.8 million); former Vice President Joe Biden ($21.5 million); Sen. Elizabeth Warren ($19.1 million); Sen. Bernie Sanders ($18 million); and Sen. KamalaHarris ($12 million). In contrast, according to CNN, the illegitimate President Trump "and his committees raised $54 million" with an additional $51 million by the RNC. While I haven't done advanced mathematics since I was a 17-year-old math major at UCLA (many moons ago), I can't calculate (or imagine) how the Democrats will win in 2020 with such a huge financial difference compared to Trump, which, if Democrats continue to have too many candidates, will only grow in Trump's favor over the forthcoming quarters.
To defeat Trump, Democrats should be ready to knock out, politically speaking, the "man baby" Trump in 2020!
Thus, it's imperative that the Democrats immediately narrow the field drastically. Without wasting anymore precious time and resources, following the example of Congressman Eric Swalwell, let's start with the candidates not included in the aforementioned list. Despite raisings the most money, however, Mayor Buttigieg must go! Given his disastrous job when it comes to police abuse in his small city, he has a major problem with African American voters, where, in his own words, he "couldn't get it done." If you can't get something as important as racial justice or racial equality done at the local level, how are you going to do it at the national or international level?
In short, to defeat the lying Trump, I propose the following schedule: by this mid-July, only four candidates should remain; by the end of August, only two should remain; and, by the end of September, the presidential Democratic nominee (with a vice president running mate) should be selected.
Speaking Spanish is not enough to secure the Latina/o vote
While securing the African American vote is paramount to defeating the racist Trump, it's equally imperative for Democrats to secure the Latina/o vote. While the Latina/o vote isn't homogenous, to win in 2020, the eventual Democratic nominee should at least equal then-President Barack Obama's 2012 re-election victory with 75% of the Latina/o vote—a record-breaking figure, according to Latino Decisions. Apart from the fact that Sen. Cory Booker sounds like Arnold Schwarzenegger while "speaking" Spanish in the last Democratic Debate, politicos should do more than brush up on their high school Spanish to secure the Latina/o vote. Instead, by proposing progressive policies and programs, they should cater to the needs of Latinas/os in the areas of employment, wages, education, housing, immigration and other key issues. It's also important to take on a leadership role in defending the human rights of Latina/o immigrants, particularly when brown kids (and babies!) are separated from their parents or guardians at the southern border. It's unacceptable for innocent brown kids/babies, along with adults, to be forced into cages and concentration camps! This amounts to cruel and unusual punishment!
Democrats need a fighter, not a lover, to defeat Trump
To the chagrin of conservative Cuban Americans in Florida, I concur with Ernesto "Che" Guevara when he eloquently stated: "At the risk of seeming ridiculous, let me say that the true revolutionary is guided by a great feeling of love." While I also agree with best-selling author and Democratic candidate Marianne Williamson in the last Democratic Debate, when she stated that Trump has "harnessed fear for political purposes," she's politically naïve to believe that "only love can cast that out." During these dark times under the tyrant Trump and morally bankrupt Vice President Mike Pence, the stakes are too high to have infomercials. Thus, like the majority of Democratic candidates, I urge Williamson to quit!
To defeat Trump—following the valiant example of the boxer Andy Ruiz Jr., who demolished Anthony Joshua to become the first Chicano heavyweight world champion—Democrats should be ready to knock out, politically speaking, the "man baby" Trump in 2020! When challenging or debating Trump, the Democratic nominee should not resort to traditional politics with wonky policy plans and programs to solve America's problems. (This is not to imply that we don't need them; just don't campaign or debate in a language that most Americans don't understand!) Instead, she/he should prey on Trump's many insecurities and weaknesses. To mock and provoke him, I would randomly pose the following sample questions (and more) throughout the presidential campaign:
"Given that many fine people don't believe that you graduated top of your class at Wharton, as you previously claimed, by when will you share your B.S. transcripts?"
"It's clear that you didn't receive an M.B.A. from this elite university, so I won't even ask this question."
"Since many people—the best people—believe that you're not actually a billionaire, by when will you release your taxes to prove your so-called billionaire status?
"How does it feel to be an illegitimate president?"
"Can you clarify what 'type' of women you like to grab by their private parts?"
"Have you billed Mexico for the so-called building of your "s---hole" border wall?"
"Do you get joy or satisfaction in separating kids (and babies) from their parents or guardians at the southern border?"
"Do you sleep well at night when you force brown kids (and babies) to sleep in cages?"
Alvaro Huerta