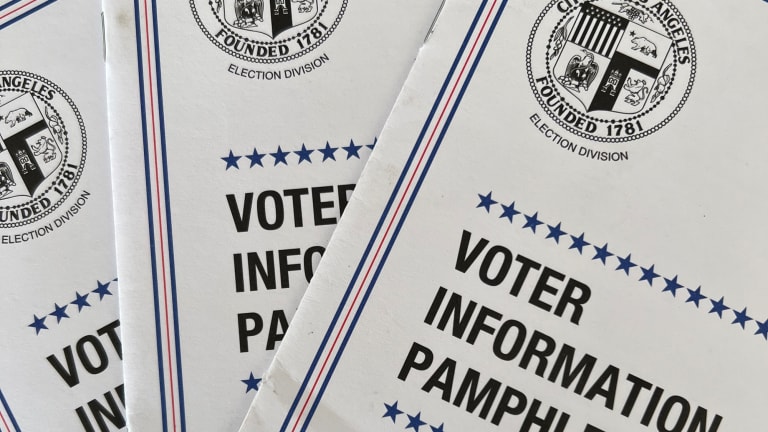 Los Angeles Election - Distracted and Disengaged
Distracted, Disengaged: Where Are LA's Voters? How Come so Few Show Up at the Polls?
War, inflation, climate change, rising crime, homelessness—with so many hard issues facing us here in Los Angeles, throughout California, and across the nation, you'd think Los Angeles voters would have lined up around the block in Tuesday's primary election.
You'd be wrong, of course—and I'm not sure just why you think Angelenos would bother. Heck, according to a recent Trevor Noah show, a lot of us don't even know who's been mayor for the past eight years, never mind who might replace him. And your local City councilmember? Fat chance.
So, with less than 15% of eligible voters bothering to weigh in, we can report a few highlights from Tuesday's exercise in democracy.
First, of course, Karen Bass lost
That's right! The deeply experienced community organizer, state legislator and congresswoman—and nearly Biden's vice president—lost to mall builder extraordinaire Rick Caruso, he of the Grove, the Americana, and other hoity-toity shopping venues and enormous yachts.
But the good news is that Caruso, a former Republican only recently minted Democrat (who switched parties when he decided to run in heavily Democratic Los Angeles), leads by just five percentage points—42.1% to 37%, or 133,069 votes to 116, 688 for Bass—at this moment.
What's good about that? Well, with the top-two primary system used in Los Angeles, Karen Bass survives to compete with Rick Caruso in the General Election in November. Aside from Bass and Caruso, there were ten other mayoral candidates in Tuesday's primary. The next three candidates—Democratic City Councilman Kevin de Leon, LA City Attorney Mike Feuer, and Independent community organizer Gina Viola—won roughly 48,000 votes. If their 15% of the vote goes to Bass in November, she'd likely win.
Of course, it's not nearly that simple. The two runoff candidates—Caruso and Bass—will have to duke it out until November. And who knows how much of his billions Caruso is willing to spend for this latest trophy? So far, he's spent something north of $41 million—or roughly $300 a vote—to convince voters to bring back ill-fated broken-windows policies that have been proven to not reduce crime rates or homelessness. Bass, of course, spent less—on the order of $3 a vote, or a tenth of Caruso's total—to present more nuanced views promoting community outreach programs.
So, take headlines that California has sent (real) Democrats a message on crime with a grain of salt.
Second, Eunisses Hernandez lost, too
In the City Council race to represent the district where LA Progressive sits, incumbent and well-seasoned Councilman Gil Cedillo defeated upstart community organizer Eunisses Hernandez, 53.8% to 46.2%—more than the 50% cutoff that would have required a runoff election in November.
LA Progressive endorsed Hernandez and Dick & Sharon hosted a fundraiser for her, so naturally we're disappointed. But Cedillo has held one office or another for more than 20 years—from State Assembly to State Senate to, since 2013, the LA City Council. For this election, he won numerous endorsements: LA County Democratic Party, CHIRLA, United Farm Workers, SEIU—and at the last minute, Sen. Bernie Sanders.
Eunisses countered with telling endorsements from Dolores Huerta and LA County Supervisor Holly Mitchell.
But what's promising about her first-time race is how close she came—she fell just 900 votes short of forcing a runoff—and especially how well she campaigned. As we saw at our fundraiser, she's marvelously on top of critical issues facing our district—houselessness, affordable housing, and public safety, especially—with forward-looking solutions that don't just involve throwing more police and jail cells at the problems.
No doubt Eunisses and her team are disappointed that they fell short this time, but look for her to come back next time.
Third, Alex Villanueva won, but narrowly
Four years ago, Villanueva buffaloed voters by selling himself as a progressive, reform-minded sheriff's candidate, who would get I.C.E. out of L.A. county jails and take down the scandalous sheriff gangs (you read that right).
But whether he intended to all along, or circumstances forced him that direction, Villanueva quickly took a hard right turn, becoming a regular cowboy-hat-wearing guest on Tucker Carlson's Fox News Show, "railing against 'the woke left.'" Rather than rooting out deputy gangs, he defended them, winning favor with his department by refusing to enforce masking and vaccination requirements and making a big show of pushing the homeless off the Venice boardwalk.
The numbers are important again here, too. Villanueva won just 34.4% of the vote, currently—or 258,808 votes—so he'll have to face a runoff with retired Long Beach Chief Robert Luna, who won 24.5%. Add just the next candidate's votes—Eric Strong got 95,000 votes—in Luna's column, and Villanueva would go down.
But, of course, Villanueva is tied into all the right-wing money that's desperate to fend off the progressive policing reform that had a day in the sun after George Floyd's murder in Minneapolis. So, there's sure to be a donnybrook, with Villanueva doing his best insult-hurling, truth-stretching imitation of the Trumpster he's come to adore.
Fourth, Fifth, Sixth…
If you're looking for other glimmers of hope, check out Hugo Soto-Martinez's challenge of long-time councilman Mitch O'Farrell in Hollywood, or Christie Smith's third challenge of Palmdale Congressman Mike Garcia in the 27th district covering Northeast Los Angeles County and Eastern Ventura County—and don't forget the almost unbelievable campaign of Kenneth Mejia.
If you don't like these glass-half-full dispatches, you're welcome to retreat to the corporate media where you'll find plenty of news of how every progressive candidate you can imagine is getting pounded into the ground. And thanks so much, Willie Brown–Willie Who?–for calling Alexandria Ocasio Cortez "AOS!" Sheesh!
For a detailed look at the election results, click here.