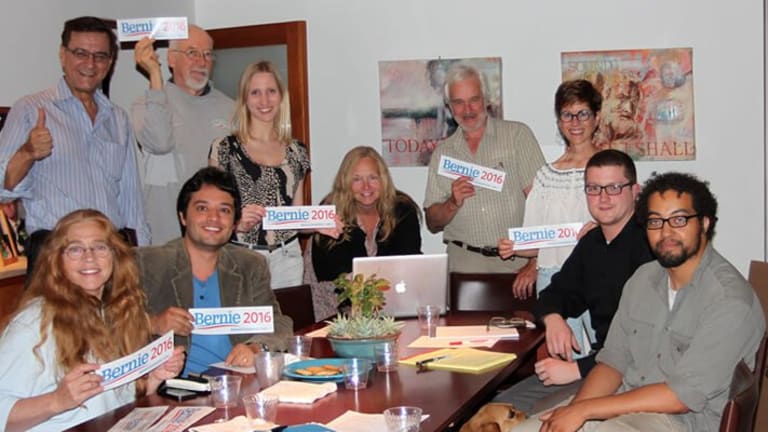 Bernie's Political Revolution in L.A.—We Are the Ones We Have Been Waiting For
Lauren Steiner: Bernie is asking us to become engaged citizens working directly on issues via local and statewide campaigns. That way, even if he should not get elected, we will have built and trained a grassroots army ready to pressure elected officials on the issues of importance to us.
Los Angeles for Bernie Sanders is an independent group of people in the greater L.A. area trying to make Bernie Sanders the next President of the United States and kick start the political revolution he is calling for.
For 40 years, Bernie has fought for the issues that are important to the 99%. Whether it is health care for all, race and gender equality or a living wage and decent working conditions, Bernie has been on the side of the people. And he will continue to be so when he is elected President. However Bernie knows he cannot do it alone. He is calling for a political revolution to take our country back from the billionaire class, which controls both our economy and our government.
In Portland, Maine, Bernie recently said, "We need a strong grassroots movement to make that revolution and then we can bring about change. When the people start moving, the people at the top start listening." What does that political revolution look like?
Bernie is asking us to become engaged citizens working directly on issues via local and statewide campaigns.
Yes, we can vote for him and encourage our friends to as well. We can donate money to his campaign. We can do phone banking and even visit other states with primaries earlier than California's; and we can work to insure progressives like Bernie get elected to Congress. But more importantly, I think Bernie is asking us to become engaged citizens working directly on issues via local and statewide campaigns. That way, even if he should not get elected, we will have built and trained a grassroots army ready to pressure elected officials on the issues of importance to us.
For each of the 12 points in Bernie's platform, there is a campaign going on right here in L.A. If we want to address climate change, for example, we can work with Food and Water Watch and several other organizations, which are fighting to ban fracking. If we want to work on Medicare for All, we can work with Health Care for All - LA. If we want to work on overturning Citizens United, we can join with the folks at Money In/Voters Out and other local clean money groups. There are even people in L.A. attempting to start worker-owned cooperatives.
In August, our Senators and Congress members will be home in their districts. Los Angeles for Bernie plans to organize citizen lobby meetings to ask our two Senators to support Bernie's bills. That is the advantage of having a sitting senator as a candidate. Why shouldn't Barbara Boxer and Dianne Feinstein co-sponsor Bernie's bills for four years of free public college, an amendment to overturn Citizens United, a $1 trillion infrastructure program to employ 13 million people along with his many other bills?
Also, we are going to help Bernie fight the TPP, the rigged trade agreement that President Obama and the Republican leadership are trying to pass over the objections of most Democrats and even some Republicans. Yes, Fast Track just passed despite the valiant attempts of Senators like Bernie, Elizabeth Warren and Sherrod Brown to stop it. But the TPP itself still has to be voted on. We will organize a town meeting with hundreds of people and invite Dianne Feinstein to attend. If she doesn't, we should send people to visit her office every day of the month. We need to apply so much people power that she is forced to vote no on the TPP even though she just voted yes on Fast Track.
Los Angeles for Bernie Sanders is organizing right now to be Bernie's political revolution. You can go to our website or like our Facebook page and fill out our volunteer form to tell us how you want to be involved. You can start or join a local group in your neighborhood like West San Fernando Valley for Bernie or any of the others listed in our website and organize house parties, meet ups, fundraisers, voter registration drives, canvassing, tabling and do all the traditional election stuff. Or you can join groups that fight for Bernie's bills and issues. You can join or start constituency groups like Veterans for Bernie, Labor for Bernie, Teachers for Bernie, Fractivists for Bernie and more.
You can work on our Communications Team and write for or edit our website and newsletter. You can work on our Outreach Team and volunteer to speak about Bernie to groups and organizations you are involved with. If you are a musician and you want to write a song about Bernie or help organize a concert, you can do that too. The possibilities are endless.
Our website is the hub of our organizing. There is a button for you to volunteer and one for you to donate. Eventually there will be pages for all of the neighborhood, constituency and issue groups where you can report on your activities and see what others are up to. There is a Resources section with anything from flyers on Bernie's 12-point platform in English and Spanish to guidelines on how to run a house party. We have an Events calendar with past events, upcoming events and a place where you can list events for which you'd like to get volunteers to speak, flyer or table about Bernie. There is a Store with locally produced and branded Bernie shirts, bumper stickers and buttons. There will be several blogs with original, unbranded content including articles, memes and videos (which also can be found on our YouTube channel) produced by members of our Communications Team. We will even have a section called Bernie On the Issues.
We are having an all-volunteer organizing meeting on July 26 at the Santa Monica Library main branch with trainings in how to run a house party, how to speak about Bernie using the technique of public narrative, best practices for social media and more. Then we will break out into local groups. At the end, we will eat, drink and socialize with all the great people working on this campaign and enjoy entertainment provided by our own "Berning Sensations."
Please join us by clicking the volunteer bar on the home page of our website. And invite your friends who want to join Bernie's political revolution too. I close with the famous quote by Margaret Mead: Never doubt that a small group of thoughtful, committed citizens can change the world; indeed, it's the only thing that ever has."
Lauren Steiner
Please note: we are not part of the official Bernie Sanders campaign, People for Bernie or Progressive Democrats of America. However, we will work with any and all groups trying to get Bernie elected.