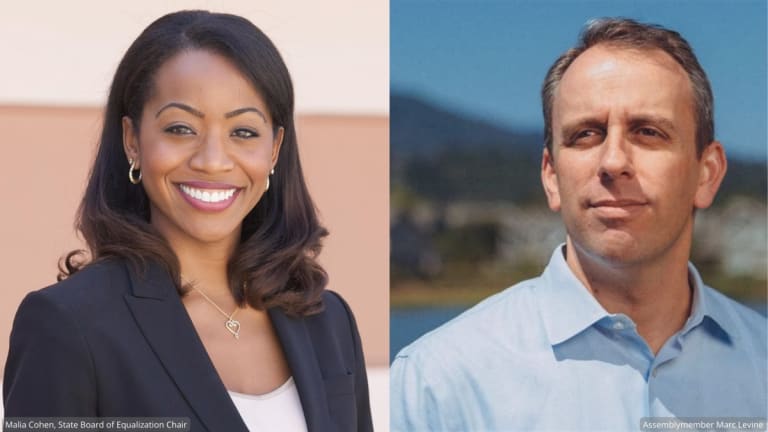 The Progressive Argument for Malia Cohen for State Controller and Marc Levine for Insurance Commissioner
Amar Shergill: We understand that we must fight for every possible ounce of progressive progress while blocking those that might actively hurt the movement.
My Process
There are two statewide races where progressive delegates to the California Democratic Party can make the difference on who is endorsed and elected. For Insurance Commissioner, Assemblymember Marc Levine is running against incumbent Ricardo Lara while the State Controller race has Board of Equalization Chair Malia Cohen and Ron Galperin as viable candidates.
We understand that we must fight for every possible ounce of progressive progress while blocking those that might actively hurt the movement.
As progressives delegates looking to make a decision in these races, we prioritize policy positions and a proven record to fight for these positions. As political activists, we also weigh the potential harm in staying out of a race. This second role is why so many of us worked hard to elect Biden over Trump and to defeat the Newsom recall. We understand that we must fight for every possible ounce of progressive progress while blocking those that might actively hurt the movement.
In both of these races, I did my due diligence, spoke with the candidate that was the clear better choice and confirmed that not only would they espouse progressive values, but that they are willing to leverage the power of position they sought to be elected to.
Marc Levine for Insurance Commissioner
Assemblymember Levine has been a progressive ally committed to issues like single payer healthcare in California. He supported AB 1400 (CalCare) and, as Insurance Commissioner, will ensure that all necessary steps are taken to prepare insurance regulations and oversight that will smooth the way for CalCare. The importance of this role cannot be overstated. It is imperative that we have a strong ally in the office, which is one of the reasons Levine received the endorsement of the California Nurses Association. He can be trusted to stand with Californians at the launch of the next CalCare bill and throughout its implementation.
The issue of trust is also paramount in why progressives simply cannot support the incumbent Ricardo Lara. Early on in his tenure, he engaged in egregious acts of corruption that disqualify him from holding public office. As Insurance Commissioner, he accepted large contributions from insurance companiesfor whom he was supposed to provide impartial regulatory oversight, then he had off-the-record meetings with these company's lobbyists, before making decisions in their favor and against the interest of the Californians he swore to serve. In an environment where pay-to-play politics is rampant, Lara's behavior stands out as truly horrid. Lara has also been missing in action with regard to the considerable authority of the Insurance Commissioner to address climate change policy.
In stark contrast, Levine has advocated against corporate influence and will pursue regulation to require insurance companies to divest from fossil fuel corporations. Levine has also been a strong voice for the environment and one of the very few votes against the PG&E bailout.
Malia Cohen for Controller
Malia Cohen, current Equalization Board Chair, has a long record of progressive success. While on the San Francisco Board of Supervisors she was essential in the move for Public Banking and protected the City's free community college program from cuts. She is a strong supporter of single payer healthcare and, while Chair of the San Francisco Employee Retirement System, she led divestment from fossil fuels and led a $100 million move into a fossil fuel-free index fund. As Controller, she would have an opportunity to expand these types of reform as the position includes roles in leadership of the Franchise Tax Board, California Public Employees' Retirement System Board, and the California State Teachers' Retirement System Board.
If our Party's commitment to support Black women means anything, it has to mean that we will stand with leaders like Cohen who are clearly qualified, have superior experience, and possess the talent to lead. As a Party, we must support campaigns like that of Cohen to ensure they are not derailed by those that believe they can rely on their privilege to move ahead. As a Party and as progressives we can make a strong statement that we will stand with those communities that always stand with us.
Your Vote to Endorse
None of my remarks should be construed to mean that the candidates I have endorsed are perfect progressives. It is fair to criticize in saying that they have accepted contributions from those that are opposed to progressive reform. However, Progressives must be prepared to work with imperfect allies, particularly in these two races where the better choice is clear. Further, progressive delegates hold the balance of power in deciding which candidates will or will not be endorsed by the California Democratic Party. If we use our voting power to support Marc Levine and Malia Cohen, we can send Party resources to the right candidates and help build power for future battles.
I encourage all delegates to the California Democratic Party to vote for the endorsement of Marc Levine and Malia Cohen at the March 4-6 Convention.(I am happy to discuss this endorsement decision, particularly with those delegates that will be voting at the upcoming Party Convention. Please feel free to reach out at amar@shergilllawfirm.com.)
Amar Shergill