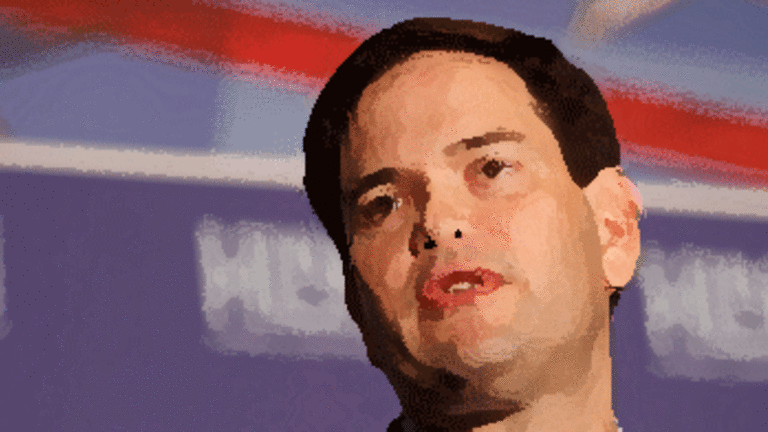 Rubio's Hat Goes into the Ring
Victoria Defrancesco Soto: Rubio's Tea Party relations put him in a particularly tough spot since if the GOP moderates over the next couple of years he will have that undeniable linkage.
Not a month has passed since the presidential election and here we are discussing how the 2016 race is shaping up. Its not totally unexpected, but what is significant is the news that Marco Rubio will run for president of the United States. Technically, he's not the first Latino to run for the presidency, that was Governor Bill Richardson in 2008. But he's the first Latino Republican to run, and more so than Richardson, Rubio is a candidate who is readily recognized as Latino on the national scene.
Marco Rubio hasn't made it official. But he might as well have. Over the past year he put out the now requisite presidential candidate glossy hardcover autobiography and has been fundraising like a mad man. A couple of weeks ago he headed toIowa, coincidentally a key state on the political calendar, to headline a dinner and most recently he gave a speech at theJack Kemp dinner that sounds an awful lot like a presidential campaign speech and perhaps most importantly he has allowed presidential rumors to swirl unabated.
There are 1432 days until the 2016 presidential election. And while it may seem a bit early to get into the electoral playbook I promise not to get carried away. However, for now I've made up a cheat sheet of three advantages and three disadvantages Rubio will face. As the field starts continues to take shape I'll revisit this list, but for now, here goes:
Advantage: Rubio's a first mover.
The elections of 2010 and 2012 saw the rise of a number of nationally prominent Latino political leaders: Susana Martinez, Brian Sandoval, Joaquin and Julian Castro, Richard Carmona, andTed Cruz. There has been a burst of smart and ambitious Latino stars, any of whom could be considered as a serious presidential contender. Knowing this, Rubio has capitalized on the first mover advantage and staked out his space and role as political pioneer.
Disadvantage: Jeb Bush
Former Florida Governor Jeb Bush may not be Latino by birth, but he has essentially become an honorary Latino, it also doesn't hurt that he's married to a Latina. But his honorary status actually comes from his being one of the lone voices within the Republican Party calling for a respectful and productive relationship with the Latino community. If Bush jumps into the race, which he most likely will, he will block out the sun for Rubio.
Advantage: Rubio's a Latino Republican
While Republican voters may be weary of immigration and other Latino related policies such as voter ID, they are happy to vote for a Latino Republican. With the exception of Republican Cubans in Florida, Latino Republicans have been successfully elected by majority white electorates. This bodes well for Rubio who in making a national level run would be dependent on Republicans, the vast majority of which are white.
Disadvantage: Rubio's a Latino Republican
The majority of Latino voters are Democrats and blood isn't necessarily thicker than partisanship. Shared ethnicity may play a role in attracting some cross-over Latino voters, for example Ted Cruz received 38 percent of the Latino vote in Texas even though Latino Republicans only account for 30 percent of the electorate. The rate of Latino cross-over voting that we witness is on the low side and will be an obstacle to pumping up Republican voter numbers.
Advantage: Time
Four years ago today Rubio was a state Senator. Rubio is still green, learning his way around the national scene. His answer to an Esquireinterviewabout the earth's agebeing "one of the great mysteries," is indicative of the polishing and smoothing that remains, but so far he's proven to be a quick study.
Disadvantage: Tea Party
Rubio is a Tea Party baby, he was even one of Sarah Palin's darlings back in 2010. He has since toned down the family relation, but there's no denying his lineage. His Tea Party relations put him in a particularly tough spot since if the GOP moderates over the next couple of years Rubio will have that undeniable linkage. And if the Tea Party does remain salient for the 2016 election, Rubio will have still stiff competition from his right flank by the likes of Santorum, Perry, and who knows who else.
Rubio is a talented, formidable, and ambitious leader. It also doesn't hurt that he is young and handsome and has an equally young and handsome family. And like President Obama, Rubio has a moving family bootstrap story. The 2016 presidential contest will take an innumerable number of twists and turns in the years to come. But in the meantime, we've got one puzzle piece—Rubio has thrown his sombrero in the ring.
Victoria Defrancesco Soto
Dr. VMDS
Friday 7 December 2012