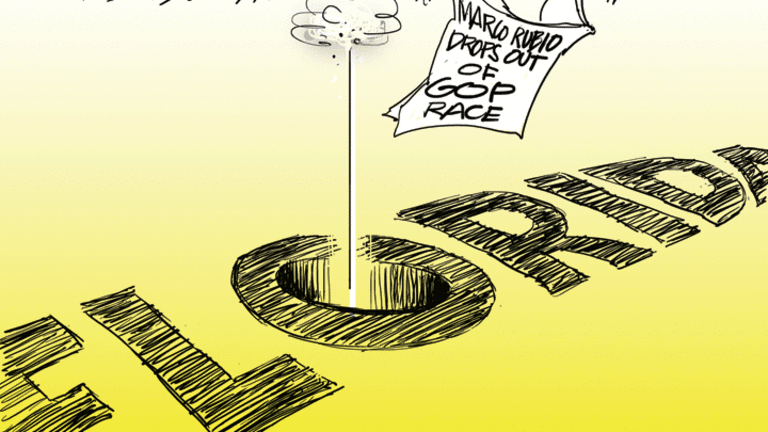 Adiós, Marco
Victoria Defrancesco Soto: Given how Trump has fundamentally shifted the tone, wouldn't it have been better for Rubio to fully own his view of immigration and keep an eye on the long game? Marco Rubio Quits
Donald Trump has been thumping Marco Rubio—verbally and politically—for weeks. But the lethal blow came in Florida with Rubio coming in a distant second behind Trump. Just a few years earlier Florida had launched Marco Rubio as one of the brightest GOP stars. On Tuesday that star went dark. Florida turned its back on Rubio ending his 2016 presidential bid and perhaps his career in politics.
Given how Trump has fundamentally shifted the tone, wouldn't it have been better for Rubio to fully own his view of immigration and keep an eye on the long game?
What was it? Was it that his boots were too high? That would be such a satisfying and simple answer if only it were that. Was it that his hair was not gray enough?
Again the answer is no. In any previous Republican primary that might have been the case given the old adage that "Democrats fall in love and Republicans fall in line." But Donald Trump has upended the orthodoxy that Republican presidential aspirations need to wait their turn. Trump is one of the older candidates, but in terms of paying his political dues he's as young as they come.
The demise of the Rubio presidential campaign was largely out of his control. Prior to Trump being taken seriously Rubio was seen as a top contender for the Republican nomination. Mega-donors were Rubio-curious and the Clinton camp was not looking forward to a matchup with the young Florida Senator.
Trump has surprised politicos, political watchers and voters alike. Yet the demise of Marco Rubio, not his campaign, was not inevitable.
Rubio entered the race with a fundamental weakness, fluidity on the topic of immigration. Over the last several of years he has shifted on the issue of immigration, enough to be noticeable. He was no champion of immigration when he first got elected to the Senate in 2010, then he got involved with the Senate Gang of 8 to draft immigration reform, but then turned his back on the legislation he helped draft and most recently hardened his immigration edge even more.
I get it, in a primary you hunker down on more conservative issues. But given how Trump has fundamentally shifted the tone, wouldn't it have been better for Rubio to fully own his view of immigration and keep an eye on the long game?
Perhaps more damaging than his shifts on immigration was his shift in tone. When Rubio launched his campaign, he did it at Miami's Freedom Tower, the Ellis Island of Florida. He put forth a sunny and upbeat message. The optics, the message, and even the music were on point—it was the best campaign launch I've seen in a while.
Rubio's campaign was supposed to mark a contrast to the GOP's grumpy old men. His message was about positivity and looking forward. That message was put to bed when Rubio got down in the mud with Donald Trump.
Rubio has since retracted and renounced those tactics, but it doesn't erase the shift itself.
At forty-four Marco Rubio is still very young. There's talk of him running for governor of Florida and/or running again for the Republican presidential nomination. If he does he will need to undergo profound brand rehabilitation. He has a lot of work ahead of him and even then we can't be sure if the damage he has done is irreparable.
Goodbye, Marco Rubio for 2016. Perhaps we'll see you again.
Victoria Defrancesco Soto
Dr. VMDS