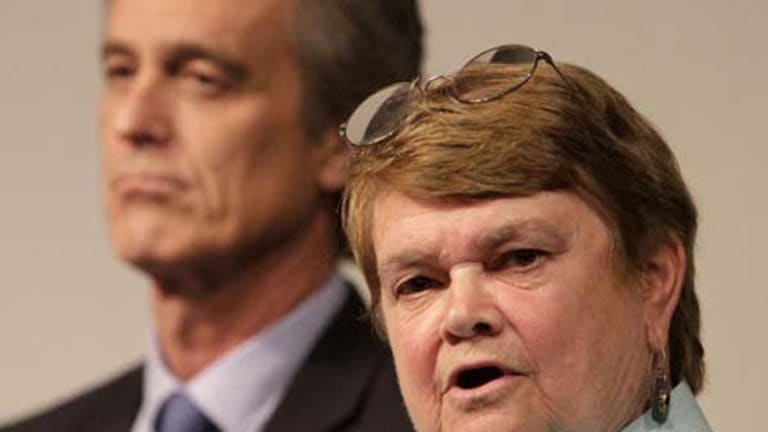 Maria Shriver's –  and Bobby Shriver's – Inconvenient Truth
Peter Dreier: It is possible that Maria Shriver simply didn't know that Kuehl had sponsored the Paid Family Leave law. Possible, but hard to believe.
Last week Maria Shriver posted a tribute to California's groundbreaking, decade-old paid family leave. In her Huffington Post column, she wrote:
We're thankful that in a few places around the country, new parents are getting some of the help they need. This month California is celebrating the 10th anniversary of its first-in-the-nation Paid Family Leave (PFL) program, which has helped more than 1.5 million parents take paid time away from work to bond with a newborn or adopted child.
Since the law's passage, research has confirmed that paid family leave offers real and lasting benefits both to families and to employers. Mothers and fathers are getting increased bonding time with newborns. Breastfeeding rates have almost doubled for mothers who take leave. There are lower rates of postpartum depression, and health outcomes among children have improved. Perhaps most important, as we pointed out in the Shriver Report, programs such as California's PFL law can boost employment and family income by allowing parents to go back to work at their old jobs after taking family leave. In fact, an overwhelming majority of employers report that providing family leave has a neutral or even positive impact on productivity and their bottom line.
Somehow, however, she failed to give credit to the person most responsible for that law. Might that have something to do with the fact that the bill's key sponsor and champion was former legislator Sheila Kuehl?
Kuehl is currently running against Shriver's brother, Bobby, for one of five seats on the Los Angeles County Board of Supervisors.
It is possible that Maria Shriver simply didn't know that Kuehl had sponsored the Paid Family Leave law. Possible, but hard to believe. After all, before she was California's First Lady, as wife (now ex-wife) of Gov. Arnold Schwarzenegger, she was an accomplished journalist, and in recent years she has resumed her professional career as an author and activist. Fact-checking is second nature to someone with Shriver's experience.
Moreover, the paid family leave law is one of Kuehl's signal accomplishments during her 14 years in the California state legislature. A former child actress from a working class family, she made her name as a tireless advocate for working families as well as the legislature's first openly gay member. Bobby Shriver, a Kennedy cousin, is a former member of the Santa Monica City Council who has poured much of his personal fortune into the race. Kuehl beat Shriver by 36 to 29 percent in the June 3 primary and they now face each other in the November run-off to represent the Third District, which stretches from Malibu through Santa Monica to Hollywood, and encompasses the entire San Fernando Valley. The Board of Supervisors represents 10 million people, controls a budget of over $25 billion, and oversees over 100,000 employees, most of them involved with health care, human services, and law enforcement.
So was Maria Shriver's column a sly, stealth, surreptitious way of supporting Kuehl -- or at least acknowledging one of her signal accomplishments -- without overtly endorsing her?
It doesn't matter. Shriver's tribute to California's Paid Family Leave law stands on its own. Signed into law in 2002, and implemented two years later, it allows most employed Californians to take up to six weeks per year of leave from their job and receive up to 55% of their wages, up to a maximum. It may be used for bonding with a new baby or to take care of a sick family member.
Last March, I asked Art Pulaski, leader of the California Labor Federation, about Kuehl's role in enacting the paid family leave law.
"Many people said it had no chance to pass," Pulaski recalled, "but Sheila was unstoppable and got it through. It was the first paid family leave bill of its kind in any state. Now it's a model for the rest of the country."
Since California adopted Kuehl's bill, other states and even some cities have followed the Golden State's example. New Jersey and Rhode Island have passed paid family leave laws. New York, Maryland, Connecticut, and Hawaii are having serious discussions about adopting a version of the law. A number of cities -- including Seattle, San Francisco, and Washington, D.C. -- have enacted municipal versions of the law. New York City may soon follow in these cities' footsteps. In 2008, almost 70 percent of voters in Milwaukee passed a paid sick days ordinance by referendum; but three years later Wisconsin's Republican Gov. Scott Walker and the GOP-controlled state legislature passed a bill pre-empting the city's law and ensuring that no jurisdiction within the state of Wisconsin is allowed to decide if it wants to mandate paid sick days.
The issue of paid family leave topped the agenda at last week's White House Summit on Working Families. An article last week in the New Republic noted that the "United States, along with Oman and Papua New Guinea, are the only three developed nations to offer no paid maternity leave."
It is possible that Maria Shriver simply didn't know that Kuehl had sponsored the Paid Family Leave law. Possible, but hard to believe.
In other words, Paid Family Leave is becoming a common sense idea. But when Kuehl first proposed it, it was still controversial, especially in big business circles.
As Donald Cohen recounts in his examination of the law's history, corporate lobbyists mounted a full-scale attack on Kuehl's proposal. According to Cohen:
The California Chamber of Commerce put it at the top of its annual hit list of "job killer" bills. For the Chamber, this is an annual ritual with lots of fanfare, warnings to legislators (many of whom line their campaign war chests with business contributions), and media stories in which business folks stay on message by repeating the words 'job killer' as many times as possible so that the idea sticks.
In 2002, the Chamber organized a who's who of business lobbies to oppose the bill. The National Federation of Independent Businesses, the California Manufacturers and Technology Association, the California Small Business Association, the California Grocers Association, the California Restaurant Association and their corporate cohorts created a "job killer" message machine warning that, if enacted, the family leave law would trigger economic devastation.
The business groups' key talking point was a so-called "estimate" that the bill would cost the California's private employers $3 billion dollars in the first year alone.
After Gov. Davis signed the bill over their opposition, the California Chamber issued a statement predicting that "Many businesses will look to other states when relocating or starting up to avoid these types of mandates." NFIB spokesperson Tony Malandra, warned "The hidden costs of this are going to be enormous."
The next year, Jack Stewart, president of the California Manufacturers and Technology Association, Allan Zaremberg, president of the California Chamber of Commerce, and Bill Hauck, president of the California Business Roundtable, penned a column in the San Diego Union-Tribune branding the family leave law a "mega job killer."
During the legislative battle, Kuehl, then a state Senator, said that the business opponents were "crying wolf" about the bill's impacts on jobs.
It turns out she was right.
Cohen summarized the results of 2011 study by Ruth Milkman (a professor at City University of New York and UCLA) and Eileen Appelbaum (an economist at the Center on Economic Policy Research), who conducted extensive surveys of California employers and employees covered by the family leave law. Wrote Cohen:
Their findings discredit the corporate cry babies. For example:
The business community's claims that the law would impose crippling new costs on employers and particularly small businesses were unfounded. The vast majority of employers reported it has had minimal impact on their business operations
Most employers reported that PFL had either a "positive effect" or "no noticeable effect" on productivity, profitability/performance and employee morale.
A majority of employers reported the law actually translated to cost savings realized by coordinating their own leave benefits with the state PFL program.
An overwhelming majority of workers that used the benefit reported a positive effect on their ability to care for a new child.
PFL doubled the median duration of breastfeeding for all new mothers that used the benefits.
Despite these consistent findings, the U.S. Chamber of Commerce, and its California counterpart, continue to oppose paid sick leave legislation. If it could, the California business lobby would overturn Kuehl's bill. But it is so popular with California families, and voters, that even the Chamber lacks the political muscle to turn back the clock.
But it will no doubt keep trying. How? By throwing its money and endorsements behind political candidates that it hopes it can bend to its will and who will do its bidding. The LA Chamber of Commerce, for example, has endorsed Bobby Shriver for LA County Supervisor.
Voters in District 3 will want to know. Where does Bobby Shriver stand on California's Paid Family Leave law? With the Chamber of Commerce or with his sister, Maria Shriver?
Peter Dreier