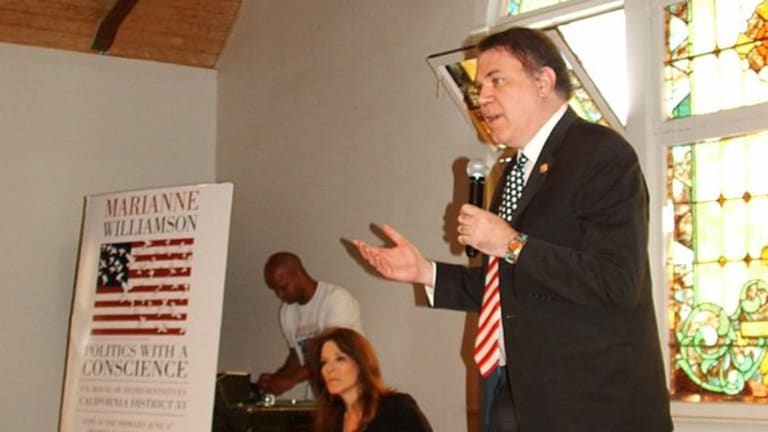 Time for a Disruptive Marianne Williamson in Congress
Dick Price: A lifelong Democrat, Williamson is running as an independent, underscoring her status as a fresh and disruptive force, while leveraging her fame as a best-selling author and lecturer, with a large following among people who aren't typically drawn to politics.
Early on a gray Saturday morning in Venice, several blocks inland from the beach, Marianne Williamson paces nervously, greeting each newcomer to her congressional campaign event with hugs and smiles and moments of hushed conversation. Dressed all in black and tottering atop high heels, she looks radiant, rail-thin, alive in the moment, ready for the festivities to begin.
"Where are all the people?" she wonders, eyeing the empty seats and forgetting for the moment that it's Los Angeles and people will come, if they're coming at all, at the very last minute.
And even on this start of the Memorial Day weekend, they do come, just at the appointed hour, filling every folding chair and lining the walls of the Source Spiritual Center, eager to be roused by Williamson herself and by her guest, Alan Grayson, the rabble-rousing congressman from Florida.
Many of the men wear beards, graying and neatly trimmed, and the women are mostly tanned and fit, with designer sunglasses and sun-streaked hair -- Westsiders. They've come looking for something different from Congress -- and Grayson and Williamson, if nothing else, are different. There's a sparkle in the audience's eyes, a spontaneity in their responses, even tears in their voices as they ask their questions; clearly, Williamson's campaign is more than politics as usual for them.
Replacing Henry
When Henry Waxman announced his retirement this January, after representing the 33rd Congressional District for 40 years, Williamson had already been campaigning for several months to replace him, arguing that America's democracy is being destroyed piece by influence-peddling piece.
"We are dismantling the most basic social contract between the American people and our government," she remarks before introducing Grayson. "We've gone from 'a government of the people, by the people, and for the people' to 'a government of a few of the people, by a few of the people, and for a few of the people.'"
All told, 17 candidates have entered the race, looking to replace what Raphael Sonenshein, executive director of the Pat Brown Institute at Cal State LA, calls "the most effective member of the House of Representatives -- I'm quite serious about this -- in the last 50 years."
Under the new election laws, the top two finishers in next week's June 3rd primary will battle it out for the November election. Williamson joins former L.A. city controller and councilwoman Wendy Gruel, Torrance state senator Ted Lieu, and radio host Matt Miller as the four given the best chance of making the two-person run-off to represent a district that hugs the coast from Malibu through Santa Monica, Manhattan Beach, Torrance, and down to San Pedro.
A lifelong Democrat, Williamson is running as an independent, underscoring her status as a fresh and disruptive force, while leveraging her fame as a best-selling author and lecturer, with a large following among people who aren't typically drawn to politics.
"If only the 'most likely' voters vote -- the ones who typically turn out for midterm elections -- we might well lose," Williamson says, noting that middle-of-road Democrats Lieu and Gruel boast heavy union backing to turn out the vote for them. "But if people like you who are fed up with the system as it is will talk to 20 of your friends and they talk to 20 of their friends, we can win. And we will win."
Money Out of Politics
In this season of Citizens United and Koch Brothers' campaign cash millions, Williamson is making the corrosive influence of money in politics a central theme in her campaign.
"If we had fundamental campaign finance reform, we wouldn't have to worry about getting a vote in Congress on things the great majority of Americans care about," she says. "We need a Constitutional Amendment to override Citizens United to make way for public financing of our political campaigns."
Bathed in the glow of the center's stained glass windows, Grayson offered his perspective on the corruptive influence of big money donors.
"Every Republican and most Democrats fall into the same money trap. Members of Congress spend 20 or 30 hours a week -- 50 hours a week during recess -- calling to raise funds, really seeing if they can 'sell' a vote on this bill or that one," he said. "Rather than do that, I have 100,000 small donors around the country and am the only person in Congress who primarily takes only small donations of $250 or less."
With her 30 years in the public eye and connections to spiritually-based communities not traditionally tapped by the political process, Williamson could follow Grayson's lead in skirting the current hat-in-hand practice dogging most politicians.
"One beautiful thing about Marianne's philosophy as reflected in her writing is that it's people-centered," Grayson continued. "We in Congress spend far too much time on concepts and systems and processes, and not enough on the people affected by those concepts and systems."
Grayson did worry, though, that liberals may not get out and vote in a midterm election. "We can't make elections a choice between the lazies and the crazies," he said.
"Some in Congress worry about every detail and every bill. They contact their colleagues. They contact their supporters. They wonder how their vote will affect their re-election chances. That's not the way to do it," Grayson concluded, indicating that he found a kindred spirit in Williamson. "I have a simple test: If I think a bill will make the world a better place, I vote for it. If I think a bill will make the world worse, I don't vote for it."
Marianne the Woman's Candidate
Afterwards, before dashing off to a candidates forum in Torrance, Williamson remarked on a preposterous charge making the rounds that she is somehow "anti-women's rights."
Three prominent women -- Katherine Spillar of the Feminist Majority, Bettina Duval of California List and Lindsey Horvath of Hollywood NOW -- had circulated a letter questioning the campaign's claim that their candidate is "100-percent pro-choice," citing radio show comments Williamson made eight years ago proposing that women have "speed bumps" -- such as three required counseling sessions -- before proceeding with an abortion.
Her attackers -- two of whom are Wendy Gruel supporters -- claim these comments put Williamson in the "right-wing, anti-woman" camp, even though Williamson long ago recognized that -- while such requirements made for good counseling -- they could restrict access to abortion for some women and moved away from her position.
"Marianne is the last person feminists should be trying to take down," remarked actress and Williamson supporter Frances Fisher. "She has done more to bring women, particularly young women, into the feminist fold than almost any figure in contemporary culture. She is totally progressive. Are you aware of 'Sister Giant: Women, Non-Violence and The Birthing of a New American Politics' that she created in 2012?"
So goes politics, unless people like Alan Grayson and Marianne Williamson can disrupt it.
Dick Price
Editor, LA Progressive