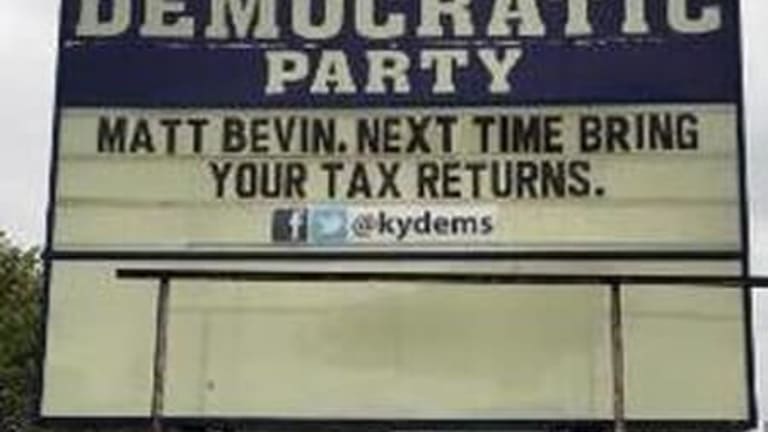 Kentucky Democrats Sponsor Contest to Re-slogan Sign That Drives Matt Bevin Bonkers
Candidates commonly ply campaign volunteers with free food and soft drinks.
Barbecue and sweet tea are big in my neck of the deep western Kentucky woods.
Anyway, the Kentucky Democratic Party has come up with a novel inducement to boost volunteering for its down-to-the-wire, get-out-the-vote effort: an online contest to update "the famous KDP Billboard."
That's probably "the infamous KDP Billboard," to GOP gubernatorial candidate Matt Bevin. The sign drives him bonkers.
You can volunteer, sign up for the contest and submit a slogan by clicking here.
KDP Chair Patrick Hughes will pick the winning slogan and have it posted on the billboard.
"We all know that Matt Bevin doesn't like Kentuckians learning the truth about him on our billboard," says the KDP website. "Now we've got just days left to win this election and get the truth about Bevin to as many Kentuckians as possible. Here's your chance to update the KDP Billboard with the message you think voters should know: sign up to help Get-Out-The-Vote, and you can submit your suggestion to update the KDP Billboard one last time before November 3rd."
Bevin's Democratic opponent is Attorney Gen. Jack Conway.
The marquee sign next to Interstate 64 in Frankfort, the state capital, has been a burr under Bevin's blanket throughout the campaign.
"WE CAN'T TRUST MATT BEVIN," was the first message. When Bevin spied it, he got so steamed that he stopped on the roadside and made a web video ridiculing the sign.
The KDP made fun of Bevin for, you guessed it, making fun of the sign. Some waggish Dem also changed the sign to read, "WE STILL CAN'T TRUST MATT BEVIN."
Bevin bit again, harder this time. He stormed Democratic HQ to protest the sign. The Dems said he yelled at a secretary.
Bevin's raid got less than rave reviews in the media. The Lexington Herald-Leader's Sam Youngman called the foray "ill-advised and jaw dropping." Sabato's Crystal Ball termed the invasion "bizarre."
Gleeful Dems revised the message yet again: "MATT BEVIN, NEXT TIME BRING YOUR TAX RETURNS." Bevin has steadfastly refused to release his tax returns.
[dc]"M[/dc]att Bevin's erratic and unhinged behavior in response to our billboard is one of the clearest examples that he lacks the temperament to lead Kentucky as governor," Hughes said. "Throughout this campaign Bevin has proved why Republicans called him an 'East Coast Con Man' and a 'Pathological Liar' -- and we strongly urge individuals use these labels in their suggestions for the billboard."
Berry Craig