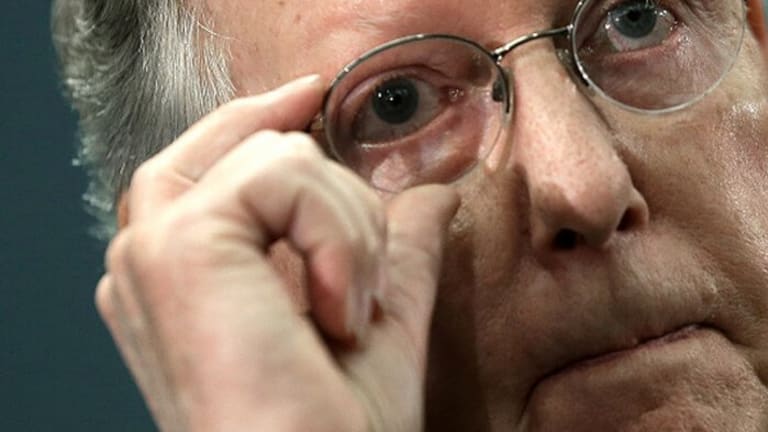 Mitch McConnell's Bogus Ads Take Cake
Berry Craig: "Best mail piece for a bare-knuckled street fight" was one of the categories the McConnell mailer won. Just the category's name speaks volumes about the state of American politics.
One of my union brothers could hardly believe that Sen. Mitch McConnell's bogus "Election Violation Notice" collected a quintet of awards from Campaigns and Elections magazine, including "best direct mail piece for 2014."
He said the mailer was a flat lie. Indeed, it was.
The mailer's purpose was to scare supporters of Democrat Alison Lundergan Grimes, McConnell's opponent. It was a deliberate deception designed to make recipients think they were somehow breaking the law. Inside, it listed "fraudulent information" being spread by "the federal candidate" Grimes.
"Advertising is legalized lying," H.G. Wells famously observed. That goes double for political advertising.
Of course, politicians pay campaign advertising firms handsomely for crafting hit pieces like Team Mitch's mailer, which looked like it came from the government.
"It's not if you win or lose, it's how you play the game," we dutifully tell our kids in little league.
In grownup politics, winning is all that counts. If you have to lie and cheat, so be it. If you're a gun-for-hire in political advertising, the better you are at lying and cheating, the more awards you win.
The McConnell ad, a joint venture with the Kentucky Republican Party, claimed five Reed Awards. I gather they're Oscars for political ads judged to be the most effective, campaigns, no matter how contemptible the ads are.
"Best mail piece for a bare-knuckled street fight" was one of the categories the McConnell mailer won. Just the category's name speaks volumes about the state of American politics.
Virtue may be its own reward elsewhere. Gutter politics wins the prizes at Campaign and Elections. "Best mail piece for a bare-knuckled street fight" was one of the categories the McConnell mailer won. Just the category's name speaks volumes about the state of American politics.
But why stop with honors for cheating and playing dirty in politics?
Why not hand out trophies for the best bean baller in baseball or, in football, for players who put the most opposing players out of the game with cheap shots?
But, hey, Kentucky is a basketball state. So how about giving trophies for shoving the most players into the seats while they go airborne for a layup?
Anyway, McConnell's mailer came in an official-looking envelope with a Frankfort return address. The piece warned the recipient: "THE INFORMATION ENCLOSED CONTAINS FACTS RELATED TO A POSSIBLE FRAUD BEING PERPETRATED ON CITIZENS ACROSS KENTUCKY."
Jonathan Hurst, Grimes' campaign manager, called the mailer "despicable" and a blatant attempt at voter suppression.
That it was.
But I'd bet the farm that Hurst's complaint – and Grimes' vain attempt to stop the mailer in court -- triggered high fives and gales of laughter on Team Mitch, whose guy beat Grimes by more than 15 percentage points.
Okay, throughout American history, truth has often been the first casualty in political campaigns, no matter the era or the party.
Supporters of Federalist President John Adams shrieked that if the "infidel" Democratic Republican Thomas Jefferson were elected president in 1800, "murder, robbery, rape, adultery, and incest will be openly taught and practiced."
The Jeffersonians shot back that Adams sent a U.S. Navy ship to England to procure two prostitutes, one for himself and the other for his running mate.
However, as far as I can tell, there were no awards for such falsehoods spread by party hacks and by the partisan press in early America.
In any event, it is too bad that McConnell seems to have learned nothing about politics from his purported mentor, Sen. John Sherman Cooper. In his salad days, McConnell was a Cooper intern.
Cooper, a moderate to liberal Republican, eschewed "bare-knuckled street fight" politics, even in the 1954 senate race, probably the toughest battle of his political career. His foe was the formidable Alben Barkley, a former senate majority leader Harry Truman's vice president.
In his campaign, the senator "…wouldn't permit the use of rumored contract scandals against Barkley," Robert Schulman quoted Cooper's sister in John Sherman Cooper: The Global Kentuckian.
You can't bet the farm McConnell would have blown a bundle on ads elevating even the most baseless of rumors to "fact."
Cooper fought fairly and lost. I can almost hear the "nice guys finish last" sneer from Team Mitch.
Even so, Cooper bounced back. He won reelection in 1956 and stayed in the Senate until 1973. Dubbed "the Global Kentuckian," Cooper was also a diplomat, serving as U.S. ambassador to India in 1955-1956 and to East Germany in 1974-1976.
Above all, Cooper was a principled politician. His refusal to demonize and smear his political foes is a big part of his legacy. He died in 1991 and went down in history as a statesman in the truest sense of the word.
I doubt history will be as kind to McConnell, and rightly so.
"John Sherman Cooper would be appalled at Mitch McConnell," said Dr. Duane Bolin, a Murray State University historian and author. "McConnell's bottom line is simply to stay in office and enrich himself and the billionaires who support him. I don't think he believes in anything."
Shortly before I talked to my union brother, I got an email from another one of my friends, a university librarian-historian. He had seen the KET interview with McConnell at Ashland, Sen. Henry Clay's preserved Lexington home.
A 19th century state legislator, congressman, senator, secretary of state, three time presidential candidate and broker of three compromises to save the Union, Clay is Kentucky's greatest ever statesman. (President Abraham Lincoln is our greatest native son, but he made his political splash in Illinois.)
"Mitch was bragging about his historical knowledge of Henry Clay and the great respect he had for the man and his politics," my buddy wrote. "I could only chuckle - the Great Divider commenting on the Great Compromiser."
Berry Craig